---
Green Gobbler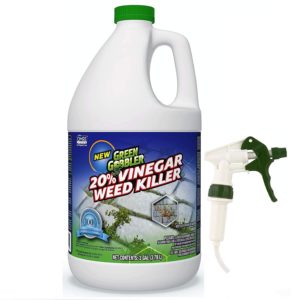 1 Gallon
Pet Safe
Certified by OMRI
Natural Armor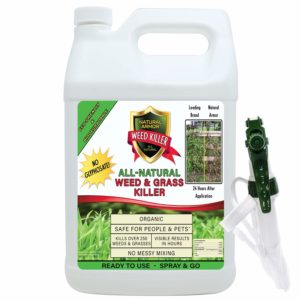 128-Ounce Gallon
Safe For People & Pets
See Results In Hours
Natural Armor 16 Ounce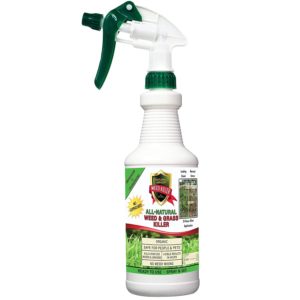 16 Ounce Pint
Safe For People & Pets
See Results In Hours
Doctor Kirchner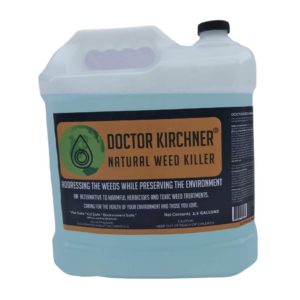 2.5 Gallon
Pet safe, kid safe
No Mixing
Doctor Kirchner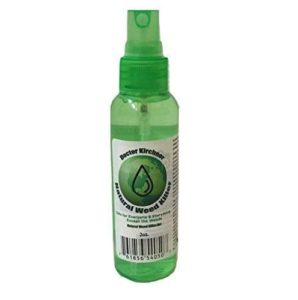 2 oz Trial Size
Pet safe, kid safe
No Mixing
---
Choose the Best Natural Weed Killer
Customer's Choice: the Best Rated Natural Weed Killers
44 users answered this survey. Please help us improve this review!

75% of users selected Green Gobbler, 22.73% selected Natural Armor, 0% selected Natural Armor 16 Ounce, 2.27% selected Doctor Kirchner and 0% selected Doctor Kirchner Spray. Every month we analyze your answers and change our rating.
---
Weed killers make managing your property easier. Many different types of weed killers are available on the market today. However, not all of them are safe to use around family and pets. If you have a problem area, such as grass growing in your driveway or a weedy fence row, you will be glad to know that there are products available that can keep these areas weed-free and that are safe for your family. We have assembled a list of our favorite natural weed killers to help you find a product that is right for your needs. Here is a quick summary of our favorites.
Green Gobbler Vinegar Weed & Grass Killer – Best Pet-Friendly Weed Killer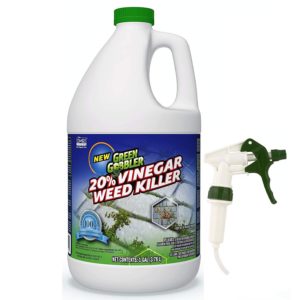 We like Green Gobbler Vinegar Weed & Grass Killer because it is the safest to use if you have children or pets. The ingredients are simple. It contains 20 percent acetic acid, which is about four times as strong as the vinegar that you use for cooking.
The product is made from ethanol that is produced from corn. It is OMRI approved, which means that it is organically certified.
This weed killer works fast on most weeds. They begin to wilt within a few hours and are completely dead by the next day. It is designed to kill most broadleaf weeds, including clovers, thistles, crabgrass, chickweed, dandelions, and others. However, it is not selective, and it may harm landscape plants or garden plants, so you should take care not to spray them accidentally.
Packaging and Use
This product comes in a convenient one-gallon plastic bottle. You will need a separate pump sprayer for this product. There is no need to dilute it, and it can be used straight from the bottle. If you do mix it with water, you will reduce its effectiveness. This is s a perfect product when you want to clear all of the weeds from a particular area. You can do spot weed removal if you are careful to direct the sprayer.
Even though this weed killer is a stronger form of household vinegar, you cannot use it for cooking, and it is not recommended for cleaning. It is not food-grade or food-approved.
---
Natural Armor Weed and Grass Killer All-Natural Concentrated Formula – Best Fast-Acting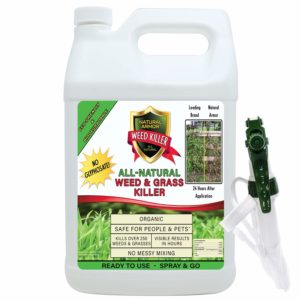 Natural Armor All-Natural Concentrated Formula is a concentrated vinegar weed killer. This one shows visible results quickly. The difference between this concentrated vinegar formula and others in this review is that this formula contains olive oil.
This allows the vinegar to stick to the plant and soaks into the soil. However, this formula also contains other natural ingredients, so it is not considered food grade. You can use it around vegetables, but it is not selective, so it could kill your vegetable plants.
This formula is safe to use around children and pets. It is fast-acting, and you can see results within hours in most cases. It kills most weeds within 24 hours. This one will kill weeds, but it will also kill other plants that you want to keep, too. It is not selective. It lists over 250 different types of plants that it will kill. This makes it a good all-purpose weed killer. It is excellent where you want to eliminate all vegetation in areas such as patios, pools, rock walls, and in mulch beds.
Packaging and Use
This weed killer comes in a one-gallon bottle that has its own sprayer. The nozzle on the sprayer can be adjusted to produce a very narrow stream. One of the dangers is that you will get overspray onto plants that you want to grow. The nozzle on this sprayer allows you to direct the product to spot weed in between plants that you are growing. This is an excellent choice for spot weeding and for larger areas, too.
---
Doctor Kirchner Natural Weed & Grass Killer – Best Natural Commercial Weed Killer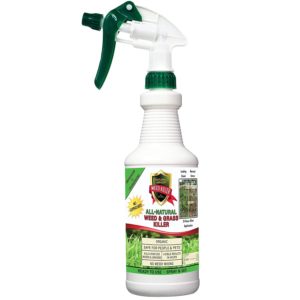 Doctor Kirchner's natural weed killer is a brand that is used by many professional lawn care companies. The formula contains salt that is obtained from seawater. It also contains water, vinegar, and soap. The addition of the salt makes this week killer work faster than those that use vinegar alone.
It kills quickly. However, it should be used when no rain is predicted for 24 hours, and it works best when the temperature is above 65 degrees Fahrenheit.
This is a highly effective weed killer for a wide range of plants. However, some plants prefer a salt environment, such as sea marshland plants, which means that it will not be effective in those types of environments. In addition, the salt from this product can build up in the soil over time, which can harm plants that you want to keep. This makes it perfect for areas where you want to eliminate all weeds. Eventually, the salt will build up, and no plants will grow there at all. This is one of the reasons why many natural lawncare businesses use it. Over time the area is virtually weed-free on a permanent basis.
---
Doctor Kirchner Natural Weed & Grass Killer (Trial Size) – Best for Potted Plants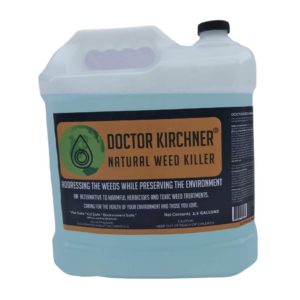 Doctor Kirchner is one of our favorite weed and grass killers. It is fast-acting, and it is the brand that is chosen by professionals. Its main ingredients are sea salt and vinegar. It relies mainly on sea salt for its killing power.
However, some plants are not sensitive to salt, and it might not work well for salt-loving plants. In addition, it is typically sold in commercial-size containers.
This trial size is perfect if you want to see if it will work on a particularly problematic plant in your lawn or garden. You can test it out and see how well it works before investing in a larger container. In addition, if you have potted plants, this can be an excellent solution for small areas. It is not a selective herbicide, so you must be careful not to get it on plants that you do not want to kill. It is a novel idea to offer this product in a smaller size.
---
EcoGarden Pro Organic Vinegar Weed Killer – Best for Agricultural Use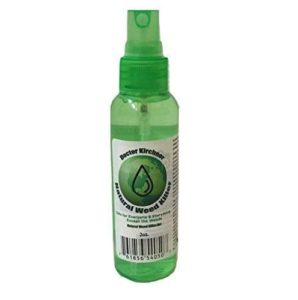 EcoGarden Pro is the choice for commercial and agricultural use. It is safe for pets, livestock, bees, fish, and children. It works quickly, with most weeds are dead within 24 hours. It is not a selective herbicide, so it will kill landscape and garden plants if you get spray onto it.
It is suitable for clearing areas where you want no plants at all, such as pavement, and in fields to be planted. It is powerful, and its active ingredient is concentrated white vinegar. It kills the roots, and plants do not come back.
It contains biodegradable plant activators and factors created by fermentation. This allows it to work on plants that can be difficult to kill, such as poison ivy, crabgrass, and moss. For some of these, it might take more than one application, but on more delicate weeds, such as chickweed, it works with only one application. It is free from phosphates and safe for groundwater. However, you will need to purchase your own sprayer.
---
Best Buyers Guide
Now that you have our list of favorite natural weed killers, there are a few things you need to consider before you make your purchase. Here are a few of the most common FAQs that people have about natural weed killers.
What does OMRI approval mean?
Although all of the weed killers on the list are considered natural and organic products, only one of them meets OMRI approval. OMRI is the Organic Materials Review Institute. It develops clear information about the use of certain ingredients and their effects on the environment, soil, plants, and animals. OMRI certification is an organic certification that people must have who want to have their products to be certified organic. It is possible for a product to be completely organic and safe, but not have OMRI approval.
What is a selective herbicide?
All of the herbicides on this list are non-selective. This means that they will kill any plant that they come into contact with, including those that you want to grow. Many selective herbicides are available that only kill a certain group of plants, but these typically contain chemicals such as glyphosate, which can harm the environment.
Can you use natural weed killers on vegetables and food crops?
You can use natural weed killers near vegetable and food crops, but you want to be careful because you could accidentally harm the plants that you want to keep. The same is true for landscape plants.
The following review will be useful if you seek natural weed killers that can cope with a weed problem without any chemical. After a few weeks of tests and consulting with professional gardeners, I'm ready to give a few tips for the buyers of environment-friendly weed killers.
How to pick natural weed killers in the U.S. market?
For instance, you may opt for harmless herbicides for both humans and soil – the use of a concentrated solution of ammonium nitrate: 6.5 lbs. of ammonium nitrate per 2.6 gallons of water. Such concentration will burn any weed. Most of the nitrates will be weathered into the atmosphere as ammonia in 2 days. Only a good fertilizer for useful plants will remain in the soil. The manufacturers of natural weed killers also use kerosene and solarium. But such solutions can only be used where the vegetation is not needed at all and you are going to grow nothing in the next few years.
Keep in mind that natural herbicides have disadvantages. Thus, they have no selective effect – they can destroy all the vegetation without distinguishing between useful crops and weeds, so their use in parks, gardens or beds is not appropriate.
At the same time, organic leftovers are rapidly destroyed without leaving any residual compounds, so such herbicides are good for use during the preparatory pre-seeding work for the complete weed control of areas. Organic herbicides are products based on fatty acids that kill weed crops, acetic acid (grape vinegar), essential oils (eugenol, clove oil, citrus oil, etc.).
A simple recipe for DIY natural weed killer
Weeds can be sprayed with 6% vinegar (4-5 glasses) in 0.5 gallons of water before sprouting. This solution is enough for a couple of acres. Try not to get it on vegetables and flowers – it will burn. It is harmless for the soil – this amount is not enough to change the acidity of the soil, and on southern, carbonate soils, even useful.
Of course, it doesn't kill rhizomes. But it will allow vegetables to climb before the weeds are burned. And then you can walk with a hoe. Spray vinegar's weeds behind the fence or on paths every 2-3 weeks, you get rid of the need to pull them, and the weeds like rhizomes will eventually die.
You can also add cooking salt to the vinegar. It is better to use this mix behind the fence or on driveways. But if the spring was late and saw thick thickets on the website, the vinegar-and-salt solution will not be superfluous. It burns out all unnecessary vegetation effectively and forever. But it's the cheapest way.
Video Tutorial: Vinegar, Salt, Dish Soap, Weed Killer
Conclusion
These are some of our favorite natural weed killers. All of them on this list work quickly and are effective against many of the more common weeds that you will encounter. There are advantages and disadvantages to all of them. However, the best choice for you depends on whether you want to kill every plant in the area, or whether you want to only do a bit of spot touchup. Many new advances are being made in the area of natural weed killers. Some of the biggest changes are in developing formulas that kill faster and give you more coverage per gallon.
Grass-Killer offers top 5 natural weed killers:
Green Gobbler is one-gallon of pet-safe weed killer, certified by OMRI;
Natural Armor is also safe for pets and people. The results are seen in hours;
Natural Armor offers another solution of 16-ounce pint. You may see the results in hours;
Doctor Kirchner is a good 2.5-gallon remedy that requires no mixing;
Doctor Kirchner also produces the natural weed killer in 2 oz trial bottle;
Check the video tutorial explaining how to use homemade remedies like vinegar, dish soap, baking soda and salt for weed killers. Thanks for reading and following the updates of this website! Please, share your feedback.
---