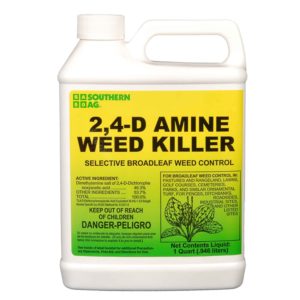 Size:32oz - Quart
Economical use rate
Controls: broad-leaf weeds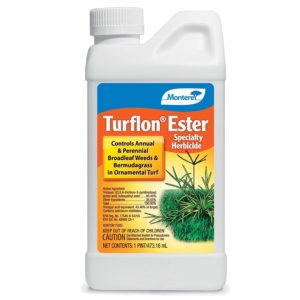 Size: 16oz
Post-emergent herbicide
61.6 percent active ingredients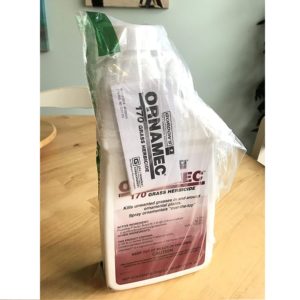 Size:32oz
Work within 48 hours
Controls perennial species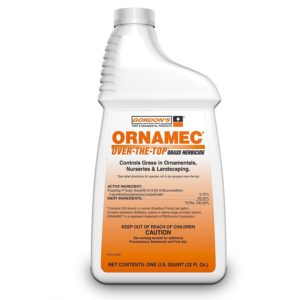 Size:32oz
Economical use rate
Work within five days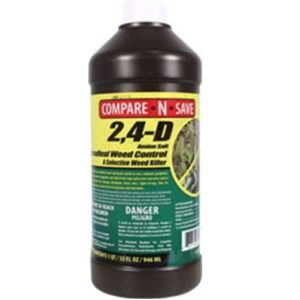 Size:32oz
Economical use rate
Controls: broad-leaf weeds
---
Choose the Best Weed Killer For Bermuda Grass
Customer's Choice: the Best Rated Weed Killers For Bermuda Grass
10 users answered this survey. Please help us improve this review!

70% of users selected Southern Ag, 20% selected Monterey, 0% selected Gordon, 10% selected PBI Gordon and 0% selected Compare-N-Save. Every month we analyze your answers and change our rating.
---
Bermuda grass is a favorite for lawns because of its heat tolerance, resilience, and drought tolerance. This makes it a favorite among both lawn care professionals and homeowners in the warmer areas. However, not everyone is a fan of Bermuda grass, and it can be considered an undesirable weed in Kentucky bluegrass and ryegrass. Whether you have a love story or a troubled relationship with Bermuda grass, you need to choose a weed killer that is specially designed to your lawn to save you time and make lawn care chores easier.
Now, let's take a more in-depth look at weed killers to keep your lawn looking perfect.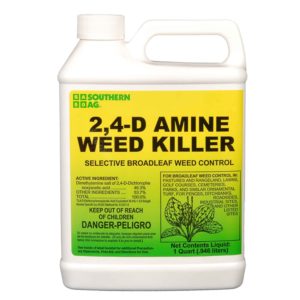 Southern Ag
Amine Weed Killer is an excellent choice if you have a large area to cover. It only requires between 1 to 4 pints per acre. It is specifically formulated to kill broadleaf weeds and plants with woody stems.
It is a popular choice for areas that are larger, such as pastures, golf courses, ditches, and fence lines.
The container is easy to carry, and it is easy to mix to the proper ratios for your purposes. One thing of note is that when mixed at lower ratios, it was more difficult to kill some types of weeds. When mixed to be more dilute, sometimes two or three applications are needed in certain spots. However, it has good coverage and works well on weeds that are easier to kill, such as plantain or chickweed.
This product is safe for Bermuda grass and most lawns. It is focused on broadleaf weeds and is listed as safe for most grasses. It is not recommended for use on crops that are for human consumption. The applicator nozzle uses low pressure, and it is easy to get an even coverage.
Pros
Excellent coverage area
Safe for Bermuda Grass
Easy to apply
Cons
No to be used on vegetable crops
Might have to reapply for tough weeds
---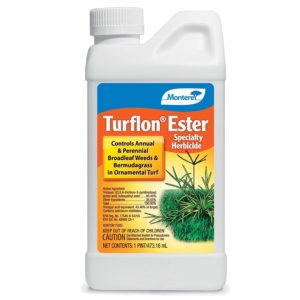 Monterey Turflon Ester Specialty Herbicide is formulated to kill broadleaf weeds in perennial bluegrass, ryegrass, and tall fescue. It has excellent coverage and is easy to apply. It comes in a smaller container that is easy to handle and mix.
One pint can cover up to 20,000 square feet and is in a highly concentrated formula. You will need to purchase a separate sprayer for application. It should be used when you have at least 24 hours before the next scheduled watering or rain.
This product is formulated to kill Bermuda Grass that is growing among other grasses. It is designed to kill ground ivy, oxalis, wild violet, ragweed, and clover on lawns and other turfgrass areas. It is listed as safe on ornamentals, vegetables, and fruit trees. However, the list of plants that it kills is extensive, and some of them are also used in landscapes, so be sure to read the label.
Pros
Kills a wide range of weeds and grasses
Safe for vegetable and fruit trees when used as directed
Covers a large area
Cons
Need to purchase a separate sprayer
Can kill some landscape plants
Must have at least 24 hours without rain after application
---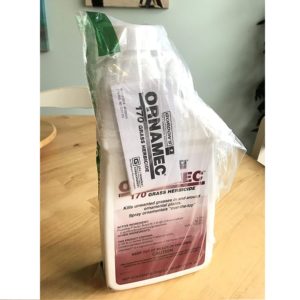 Gordon's Ornamec 170 is designed for landscape bed maintenance, which means that it is safe for most plants in your landscape, but be sure to read the label. It is in a convenient small bottle that comes with its own sprayer. However, it is a small bottle and does not cover a large area.
This produce is designed to kill Bermuda grass and other perennial grasses. It will kill many types of annual grasses, such as foxtails, goosegrass, and crabgrass. One thing that you might want to consider is that it takes up to 48 hours to stop grass growth, but it can take between one and three weeks for it to completely kill unwanted weeds and grasses.
Pros
No need to buy additional sprayer
Kills a wide range of tough grasses
Safe for most ornamentals
Easy to apply
No additional sprayer needed
Cons
Slow to kill
Not recommended for larger areas
---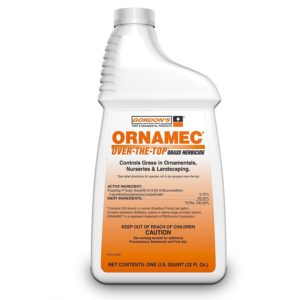 Over the top herbicides are designed to be used on established landscape plants. This herbicide is even safe for small seedlings and young plants, which is something that sets it apart from other herbicides. You can also use it in newly established beds, too.
This is one of the few products that are safe for use in nurseries. It kills over 500 different species of plants, including trees, grasses, groundcovers, and shrubs.
This product kills a wide range of plants, but you must read the label carefully to make certain that it does not kill something that you want to keep. If you are unsure, you should test it on a few plants and make sure that it does not harm them. It does kill Bermuda grass and other perennial grasses effectively. You must buy an additional sprayer and mix it according to directions.
Pros
Can be used on newly established beds
Can be used on seedlings
Kills over 500 different types of weeds
Cons
You must purchase an extra sprayer
Be careful not to kill something that you want to keep
---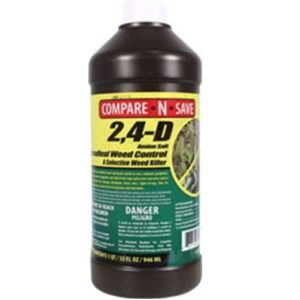 This product does a few things that the other weed killers on this list cannot do. For instance, you can use it for weed control among corn and soybeans after they have been planted. You can also use it on smaller grains and for pasturelands.
It is safe for Bermuda grass. It can also be used to kill aquatic weeds and trees, which makes it stand out on this list.
This is a smaller bottle, but it is highly concentrated and has a large coverage area. You only need about three tablespoons to cover 1,000 feet. It does an impressive job of killing off tougher weeds, such as wild garlic, wild onions, curly dock, tansy, bindweed, and ragwort. However, it works best when applied to younger, less established weeds. It is perfect for use on golf courses, airfields, for roadsides, and on turf areas. This is an excellent product for these types of applications.
Pros
Large coverage area
Can be used in aquatic environments
Good for pasturelands and crops
Cons
Must purchase a sprayer
Not for use on some legumes
Must be reapplied every 30 days
---
Best Weed Killers Buyer's Guide
Now you know our top pics for the best weed killers for Bermuda grass, whether your goal is to rid yourself of it or you want to protect your Bermuda grass lawn. There are a few things that you should know about weed killers before you choose the best solution for you.
Selective Herbicides
The first thing to consider is that many herbicides today are selective herbicides. This means that they affect one type of plant, or category of plants, but not others. For instance, they might kill common weeds but not harm roses. However, it is important to read the label and make certain that it does not kill the plants that you want to keep. You also need to make certain that it will kill those that you want to destroy. Some have this information on the label, but sometimes, you will have to go to a website or read the instructions that come with it for a full list of plants for which it is designed.
Pre-Emergent vs Emergent
Another thing to consider is whether the weed killer contains emergent or pre-emergent weed killers. Those that contain pre-emergent weed killers will not only kill the plants that are already growing, and they will prevent seeds from sprouting, which prevents new weeds from emerging. It is common practice to have both emergent and pre-emergent herbicides in most products today, but it is important to read the labels to make certain.
Food Crop Safety
Another important consideration If you are a gardener is whether the product can be used around crops of consumption. Some herbicides stay on plants and could poison you if you accidentally consume them. Some have a certain waiting period before harvest. This applies to those that you intend to use directly on the crops and those that you use around them. When spraying plants nearby, you could accidentally get the product on your tomatoes and lettuce. Once again, reading the label is the best solution, but be sure to know for sure before you use it on a food crop.
Video Tutorial: Preemergent for Bermuda Grass – Amazing results with pre emergent
Conclusion
Weed killers continue to be developed that are more specific in what they kill and what they do not kill. It is always important to read the directions and use them accordingly. This assures that you will get the best results, keep the plants that you want to save safe, and keeps you safe as well. Weed killers designed for your specific purpose are an excellent way to save you time and keep your lawn and landscape looking beautiful.
If you fight with Bermuda grass on your lawn every autumn, then this review will be helpful. I've tested a few different pre-emergent and post-emergent weed killers on this particular weed. The results can be found below. Before explaining and comparing the pros of different products, I'd like to tell how to deal with Bermuda grass and similar weeds.
Bermuda grass is a disease-resistant weed that is well-tolerated by different types of soils. This weed is capable of withstanding minor flooding and salinization. With the proper care and maintenance, it provides a thick lawn that chokes off weeds and pests, but there are times when you need to use herbicides to destroy this particular weed.
Most effective weed killers for Bermuda grass:
Pre-emergent herbicides are manufactured to kill weeds before they can germinate on the lawn. Herbicides containing dithiopyr or a mixture of Benefin and trifluralin are effective and safe for eliminating Bermuda grass, according to the University of Alabama. Use isoxaben in early autumn for broadleaf weeds that appear during this season. The weed killers that contain pendimethalin help to manage the weeds that grow in summer. If the lawn is new, wait until you mow it at least 4 times before applying pre-emergent weed killers;
Post-emergent herbicides. Once the weeds have settled on the lawn, use this type of herbicide after sprouting to eliminate them. According to the University of Alabama, it may be necessary to use more than one post-emergent herbicide. Wait 24 hours to water the grass after applying the major weed killer. Never use these herbicides on Bermuda grass when the temperature is above 860F. Herbicides containing 4D, in addition to other chemicals such as dicamba, quinclorac or sulfentrazone, kill a wide range of weeds after they appear, including Bermuda grass;
A combination of herbicides and nutrition for plants is also effective to fight with Bermuda grass. The so-called "fertilizer" combines a mixture of fertilizer and herbicides. Use the combined mixtures if there are weeds on the lawn. Read the label on the product to ensure that the fertilizer contains sufficient ingredients for destroying this weed. The percentage of a herbicide in the product is sufficient for weed control and it is suitable for Bermuda grass.
Top 5 weed killers for destroying Bermuda Grass:
Southern Ag is a quart bottle with an economical use rate. It helps to control broadleaf weeds;
Monterey is a 16 oz bottle with almost 62% of active ingredients. It is one of the best post-emergent herbicides for Bermuda grass;
Gordon's solution will work within 48 hours and can control perennial species;
PBI Gordon's is another great weed killer that works within 5 days, with an economical use rate;
Compare-N-Save is another great remedy for destroying broadleaf weeds;
As always, I added the video tutorial that shows the action of pre-emergent for Bermuda grass. The results are amazing, watch if you fight with this weed as well. Make sure to leave comments and your feedback – I read all your comments and suggestions. Please, follow and subscribe to Grass-Killer.com!
---
Sources:
---