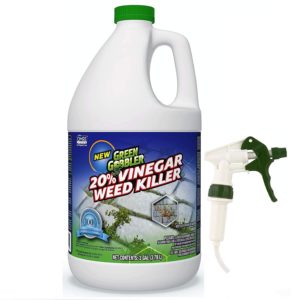 1-Gallon
Pet Safe
Certified by OMRI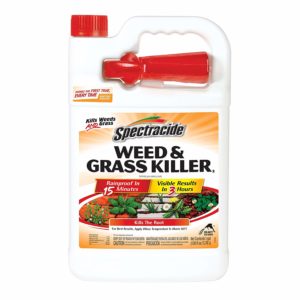 1-Gallon
Rainproof in 15 minutes
Results as fast as 3 hours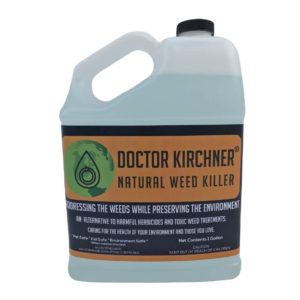 1-Gallon
No Mixing
Pet safe, kid safe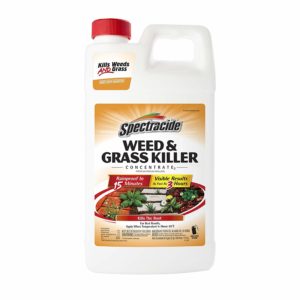 Size: 64 oz
Rainproof in 15 minutes
Results as fast as 3 hours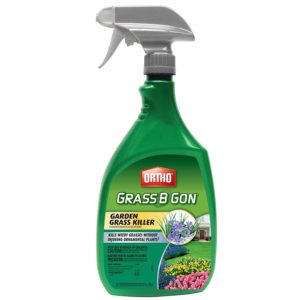 24-Ounce
No Mixing
Ready to use
---
Choose the Best Weed Killer For Flower Beds
Customer's Choice: the Best Rated Weed Killers For Flower Beds
6 users answered this survey. Please help us improve this review!

50% of users selected Green Gobbler, 16.67% selected Spectracide, 16.67% selected Doctor Kirchner, 16.67% selected Spectracide Concentrate and 0% selected Ortho 4650306. Every month we analyze your answers and change our rating.
---
Spray weed and grass killers are a convenient way to keep your garden, flower beds, sidewalk, driveway, foundation, and patio free from invasive weeds and grasses. Most of them are convenient, and all you have to do is to spray the weed that you want to be gone and wait. However, there are a few considerations when choosing the right one. For instance, many of them are made for a specific type of weed or grass. If you have pets or children, it will also affect which one you choose. Here is a quick comparison chart of the major attributes of each of the five that we reviewed.
Here are our top five picks for weed and grass killers.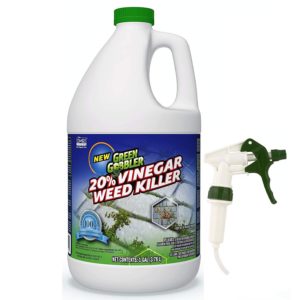 Green Gobbler
works fast and is a pet-friendly, kid-friendly solution to killing weeds around your home. It has a nozzle that screws on easily, and it is lightweight to carry. It contains 20 percent vinegar and is a bit stronger than regular household vinegar, but it cannot be used in cooking.
It is safe to use in flowerbeds, on sidewalks, in parking lots, and around foundations.
It kills within 24 hours, but you must make sure to completely soak the plant that you want to kill. It is certified for organic use. It will kill dandelions, clover, moss, and crabgrass. It does not contain glyphosate or other harmful chemicals, and it is made from ethanol distilled from corn grain.
This is an excellent product and works quickly. However, you must be careful around plants that you want to keep, because it is not selective. It will wash away in the rain or if you water your plants after application, so you need to allow time for it to work before rain or watering.
Pros
Fast and effective
Safe for pets and children
Contains no harmful chemicals
Made from organic ingredients
Certified Organic, OMRI listed
Cons
Not selective or safe for flowers
Not rain or waterproof
---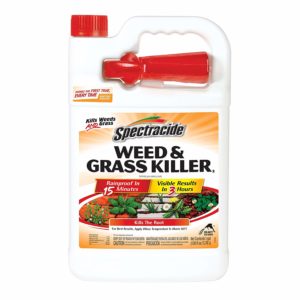 Spectracide
is an effective weed and grass killer that works quickly. It kills within 24 hours. It is the perfect solution for
large areas
such as around pools, large patios, and before planting beds around the house.
The bottle has a handy sprayer, and you do not need a separate sprayer to apply it. The handle is easy to grip and carry.
This weed and grass killer will not harm trees or most flowers and grasses. You can replant as soon as three hours after application. If you allow it to dry for 15 minutes, it will not wash off, and there is no need to reapply. You must make sure that the plant that you want to kill is completely saturated with the weed killer.
This is an excellent choice if you want a weed killer that acts fast, and that will not harm the plants that you want to keep. However, it contains harmful chemicals that are not recommended for children or pets.
Pros
Convenient and easy to use
Works quickly
You can plant the same day
Does not wash off in rain
Cons
Not recommended for children or pets
Not safe for all landscape plants
Not recommended for fruits and vegetables
---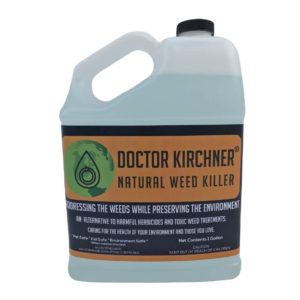 This is an excellent choice for those who want a kid and pet-friendly option for killing weeds. This super-concentrated vinegar is an excellent eco-friendly solution for your weed problems. It has a handy spray cap, and there is nothing else needed to apply it.
It works well on weeds in mulched flower beds, pavers, patios, fences, and around pools.
This weed killer is as friendly as household vinegar to use. Only it is four times as strong. It does have several drawbacks. It is not selective, which means that if you accidentally spray it on plants that you want to keep, it will kill them, too. It is not rain-resistant and will wash off if you use it before a rain. You should spray it in the full sunshine, and make sure that you completely soak the weeds that you want to kill.
This is the best choice if you want a safe and eco-friendly solution to weeds. It contains no glyphosates or hormone-disrupting chemicals. It is a simple solution that is good for the environment.
Pros
Kid and pet friendly
Safe and effective
No Glyphosates or hormone-disrupting chemicals
Friendly for the environment
Cons
Not rain resistant
Not selective, not safe for wanted plants
---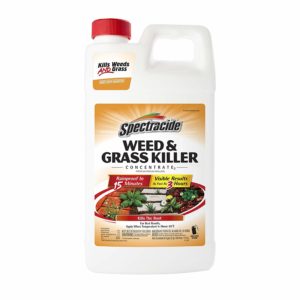 Spectracide Concentrate is a fast-acting weed and grass killer that works in as little as three hours when you saturate the leaves of the plant that you want to kill. It kills all the way to the root, so the weed never comes back.
If you allow at least 15 minutes for it to dry, you can water as usual, and it is rainproof.
One thing to note is that it does not come with a spray nozzle. You will need to buy another small hand sprayer to apply it. It will not harm flowers and trees in the landscape, just weeds. However, you need to read the listed plants for its use because it is not safe for all plants. It is easy to apply, but depending on the sprayer that you choose, you need to be careful of overspray plants you want to keep.
This is an excellent product and works fast, but it contains powerful chemicals, and it is not safe for children or pets. You must be careful not to get it in your eyes, and you must wash thoroughly after you apply it. It is an excellent choice for many applications, such as fence rows and between pavers.
Pros
Fast acting, kills in three hours
Kills to the root
Will not harm most landscape plants
Cons
You must supply your own sprayer
Not safe for children or pets
Not safe for all landscape plants
Best applied above 60 degrees F
---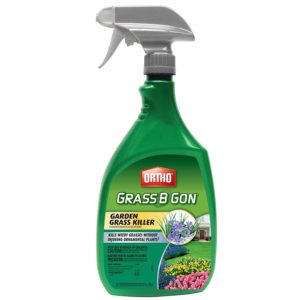 Ortho Grass B Gon comes in a handy bottle that has its own sprayer. The bottle is a handy size that is similar to many household cleaners. It works quickly if you saturate the weeds near the roots. It is a small bottle and is only appropriate for a few weeds but not larger areas.
It is specifically designed to target annual and perennial grasses. It is safe for most ornamentals, but you should use caution around ornamental grasses.
It is ready to use, and there is no mixing involved. It is not pet or kid-safe, so use caution if that is a concern for you. It is rain resistant if you allow it to dry for at least 15 minutes before watering or the next rain. It is an excellent solution for small areas. It is not considered safe to use around edible crops, but it does a good job around ornamentals.
Pros
Handy bottle
Works fast
Good for small areas
Kills grasses quickly
Cons
Might harm ornamental grasses
Not kid or pet-safe
Only enough for single plants and small areas
---
Weed and Grass Killer Buying Guide
Now that you know some of our top picks for weed and grass killers, lets us examine some of the concerns and considerations that you might have when choosing which one is best.
Natural versus Chemical
There are two categories of weed killer products available. Traditional chemical weed killers use petroleum-based chemicals to kill unwanted plants. Natural ones often use ingredients such as concentrated vinegar to do the job. Chemical weed killers often work more quickly than natural solutions. Because they are oil-based, they will not wash off in the rain or when you water.
Kid and Pet Friendly Solutions
If you have kids or pets, you need to be concerned about harmful chemicals in some weed killers. They can be poisonous to pets and children even after they are dry. That is why many people choose natural solutions. If children or pets come into contact with vinegar, it will not harm them. However, be cautious when you are applying the product, as it can burn the eyes or irritate the skin.
Selectivity
Some chemical weed killers are designed to kill a specific class or type of weed. Some are formulated for grasses, others for poison ivy, and others kill a wider range of plants. You must make certain that it will not kill your ornamentals. Natural weed killers do not discriminate. They will kill anything, so you have to be careful not to spray anything that you want to keep. The best place to find out is to read the label.
Rain and Waterproof
Natural solutions are often water-soluble. This means that if you water or it rains after you apply them, it will wash off and will not do the job. You often have to reapply natural solutions after a rain, or it will not work. With chemical weed killers, usually, one thorough soaking is all that is needed, and it will not wash off in the rain.
Weed Killers and Food for Consumption
One final thing to consider is that some chemical weed killers cannot be used on vegetables, herbs, and plants for consumption. There are often special products made for plants that are to be eaten. If you plan to use a product on or near food crops, make sure that the packaging states that it is safe for this use. Be sure to read the label and use as directed.
Video Tutorial: Controlling Grassy Weeds in Flower Beds
Conclusion
Now, you know the main considerations when choosing a weed or grass killer. New products are continually being developed in both chemical and natural solutions. The most important thing to consider is whether it is right for the plants that you want to kill and if it is pet or kid-safe. The best place for information is to read the label. If you have any questions, most products list a phone number that you can call with any questions. Weed killers can be a convenient way to keep your flower beds weed-free if you read the labels before choosing.
---
Sources:
---