---
In order to secure themselves, their loved ones, and their pets as safe as possible, many people are searching for weed control that may not require the usage of harsh and dangerous chemicals. There has been an increase in herbal weed killers and preventers as a result of this.
---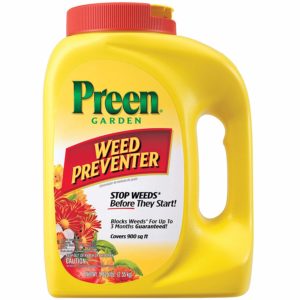 Features of Preen Weed Preventer:
Covers 900 sq. ft.
Stop weeds before they start for up to 3 months
Not for use on lawns
---
Though weed killers are good for getting rid of undesirable plants that have already sprouted in your backyard, weed preventers like Preen Weed Preventer help you to prevent weeds from sprouting in the first place, saving you time in the long run.
Furthermore, such products keep weeds at bay for prolonged terms, often months or even years. They're often mostly healthy to use with a lot of other plants. Unlike weed killers, weed preventers won't kill your favorite plants.
With exception of weed killers that only destroy weeds above ground, Preen Weed Preventer produces a shield under the soil that stops broadleaf garden weed seeds from spreading later.
Preen Garden Weed Preventer stands for a product that is both cost-effective and guaranteed to keep the family and pets safe from toxic chemicals.
---
Preen Weed Preventer User Manual
Having problem? Download Preen Garden Weed Preventer instructions.
---
Active components
Preen's weed-prevention chemicals, such as Preen Garden Weed Preventer, are pre-emergent products that have little impact on weeds that have already emerged. These are intended for use in flower beds rather than on lawns. The main ingredient in this kind of Preen product is Trifluralin. Fish, oysters, and shrimp, as well as amphibians, are highly affected by this chemical. Honeybees could be harmed as well. Keep this in mind if you are using Preen products near fish ponds, marina or in a fruit garden. 
Trifluralin-containing weed preventers as Preen can't be used in any environment where drainage may end up in marshes, wetlands, reservoirs, estuaries, or even storm sewers. Wear an eye protection and gloves while treating this chemical since it can irritate the skin and eyes.
Specifications: 
The quantity of 30 pounds covers about 5,000 sq. ft.;

Prevent the growth of weeds for 3-4 months after a single application;

Doesn't wash away with rainwater;

Includes an applicator scoop;

Not available for sale in New York state;

Apply anytime during the growing season;
It is available in four sizes to fit the size of your garden: 5.6-pound canisters, 13-pound canisters, 16-pound canisters, and 31.3-pound canisters for bigger gardens.
What weeds can it kill?
This substance is safe to use on over 200 existing flowers, buds, vegetables, roses, trees, and shrubs without causing harm.
The list of affected weeds includes (the whole list is about 40 common weeds):
Crabgrass;

Chickweed;

Henbit;

Knotweed;

Purslane;

Foxtail;

Thistle;

Bluegrass;
In reality, it can be applied to almost every plant that has germinated and grown to be 2 to 3 inches wide.
Its active ingredient forms an intangible membrane that prevents common broadleaf and grassy garden weeds from growing for up to three months.
When Preen Weed Preventer pellets are sprinkled over mulch or soil and gently watered, a barrier develops, preventing many typical weeds from flowering and rising.
On flower plants, Preen should not be included. It is healthy to use on flowers and food crops, but you can avoid using it on your lawn because it can prevent grass from growing.
How to use it?
Preen is an herbicide that prevents weeds from growing. This ensures it won't kill weeds in your garden that are actively developing. Furthermore, this weed preventer was created to not accumulate on dirt, drain out, or leach into groundwater.
You should get rid of any alive weeds before using this product. Dig them out by the roots with a weeding fork or trowel. After that, you may begin applying the substance.
When you've finished preparing your lawn, apply a coat of Preen Weed Preventer with the supplied shaker scoop to thinly spread the granules over all of your garden surfaces.
Use about 1 ounce of Preen per 10 square feet, or about 20 clear blobs of Preen per square inch, to sprinkle on top of the soil. If water isn't readily accessible, water the prepared soil directly afterward or rake it softly into the soil. If you're using water, try not to get Preen on nearby plant foliage, particularly gentle shoots. Even, when dealing with this device, keep pets and kids away from the region.
The pellets can be watered after they've been added to ensure that the additives are released into the ground. The best thing is that the granules bind with the soil and form a weed-control shield on the surface of your yard.
Preen may also be sprayed on top of the mulch to help control weeds. The mulch should be spread first, followed by the preventer as directed. Preen Weed Preventer may be watered in or softly raked onto the dirt, holding the pellets away from the plant foliage.
Examine surrounding areas such as the patio, pavement, or driveway after applying Preen Garden Weed Preventer. Sweep up any leftover granules and put them on the soil that has been processed. At least when the watered land is dry, keep livestock and humans away from the treated fields.
When to use:
Apart from the fact that it only has to be used once every 3 months, the Preen Garden Weed Preventer may be used at any time of year. As required, add the preventer per three to four months.
According to some experts, the Preen product performs well when used with a 3-inch mulch layer in the spring until weeds start to spread.
Where to use:
Since it could damage fish and other aquatic species, the manufacturer recommends that it be used in a way that prevents run-off into streams or waterways. This ensures it's a smart idea to brush some loose granules from your sidewalk or sidewalks.
It can't be used on flower crops, lawns, vine gardens, or other plants that provide food. Preen can't be used on or around vegetable or flower seeds since it can discourage them from sprouting. Second, wait until the desired plants are few inches wide. If you're applying Preen in a vegetable garden, check the instructions carefully since it specifies application times based on the crops you're growing.
How long does it take to work?
To avoid the growth of weed seeds, this Preen substance usually takes 9–12 weeks after an application. It's for this reason that it can be used around seeds and new plants. Keep in mind that although Preen Garden Weed Preventer is working, flower seeds will not germinate (during the first 9 -12 weeks after the application).
Pros & Cons of Preen Weed Preventer
Preen Weed Preventer is a powerful pre-emergent herbicide that forms a shield on the upper soil surface, preventing weed seeds from sprouting.
---
The Buyer's Guide
Mode of action
Preen is a weed preventer, not a weed killer. Preen binds with the soil in your garden after being activated by water. Preen instead creates an impenetrable barrier to defend the useful plants. It literally stops weed seeds from germinating and growing branches. No roots, crops, or weeding. The best time to add the first round of Preen is in the early spring, although it's not the only time to do so. Preen can begin working as soon as you start, stopping the seeds from spreading and rooting.
Ease of use
It is, though, perfectly acceptable if you fail to apply it. As with any weed preventer, Preen may be sprayed on top of mulch if the garden is dry. Simply eradicate all current weeds and grasses from the bedding region before applying the substance.
Efficacy
Preen's pre-emergent herbicide is both efficient and secure to use. However, to achieve the best outcomes a significant amount of time and effort is required to invest when applying this product. 
You don't want to kill your beneficial plants when trying to keep the undesired vegetation out of your lawn. This solution is intended to be preventative, so you can spray it on your garden to prevent potential weed development without damaging your plants' welfare. You should, though, clear all current weeds before spraying, since it will not destroy them. Preen Weed Preventer can hold your backyard weed-free for 3 months with only one visit.
FAQ
How much of Preen you should use annually?
According to customer reviews, about 25 lbs of this substance is enough to prevent the undesired weeds from spreading and developing once a year.
Excessive use of the chemical is often unnecessary and potentially detrimental to plants and the atmosphere. That is to say, before using a tool, you can figure out what the issue is. If you add a fungicide to a plant with bugs, the bugs will return.
Is it necessary to water after applying Preen?
Preen is activated by water, so it's essential to water it. If a pouring rain is forecast over the next day or two, you should spray with a hose, sprinkler, or rain. Enable no people or pets to step in the bed after you've watered in every fresh application until it's completely dry.
Can it deal with nettle?
Seeds can't germinate once they've been affected by Preen. Yeah, it will cope with nettle seeds if they drop. You can use a different product if they are perennials that grow up from established roots.
Should you remove pebbles from your patio or driveway when applying Preen?
It is recommended to remove pebbles and mature weeds first, before applying this product. You may also need to add the black mesh. After spreading Preen, you may put back the pebbles all over the deck or driveway again. 
Is Preen Weed Preventer better than Roundup?
Roundup is a touch herbicide that does not require to be watered in or added. Preen is pre-emergent, which means that it has to be either extensively watered in (rainfall or irrigation) or introduced into the soil to be successful at destroying germinating weed seeds. These are different products with different modes of action. 
Video Guide: How To Use Preen Garden Weed Preventer
Final thoughts 
Weeds are prevented from sprouting in flower and vegetable gardens, field covers, and around trees and shrubs with Preen Weed Preventer. Current weeds would not be killed by Preen. It would stop new weeds from sprouting, removing the need for time-consuming and complex hand weeding. Your useful plants will develop larger and healthier without weeds.
---