---
Yard Butler Lawn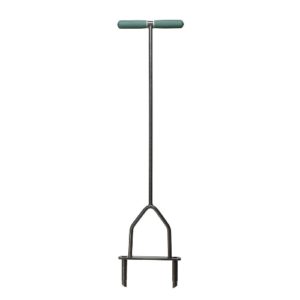 Promotes vigorous root growth
Style: Coring Aerator
Item Weight: 3.72 pounds
Butler Lawn Spike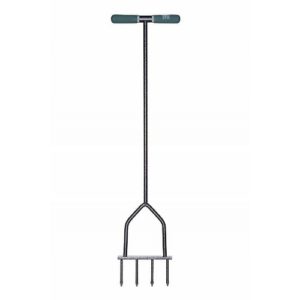 Lawn Aerator 36in
Style: Spike Aerator
Item Weight: 2.25 pounds
Garden Weasel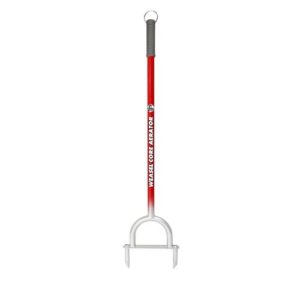 Easy to use
Color: Red and Silver
Item Weight: 2.35 pounds
Truly Holey Aerator Tool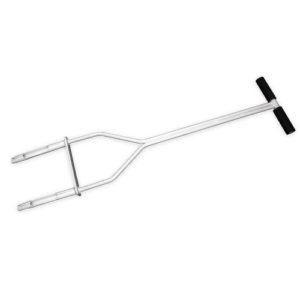 Deeper soil penetration
Durable steel construction
Item Weight: 6.65 pounds
Lawn Aerator Shoes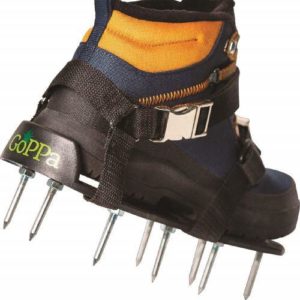 Comfort lawn sandal design
High-end aerator shoes
Item Weight: 2.36 pounds
---
Choose the Best Lawn Aerator
Customer's Choice: the Best Rated Lawn Aerators
26 users answered this survey. Please help us improve this review!

61.54% of users selected Yard Butler Lawn, 3.85% selected Butler Lawn Spike, 7.69% selected Garden Weasel, 23.08% selected Truly Holey Aerator Tool and 3.85% selected Lawn Aerator Shoes. Every month we analyze your answers and change our rating.
---
Why does your garden need aeration? You see, aeration can really improve your garden's lawn when it is done correctly and with high quality. In this case, it makes it possible to saturate the ground with oxygen, nutrients and improves irrigation during rainfall. After proper aeration, moisture reaches the roots of plants without remaining solely on the surface.
To get water and oxygen to roots, the punctures in the soil need to be at the right depth and the roots are not damaged, the grass is not torn out by bunches. That is why an aerating device must be of high quality.
Scarifiers and aerators belong to the truly indispensable gardening equipment. They provide the work that no other tool can do: pierce the lawn while removing the unwanted layer. No fork or rake can match the performance of a good aerator.
When choosing an aerator, I advise you to pay attention to the type of engine or mechanism of work.
Major types of aerators
Scarifiers are aerating devices with a rotary rake, loosening the soil by 2 cm and clearing the lawn from dried up turf, leaves of trees and grass, moss. This kind of device often leaves behind "impellers", but this is not a problem, because after aeration such defects are quickly restored.
Verticutters loosen the soil with knives that cut through its top layer to a depth of 3 centimeters.
Manual aerators resemble a usual garden fork that should be used to make punctures at a distance of 15 cm from each other. Such aerators are simple, reliable and cheap, but have low productivity and require physical effort.
Foot aerators look like boots, the soles of which are made of wood or thick rubber, in which nails of 100 mm length are fixed. This lawn foot aerator is a simple DIY project, it requires less effort than a manual aerator, but its performance is even lower.
The mechanical type of an aerator is a heavier device with a wider grip than manual or foot devices, but it is still driven by physical effort. A lawn aerator is a kind of trolley, usually on two wheels fixed on the same axis with a working body, which perforates the top layer of soil, while combing it from the grass and foreign objects.
Electric aerators are powered by an electric motor of 0.5 to 2 kW. The working width of such an aerator is 30 to 40 cm and the working depth is 9 to 32 mm. Some models are equipped with a grass catcher box with a volume ranging from 30 to 50 liters. Some electric lawn aerators can work from energy from batteries.
Gasoline aerators are powered by an internal combustion gasoline engine. It is also possible to convert the motor to natural gas using an inexpensive gas block if desired. The gasoline lawn aerator can have a power of 1.8 to 6.5 horsepower. Some models are equipped with grass catchers from 30 to 110 liters.
How to pick a lawn aerator for your garden?
Mechanical or electric models are suitable for medium to small areas due to their economic efficiency and low price. Since such lawn aerators are usually located in densely populated areas, an important feature is the absence of noise in mechanical aerators and its low level in electric models. Gasoline models are bought primarily by those people for whom lawn care is more as a profession, not a hobby. And, for personal use, I recommend buying such powerful devices to owners of really large lawns or people who have little free time and money.
Grass-Killer.Com chose 5 best lawn aerators:
Yard Butler Lawn helps to spur the growth of roots;
Butler Lawn Spike has a 36-inch aerator, the weight is only 2.25 pounds;
Garden Weasel is extremely easy to use, its weight is also insignificant (2.35 pounds);
Truly Holey Aerator Tool for a deeper soil penetration;
Lawn Aerator shoes are really comfortable to wear if you look for this kind of footwear. They weigh only 2.36 pounds;
Video Tutorial: How to Aerate Your Lawn
What do you think about my choice and recommendations? How do you aerate your lawn? Share your opinion and ask any questions. Thanks for reading!
---