---
Corded Electric Tiller
Color: Grey
Motor: 2.5 Amp
Item Weight: 8.8 pounds
Sun Joe Electric Tiller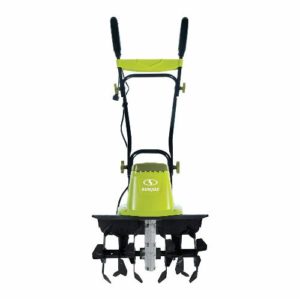 Color: Green
Motor: 12 Amp
Item Weight: 27.1 pounds
Tiller Joe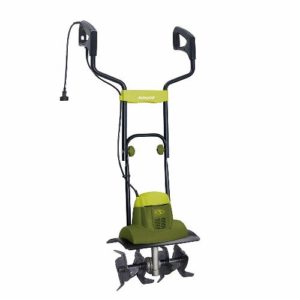 Color: Black
Motor: 6.5 Amp
Item Weight: 18.7 pounds
Schiller Grounds Care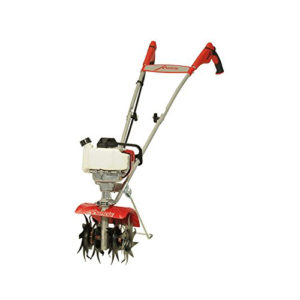 Powerful 4-cycle engine
Folds for easy transport
Item Weight: 24 pounds
Trimm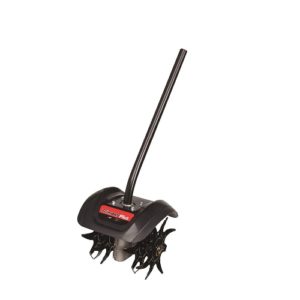 Drive shaft connector
Perfect for weeding
Item Weight: 9 pounds
---
Choose the Best Tiller for Garden
Customer's Choice: the Best Rated Tillers for Garden
11 users answered this survey. Please help us improve this review!

72.73% of users selected Corded Electric Tiller, 9.09% selected Sun Joe Electric Tiller, 18.18% selected Tiller Joe, 0% selected Schiller Grounds Care and 0% selected TrimmerPlus. Every month we analyze your answers and change our rating.
---
Earthwise TC70020 Cordless Tiller Cultivator – the best for low noise level!
The Earthwise TC70020 tiller is ideal for small to medium-sized lawns. With a weight of just 9 pounds, this compact electric tiller is simple to use and carry. You can quickly store it in your shed or even move it up a few steps to your porch until you're done.
The Earthwise tool can provide you with plenty of time to tend to your garden or lawn. For its size, this little tiller packs a punch.
When opposed to gas tillers, the benefit of an electronic tilling system is that it is quieter and simpler to manage. Furthermore, the electric mini-tiller has plenty of power. Since it does not release gases from burning fuel or gasoline, this tiller is plant-friendly.
Many lawns may be covered with a full 45-minute cycle this tiller offers. You may charge the tiller with the supplied quick charger or get a replacement lithium-ion battery if you have a bigger garden and need to cover more area.
Since you won't have to contend with long extension cords around your lawn with this Earthwise cordless tiller, it's suitable for bigger gardens. It has a battery life of around 45 minutes, depending on the soil conditions.
---
Sun Joe TJ603E Tiller and Cultivator – the best for the tilling width!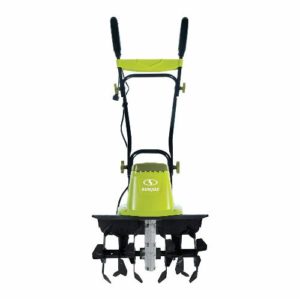 The Sun Joe TJ603E tiller has a cultivator attachment. An efficient 12-amp motor pulverizes dirt easily, slicing through it at 340 RPM for optimum aeration and optimal seedbed soil.
Control weeds if required – this Sun Joe tiller makes even the most difficult yard and garden activities more comfortable and less taxing.
6 robust steel angled tines may cultivate a 16-inch broad and up to the 8-inch deep area in mere seconds. The Tiller Joe's electric 12 amp motor spins at 340 RPM, pulverizing dirt and slicing through the soil with ease.
You won't go wrong with this tool if all you need is a good cultivator with a reasonable width and dependable power.
---
Sun Joe TJW24C Cordless Telescoping Weeder/Cultivator – the best for portability!
The Sun Joe TJW24C tiller/cultivator has a lot of features for its price. TJW24C's 24-volt lithium-ion battery, driven by Ecosharp tech, has up to 60 minutes of rechargeable runtime with no need for gas or power line.
It has a single 6-inch blade with ten short tines for effective planting and tilling. One of the lightest tillers around, weighing just 4.5 pounds. There are no pesky wires that get in the way, and you're not restricted by the vicinity of a power outlet since it runs on battery power.
The TJW24C system pulls plants and softens the soil to enable air and moisture to enter for healthy roots and plants as a power weeder. For optimum maneuverability and efficiency, its steel tines quickly cultivate in close or crowded quarters – even between plants.
The TJW24C is a compact tiller designed for those who need more stability and don't want to stumble over cords all the way.
---
Mantis 7940 4-Cycle Cultivator – the best for any soil type!
The Mantis 4-Cycle cultivator 7940 driven by Honda is a fine piece of machinery to own, designed to satisfy all of your tilling and cultivation needs. This tiller, which acts like a soil blender, can operate on any kind of terrain, including the toughest of surfaces simple to plant and plow in. The Mantis tiller is simple to use and run, weighing just 24 pounds.
The easy grip helps you to easily manage this commodity and transform your barren land into a lovely garden in no time.
These tines are designed to be completely damage-free and can handle any force or pressure applied to them. If that wasn't enough, the company even promises lifetime protection on any damaged tine for any purpose.
The tines are easily removable, making it simple to clean and scrape weeds and intertwined roots. The whole package is simple to assemble and disassemble, allowing for convenient transportation and usage by the customer.
This tiller is equipped with a Honda 25cc motor, which makes it simpler to start and operate. The four-stroke engine has enough power to smash through the toughest grounds to operate on all surfaces without the need to mix oil and water.
---
TrimmerPlus GC720 Garden Cultivator Attachment – the best for the price!
The TrimmerPlus GC720 cultivator attachment is compatible with string trimmers, powerheads, and pole saws by top-notch brands (such as Yardman, Yard Machines, Craftsman, Troy-Built, Ryobi, Kobalt, etc.). To make the ideal flowerbed, 4 heat-treated steel tines with 8 blades (on every tine) can be very helpful.
The tilling diameter of the instrument may be adjusted up to 9 inches. It's ideal for weeding in the gaps in rows.
This garden cultivator allows you to operate harder and more effectively than ever before with minimum effort, making it an essential purchase for both novice and experienced gardeners.
A top-notch 40:1 die-cast gearbox is also included, which retains power and torque.
The great thing about the Trimmer Plus is how simple it is to use, which is particularly important for people who have back problems or have never used a gadget like this before.
---
The Buyer's Guide
Designs:
Rear-tine tillers

are usually fitted with strong motors and big tires and are used to create fresh planting areas in difficult-to-break soil. They are especially useful for wide fields since their tilling diameter is usually 16 inches, as compared or 10 to 12 inches for other forms of tillers. The tires on rear-tine tillers move in 3 directions: forward-rotating tines, dual-rotating tines and counter-rotating tines;

Front-tine tillers

operate well in places where the soil is light and loamy, but they struggle to break up hard clay soil. They will also help in weed control and soil amendments. The tines may usually be adjusted in thickness, making this form of tiller effective for both small areas and breaking large stretches of soil;

Mid-tine tillers

are the least common of 3 forms, but they do manage to incorporate some of the advantages of the other two. They are reasonably strong, with cultivating power comparable to rear-tine tillers, but with the lighter weight and smaller size of front tine tillers. These machines, as the name implies, have tines that are near to the middle of the plates, giving the impression that the system is more balanced and simpler to control;
Power source
1) Electric tillers
Electric tillers are available in 2 types: corded and battery-powered. Although corded alternatives are convenient and lightweight, the cord stands in the way when tilling your lawn. Battery-powered versions have a greater degree of user-friendliness, but they have shorter run times until the battery pack has to be recharged.
Small garden tillers are ideal for electric tillers. You never have to think about running out of petrol with an electric tiller, but you will need to operate by a power source or have a long extension cord. Electric tillers are usually less efficient than gas-powered tillers, although this isn't often an issue in small gardens.
Another factor to remember when gazing at tillers is their upkeep. Electric tillers are simple to start and do not pull the use of a rope. They are maintenance-free as compared to gas tillers. Electric tillers are often less expensive than gasoline-powered tillers.
2) Gas tillers
Gas tillers have a lot of power. Whether you need to till huge areas at once or if you're breaking fresh land, these are the tillers you'll want in your corner. Electric tillers are less efficient than gas tillers, and can easily tackle weeds, gravel, and compacted soils.
All of this power comes at a cost. Gas-powered tillers have the disadvantage of being much more difficult to drive and move than electric tillers. Prepare to crack a sweat while your forearms, as well as the rest of your body, get a good workout. Gas-powered tillers often need more maintenance than electric tillers, so if you aren't technically inclined, this might not be the best tiller for you.
Gardeners and farmers would benefit more from gas-powered choices. Gas-powered ones, on the other hand, are loud and overkill for the normal garden or lawn.
3) Manual tillers
Manual tillers are great for smaller yards, but you won't be able to aerate the whole lawn with either of these. You don't have to invest in electric tillers for cultivating a small yard. 
The garden size
Try investing in a cheaper, electric tiller rather than a bigger, gas-powered tiller if you have a limited garden. If you have a big garden, you'll want a tiller that will work all day and cover a lot of areas, then a gas-powered tiller is definitely the best option.
Type of the soil
Congratulations if your garden has a good, loamy soil that is high in organic content and is largely weed-free. You may get away with purchasing a less efficient tiller that is simpler to use and likely less expensive. You'll need a more powerful tiller if your soil is hard, clay-based, quite gravelly, compacted, and/or full of rocks.
Breaking fresh ground is difficult, which is why you'll need a powerful tiller to assist you. If you're re-tilling, a front tine tiller, smaller tiller, or electric tiller will suffice.
Versatility
Any tillers are equipped with a variety of attachments. If you're searching for a "multi-tool" tiller with additional hardware, this could play a big process in your choice. Bear in mind that flexible tillers must meet the same selection criteria as standalone tillers. Don't sacrifice accuracy in the name of versatility.
The cutting depth
Garden tillers are available in set and flexible cutting depth versions. If at all practicable, we consider going for an adjustable model. You can customize the cutting depth to suit the terrain with an adjustable model.
FAQ
Why won't your tiller start? 
Tillers, unfortunately, do not often turn on when you require them. There are a number of explanations why your tiller won't start. You can need to clean the old fuel out of the carburetor if the gas tiller has been hidden in a shed for months. Fuel that has been sitting around for months will trigger complications, and in the worst-case situation, you can need to repair your tiller's gaskets and diaphragms, so read up on how to store your tiller properly.
The pawl catcher assembly can be clogged with soil or debris if your pull-string has little resistance and the engine doesn't start. For the right way to scrub this out, consult the manual or call the manufacturer/repair service. 
How often should you replace the fuel in a filter?
After 100 hours of running or every three months, the fuel should be replaced.
What is the difference between a cultivator and a tiller for a garden? 
Many gardeners are unaware that a tiller and cultivator are two different tools. The irony is that these robots in the garden have completely different roles.
A tiller is more effective than a cultivator at cutting deeper into the lawn. Tillers remove even more soil from the grass, allowing for greater aeration and drainage.
A cultivator is ideal for removing dead grass from around the lawn's roots. Thatching, if left unchecked, will lead to a die-off in the yard.
Tillers are often larger devices than cultivators. You can only use it once or twice during the season to get the maximum performance for your lawn. A cultivator, on the other hand, is a general-purpose planting instrument that you should use on a monthly basis to maximize the health and development of your lawn.
Are the wheels necessary for garden tillers? 
When buying a garden tiller, the wheels are a significant aspect to consider. The wheels should be made of durable plastic and have tread to aid in the movement of the tiller. The tool's wheels must be wide enough to enable it to travel through rough terrain without being trapped.
Video Tutorial: How To Use A Tiller

Manual labor in a garden that needs cultivating is a low and exhausting occupation that gives almost zero effect. Instead, I advise buying a convenient and functional device – a special garden tiller.
But you should know that the U.S. market offers a vast choice of gasoline or electric tillers. They differ in design, power, performance. And, most importantly, their prices range as well. How to choose an effective tilling device at a reasonable cost?
Types of most effective garden tillers
1) Lightweight devices (up to 20 kg) are good for small to medium backyards. Such tillers are intended for the cultivation of the soil and weeding. They are perfect to till between bushes, flower beds, and gardens. The depth and width of the plowing are insignificant. They are easy to operate and handle. Women and elderly people won't have any difficulties with the device's operation. They are very energy-saving. The disadvantages include limited functionality, low motor life and decreased productivity.
Electric tillers (750 – 1500 W) in this category are cheap, economical, easy to operate. It is easy to carry. The main drawback is binding to the electricity network. You need to make sure that the cable does not get under your feet and does not get under the cutter. Gasoline tillers are more mobile and have the same advantages.
2) Medium devices (their weight is up to 50 kg) – offer good endurance combined with a reasonable price. Their cutters are wider. The depth of cultivation is also increased. There are powerful electric tillers (2000 – 2500 W). Some models work with attachments. The construction is reliable and durable. But the main disadvantage is the same: the radius of operation is quite limited.
Gasoline devices are stable and functional. They are effective on all types of soils: sandy, clay, black soil, the soil that is clogged with leaves. With attachments, they can help with weeds, plowing, and digging. Their advantages: processing can be only up to half a meter wide.
There are also heavy devices (up to 90 kg) because they need a lot of gasoline and electric power. They are good only for farms and really spacious gardens. However, their price is a huge disadvantage. They are real monsters in this niche and I won't recommend them just to everyone.
My pick of 5 best garden tillers:
Corded Electric Tiller has a 2.5 Amp motor, its weight is only 8.8 pounds;
Sun Joe is another 12 Amp motor based device, that weighs more than 27 pounds;
Tiller Joe is a stylish and powerful black device (6.5 Amp);
Schiller Grounds Care offers a powerful 4-cycle engine. I like that it folds for easier transportation;
TrimmerPlus has a great drive shaft connector, awesome pick for removing weeds;
Did you like my review? What tillers do you prefer for your gardening tasks? I've posted the video with detailed instructions on how to use a tiller. Please, subscribe and leave your questions. I'd like to answer all of them.
Final thoughts 
If you're having trouble deciding between the styles in this review, you can use our top picks to help you make your decision. The models in this guide are all from well-known brands.
Tillers are a significant financial investment for your garden. While all of this knowledge will seem overwhelming at first, picking the proper tiller the first time can save you money and make gardening more enjoyable, satisfying, and profitable.
---