---
Melnor RelaxGrip Showerhead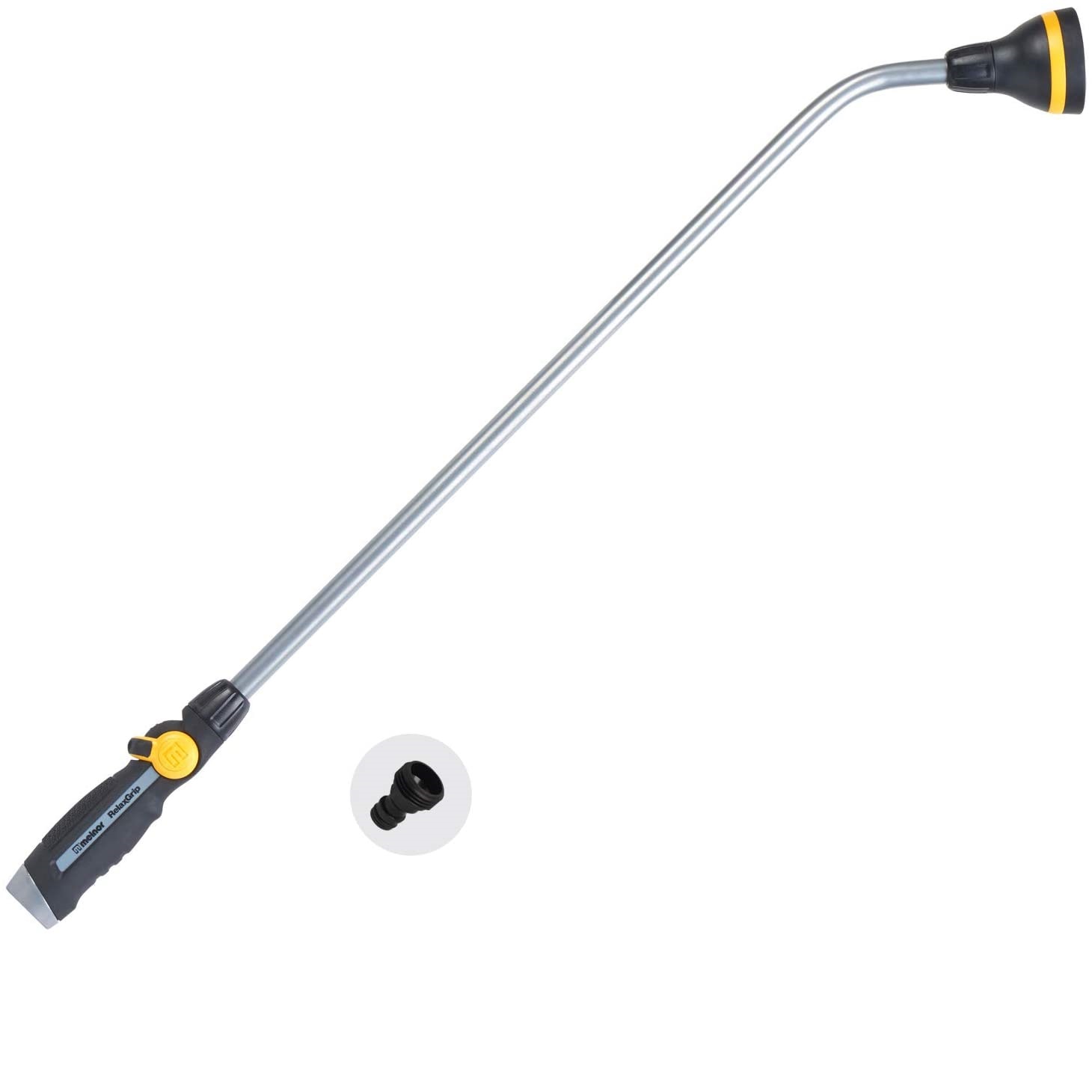 Material Stainless Steel
Brand Melnor
5.11 x 32.83 x 2.59 inches
Orbit Front Trigger 10 Pattern Turret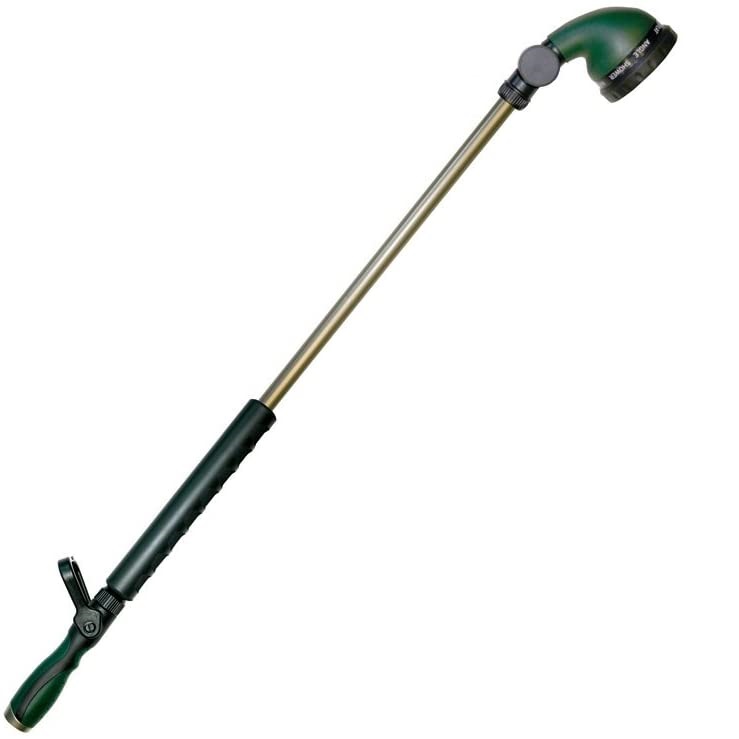 Material Metal
Brand Orbit
36.75 x 4 x 3.25 inches
Sprout 8-Pattern 15″ Watering Wand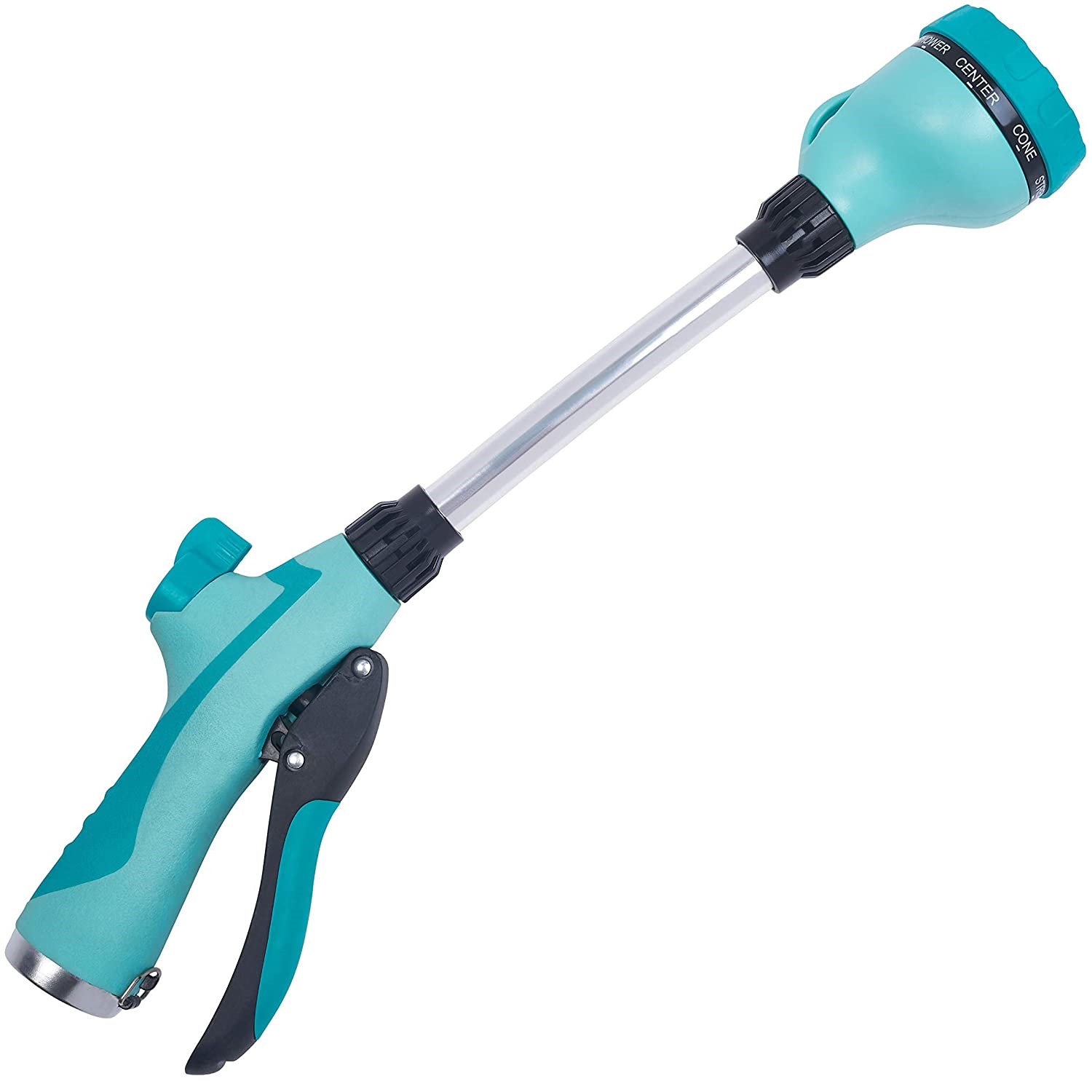 Gooseberry Green
Item Weight 12.6 ounces
Melnor
Heavy Duty Swivel Connect Compact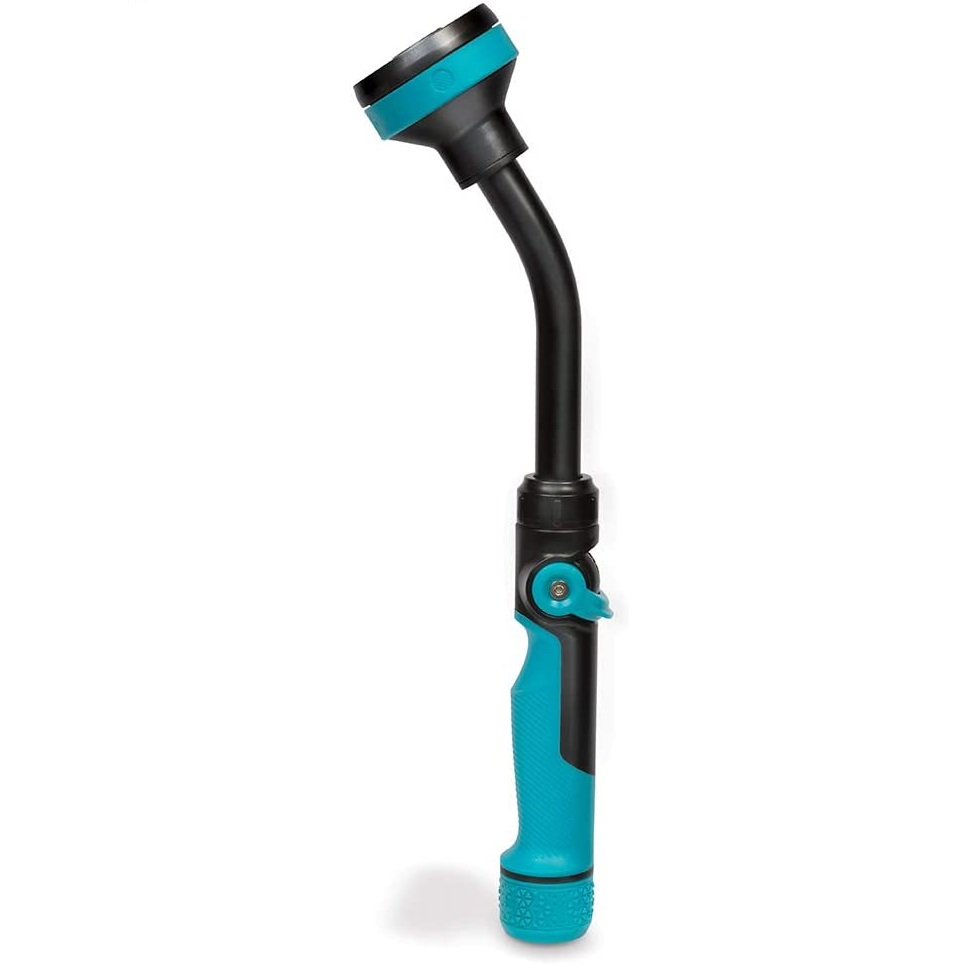 15 Inch Aqua
Black
9.6 Ounces
Orbit SunMate Hose-End 56098 33-Inch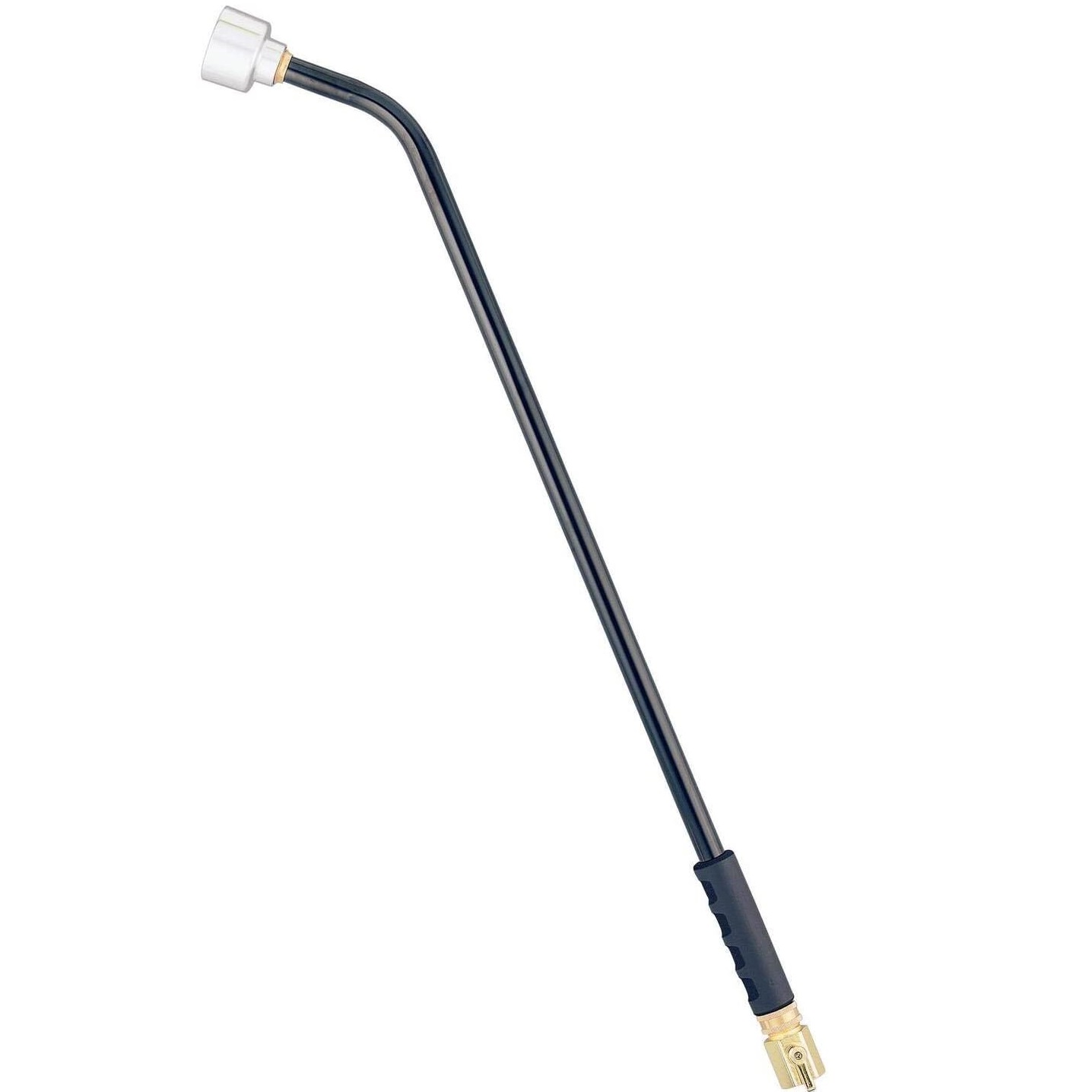 Material Plastic
Brand Orbit
33.5 x 4.75 x 2.25 inches
---
Choose the Best Watering Wand
Customer's Choice: the Best Rated Watering Wands
7 users answered this survey. Please help us improve this review!

71.43% of users selected Melnor RelaxGrip Showerhead, 0% selected Orbit Front Trigger 10 Pattern Turret, 14.29% selected Sprout 8-Pattern 15" Watering Wand, 0% selected Heavy Duty Swivel Connect Compact and 14.29% selected Orbit SunMate Hose-End 56098 33-Inch. Every month we analyze your answers and change our rating.
---
A multi-purpose watering wand can reach difficult places. Hanging baskets, deep within flowerpots, the back of the yard, and rain gutters are examples of these places.
If you're reading this, you're probably aware that not all watering wands are created equal. To prevent having to buy a new one every year due to poor construction, it's essential to invest in one of the finest watering wands on the market.
Why should you use watering wands?
Budget-friendly;

Mimics natural rain with gentle or strong spray;

Helps to prevent over-flooding;

Can be used to water vegetation that grows in tight places;
The following products are some of the best watering wands for residential use. All of these wands are very affordable. Consider checking the in-depth reviews of all products, buying guide and comparison table. 
Melnor 65045-AMZ RelaxGrip Showerhead – the best handle!
The Melnor's 65045 -AMX RelaxGrip wand is 33 inches long. The wand's length makes it ideal for watering those hard-to-reach plants and flowers, as well as allowing you to cover a larger irrigation area without moving a lot.
It has a RelaxGrip grip that relieves tension and strain on the wrists. The Melnor 65045-AMZ's design makes it extremely simple for gardeners of all ages and abilities to operate without effort.
The showerhead's soft spray may be used to water both the lawn and flowers. Because of the gentle rain spray pattern, you may even use it to water freshly planted gardens and flowerbeds.
You can quickly control the water flow with the intuitive thumb control, without needing to press a value or return to the faucet to change the flow.
Gardeners on a budget will appreciate the Melnor wand. This basic model lacks an adjustable head and spray patterns. However, it provides high-efficiency watering, with clog-free nozzles and high flow rates.
---
Orbit 56044 Front Trigger Turret Wand – the best for spray patterns!
With 9 spray patterns, the Orbit Fireman wand is an excellent option for big landscapes and heavy watering chores. The showerhead also has a 180-degree angle adjustment, allowing for personalized irrigation of overhead baskets with plants. Our model has a 36-inch reach, providing one of the finest options for hard-to-reach areas.
This model has an aluminum body that makes the wand easier to handle while in use. The Orbit Fireman's wand has an ergonomic grip that helps to minimize hand fatigue. The handle also has a unique fireman lever that allows you to easily control the flow rate of the showerhead.
With a high-quality, robust construction that's suited for commercial uses, this watering wand is an excellent option for professional gardeners. A one-year manufacturer's warranty is included with all the Orbit wands.
With 10 watering patterns and a length of 36 inches, the Orbit 56044 wand will revitalize your garden.
---
Sprout 65104-AMZ Watering Wand – the best for portability!
The Sprout 65104-AMZ watering wand, which holds 13 ounces, is both stylish and functional. To make the attachment to your hose simpler, each wand comes with a QuickConnect adapter. It also includes eight useful spray patterns for watering all of your garden's plants.
It has an on/off switch, so you may use it without running to go to the faucet each time. The water flow is controlled by a flickering switch located near the on/off button. This ingenious wand also has an in-built trigger lock that stops the flow of water without the need to push a button.
With this 15-inch long wand, you can reach all the vegetation you have to water and the areas you need to clean. Also, it is extremely lightweight and portable.
---
Gilmour 820432-1001 Compact Watering Wand – the best for the warranty!
The Gilmour's wand has a pivoting connector that doesn't twist the hose, which reduces kinks by 70%. The force that causes the hose to spin is also decreased, making it simpler to pull and maintain the hose' straightness.
Five clearly defined, readily articulated spray patterns provide a range of choices, and an ergonomic grip with the thumb control and on/off valve regulates the water flow without hand strain.
This small wand is excellent for watering plants in the ground more closely and gently, while its overall length also makes it easier to reach elevated plants and flowers.
---
Orbit SunMate Hose-End 56098 Shower Wand – the best for delicate plants!
The Orbit 56098 33-inch wand may be used to spray flowers and plants that are difficult to reach.
This Orbit model is a unique shower wand that will give you a soothing water shower. It protects the fragile plant or flower from being damaged by the water force.
The shower wand will ensure that the plant remains green and healthy while causing no harm. In water management, the shut-off lever is crucial. The handle portion has a foam-like grip that makes it easy to grip.
If you just need a watering wand for your fragile plants, this Orbit SunMate Hose-End wand is the one for you. This product has a shut-off valve to control the flow of water. It has a soft foam grip and is simple to use.
---
The Buyer's Guide
Using system/watering device
The first and most important consideration is the operating system. Most modern watering wands, on the other hand, come with an easy on/off function. This simple on/off function alleviates a great deal of discomfort.
Some of the wands, however, still include a trigger lever. However, they are inconvenient to use. Even gripping a trigger lever may cause pain in your hand. For comfort, those with a wider area to cover should use a thumb on-off trigger wand.
Spray patterns
If you're looking for a watering wand to water your plants, look for one that has a good and courteous watering pattern. Smaller drops and the capacity to cover a wide area are the hallmarks of a good spraying pattern.
As a result, several manufacturers are now offering watering wands with variable watering patterns. This kind is excellent if you're doing a lot with your watering wand.
For many individuals, too many spray patterns may cause annoyance by overcomplicating the product.  Bear in mind that some watering wands have only one spray pattern, but it is very effective.
Is it really necessary to have 8 or 9 spray patterns? Probably no, for most people, but it's always good to have choices. It is recommended to go through the spray patterns provided by each wand and determine how helpful they will be in your yard.
The water flow
Another essential thing to consider when buying a wand is the watering strength. Watering wands, on the other hand, are often used to water plants. That's why a wand with a moderate watering strength is preferable. The plants may be harmed by excessive watering.
For some gardeners, hand tiredness is a problem. Water flow controls that do not require holding down a lever to generate water are the best for this issue.
Make sure the flow control tech on the wand is suitable for your requirements by inspecting it. The thumb flow control can become your favorite since it allows you to switch the water on and off with a simple flick of the thumb.
Size
The size of the wand should also be considered. The wand's higher reach makes it preferable to hose nozzles.
In most cases, hose nozzles and watering wands fulfill the same functions. Hose nozzles, on the other hand, are smaller, while watering wands are higher.
These are perfect for watering hanging plants that are beyond your reach. However, think about how high the plant is situated and how high your wand can approach. 
Length
Do you need to access the rain gutters, suspended flower baskets, or simply the garden with your watering wand? Choose the areas where you'd want to utilize your watering wand. This will assist you in selecting the appropriate watering wand length.
Look for a telescopic watering wand that can be adjusted in length if you require flexibility while reaching things.
Control mechanism
Trigger and thumb control are the two major control systems used on watering wands. Thumb control needs less hand power than a trigger, particularly if it lacks a lock for continuous spraying.
It's not necessary to keep your thumb control in place. To obtain the desired flow, just push it back and let go to stop the flow. This is excellent for arthritis sufferers and older gardeners.
The only flaw may be that it's too simple to use. It's not childproof, and the only way to open it is to drop the wand on the grass.
The task is done just as effectively with trigger control as it does with thumb control. Bear in mind that not all trigger levers include a lock or hook that allows you to spray continuously. 
It's also a good idea to have a watering wand with separate flow control. Otherwise, to maintain a proper flow for your plants, you'll have to push the lever exactly the correct quantity and keep it in that position.
Ergonomic handle
Using your water saves time and effort compared to carrying a watering can around. After several minutes of using a wand, though, you'll still sense it in your hands.
An ergonomic handle with a contoured design and a silicone/plastic grip matches the contour of your hand for greater control over the wand in operation.
Consequently, your hands won't get tired as fast, and you'll be able to complete your watering tasks in minutes.
How should you use a watering wand? 
It's simple to use a watering wand. Begin by connecting your quick-connectors to your hosepipe. Turn on the water and have the watering wand ready to go. Pull the lever or push the flow button while positioning the showerhead 10-inches from the soil's surface to be watered.
To extend the life of your showerhead, if it has an adjustable spray pattern, choose your setting before turning it on. To saturate the soil, open the showerhead over the target area for 5-10 seconds.
The wand has a high flow rate, enabling the soil to be soaked quickly.
How to maintain a watering wand?
Take care to put the wand away after each use throughout the summer. While they have relatively robust aluminum bodies, if you drop anything on the neck, it may destroy the wand beyond repair.
Before putting the wand away for the winter, please ensure it's completely dry and sealed in a garbage bag to prevent any dust. Watering wands are portable devices that may be stored in any garage or shed.
After each usage, a watering wand should be completely emptied and cleaned. Maintenance is essential for extending the life of any product. Regular maintenance extends the life of a product.
Useful Video: Top 5: Best Watering Wands 2021 [Tested & Reviewed]
Final thoughts 
All of the above-mentioned finest watering wands are well-made and sturdy, with some unique characteristics. Perhaps, this guide provides all of the necessary facts in this review to assist you in purchasing a high-quality wand for everyday usage.
---