---
Electric Lawn Edger
Power: corded-electric
Voltage: 120V
Item Weight: 16 pounds
Greenworks Edger
Power: corded-electric
12 Amp
Item Weight: 17.82 pounds
Weed Eater Poulan
Heavy duty gear box
2-year limited warranty
Barrier handlebar
Powered Edger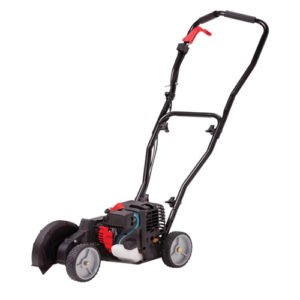 Power Source: Gas
Ergonomic handle design
Item Weight: 28.7 pounds
Powered Lawn Edger
Power Source: Gas
Blade clutch and depth control
Item Weight: 66.3 pounds
Power Head System
8 in Edger blade
Water-resistant construction
Genuine EGO parts
Walk Behind Edger
Power Source: Gas
Manual recoil
Metal frame and blade guard
Wheeled Edger Engine
High quality
136cc Engine
Item Weight: 85 pounds
Troy-Bilt Wheeled Edger
4-cycle premium engine
9in dual-tipped steel blade
3 premium transport wheels
Corded Lawn Edger
110V
indicator for precise edging
Trench 1-1.5″ deep
---
Choose the Best Lawn Edger
Customer's Choice: the Best Rated Lawn Edgers
231 users answered this survey. Please help us improve this review!

33.77% of users selected Electric Lawn Edger, 16.88% selected Greenworks Edger, 3.46% selected Weed Eater Poulan, 11.69% selected Powered Edger and 34.2% selected Powered Lawn Edger. Every month we analyze your answers and change our rating.
---
Investing in a premium lawn edger to control unruly edges is one of the best ways to maintain your yard looking sharp, whether it's wide or tiny, minimally landscaped or packed with flowerbeds.
Preserving an evenly trimmed perimeter improves the overall look of the lawn, just as framing a painting does. Its crisp edges denote a well-kept house, particularly when growth along the edges of your flowerbeds, sidewalk, driveway, and walking paths is carefully controlled and groomed.
Clean lines of distinction between the grass and the road, pavement, or garden beds may be achieved with lawn edgers. They often reduce the harm caused by grass spread in these areas. And, most of all, they give your yard's boundaries a nice appearance.
Pros of lawn edgers: 
These tools help to cut the grass near the sidewalks;

They are simple to use;

Can help to achieve professionally groomed lawn;

Helps to control grass growth;

Good for maintaining flower beds;

Easy to clean and replace blades;

Flexible and adjustable for different heights;
With this buying guide below, you can search for the best lawn edger, according to the needs of your property. Check out the list of top-favorite picks from the best lawn edger products on the market in the United States.
WORX WG896 Electric Lawn Edger & Trencher – the best for the depth adjustment!
The Worx electric lawn edger/trencher is ideal for adding definition to your lawn edges. With a weight of just 14 pounds, it's both powerful and simple to maneuver. It's also simple to remove clogs and replace the blade; just remember to unplug it first.
The blade has a wear indicator that indicates when it needs to be changed and allows smooth, clear lines. Cleaning out the gunk and removing the blade is simple to assemble and unplug the unit. The pivots on the flexible handle (D-grip handle) will provide you with the most ease and control over your job. Because of the adjustable handle, you may use this edger in a more relaxed position (of any length and height).
Ideal for tiny to medium lawns, the 12-Amp motor spins at 4700 rpm and produces professional-looking lines and margins. The cutting line indicator will assist you in staying on the straight and narrow with the cutting line, and you will see the difference between a tidy, green garden and a flowerbed after edging.
This WG 896 lawn edger is a versatile electric corded lawn edger that is also lightweight and simple to use (quick to push). The blade is constructed of heavy-duty steel with serrated edges that easily clean the edge in straight lines, and wear signs can let you know when it's time to repair it.
---
Greenworks 12 Amp Electric Corded Edger 27032 – the best for small yards!
The 12-Amp motor in this Greenworks 27032 edger has the efficient edging capability. The double-edged blade would offer you more edging power which will last longer (up to 1.5 inches into the depth).
The auxiliary handle may be adjusted to provide the consumer with more ease and control, and the incorporated cord lock prevents unintended unplugging when using the unit.
Variable blade depth with desired motions will be provided by the spring assist front wheel for ideal edging around flower beds, sidewalks, and driveways. This corded edger is compact and simple to control, making it ideal for cutting and grooming a small yard.
The edger has a second handle for extra maneuverability when you have to navigate tiny flower beds or tall grass. It also has an adjustable shaft that you can change according to the ideal height. The cord lock stops the extension cord from disconnecting, which is another useful function.
The GreenWorks edger has a number of appealing features that make it an excellent power tool for slicing and grooming a small yard.
---
Poulan PP1000E Pro Lawn Edger Attachment – the best for lawn trimmers!
The 7-inch rugged steel blade on the latest Poulan PP1000E edger attachment is well-built. It has a barrier knob to protect the consumer from any accidents. This professional edger accessory is compatible with almost all lawn edgers on the market.
The item includes a heavy-duty gearbox that can withstand even the most rigorous application. The cutting depth of this attachment can be conveniently set to up to 2 inches.
Snappers, Weed Eaters, John Deere, and Homelite multi-tool devices are both compatible with the PP1000E attachment.
This Poulan PP1000E attachment has a heavy-duty gearbox that is easy to transport. It also comes with a barrier handlebar for easy control and usage of your professional edger. It works for most gas trimmers that have attachments.
---
Craftsman E405 Gas Powered Lawn Edger – the best for simple use!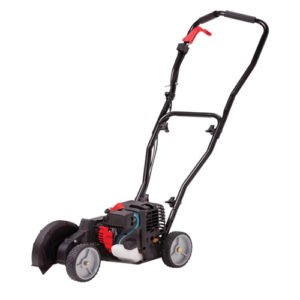 The Craftsman E405 lawn edger is a 29cc 4-cycle gas-powered tool. It ensures the edger is more efficient and quieter without the need to combine gas and oil. The tool comes with a 9-inch dual-tip steel blade that can slash to a depth of 1.75 inches.
With six height positions, the edger can be lifted and lowered, and it comes with a sophisticated 2-step starting to make starting as simple as prime and pull.
You can change the depth of a double-edge blade to create the perfect edge around your walkway, path, or garden beds.
Three sturdy wheels – each with treaded tires for better maneuverability – drive this lawn edger. You'll have no problem moving it down the sides of your lawn and making straight lines.
The Craftsman edger is highly dependable since it is gas-powered, and the dual-sided customizable steel blade will cut through the thickest roots. The three-wheel arrangement makes it simple to control over any surface and around any corner.
---
McLane 101-5.5GT-7Gas Powered Lawn Edger – the best for the wheels!
This McLane 101-5.5 GT gas-powered edger has a 5.50 gross torque. Its 3.5 horsepower B&S engine can maintain the beauty of your lawn or outdoor area. To cut the lawn just as you like it, this edger and trimmer uses a single-lever clutch and depth control.
Because of its big rubber tires with ball-bearing wheels, this edger can cut horizontally or vertically when cutting smoothly. To trim flat at any height, simply tilt the blade at any angle.
It is constructed in such a manner that it complies with all applicable safety regulations. The trimmer is designed to sit on most curbs and have a clear cut. The cutter head is precise and features a sealed precision ball bearing on a 2 x 9 inch spring steel blade. This is appropriate for commercial gardens and lawns, and it has a professional size.
With a robust steel frame and four wide 8-inch rubber wheels with ball bearings, the sturdy edger provides additional maneuverability and control for uneven ground. The McLane edger has the added benefit of being CARB compatible, allowing it to be used in California.
The 9-inch edging blade gives better control over the depth of cut, making it suitable for harder cutting and edging activities. When edging over flowerbeds or trimming along the pavement, you can pick between a deeper cut and a lighter cut.
---
The Buyer's Guide
Types
There are electric and gas-powered lawn edgers. An electric lawn edger is appropriate for most residential applications. These are lighter than their gasoline-powered predecessors used to be. There are also corded and battery-operated versions to choose from:
1) Electric
Although electric lawn edgers are lighter than gas lawn edgers, they can still be very heavy. A strong battery may be used in a cordless lawn edger. The ones with a power cord are the lightest, but you would be tied to a power source.
Electric edgers are frequently made of solid plastic rather than metal. As a result, you'll want to look closely at the blade guard on the model you're considering. A sturdy blade guard offers further defense against errant stones that could be thrown from the deck.
2) Gas
Gas edgers are typically stronger than electronic edgers, this is due in part to the weight of the full gas tank. Most residential versions come with a smaller gas tank, which helps to reduce the extra weight.
Furthermore, most suburban gas lawn edgers have a 4-cycle motor and are capable of the same way. Some devices have a 2-cycle motor, so you'll have to mix the gas and oil in the tank. It's cheaper to purchase a 4-cycle lawn edger that doesn't need much mixing.
3) Manual
There are two kinds of manual edgers, and you should decide which one is best for you.
A bladed end, sometimes angled, is used to literally hack through the grass along the street, pavement, or garden beds in the most basic type of handheld lawn edger. This design is simple enough that even children will be able to use it with care, but they must be cautious of the blade's edge.
Lawn edgers with rotary blades are also available. These have a wheel (or several wheels) and a toothed blade fixed to them. If this blade splits, it may usually be replaced. The toothed blade of rotary lawn edger slices into the edge of your lawn when you drive it.
Since you'll be exerting any muscular power in any of these, you can also think about your comfort. There are many handle types suitable for bladed manual edgers. While rotary versions are lightweight, straight handles are normally the only option. Choose a theme that you would find relaxing to use.
Designs: 
Pole edgers

give you greater control and durability. They have two to three front wheels and two rear wheels. They are really quick to maneuver in small and tight spaces due to their light weight;

Walk-behind tools.

They have 3 or 4 wheels and are comparable to lawnmowers. Even if it's a little tough to see where you're mowing, most of the devices have a laser sight or a guide that allows edging a breeze. They have a larger and more efficient engine, as well as a wide or two-lever handle that allows controlling the edger movement simple;

String edgers.

If you have a yard with a variety of textures, these devices are ideal. They are a little more complex to control in service than most edgers. String edgers are multi-purpose tools that can provide string trimming capabilities. The removable wheel on the majority of these string edgers may also be used as a reference for edging work. If you use it to edge sidewalks and walkways, it can soon wear off. As a result, you would substitute them frequently;
Yard size
It's one of the most important things to think about when comparing lawn edgers. These robots are usually used to clean the streets, driveways, and garden and flower beds' perimeters. Lawns and gardens are available in a variety of sizes and shapes.
An electric single-wheel edger is ideal for small lawns since it can get the job done easily and effectively. Most gardeners suggest a walk-behind multi-wheel edger (uses a battery) or a gas-powered model for a medium to large-sized garden with many flowerbeds, meandering paths, and many areas to cover. You may also use them for a small driveway with a raised curb.
Power
You must verify the power before making an order, whether it is manual, gas-driven, or electronic. The horsepower and torque of lawn edgers are used to describe their Power. To accomplish the job effectively and continuously, these devices need sufficient torque and horsepower. To tackle a regular size yard, lawn edgers require at least 4.75 torque and a 3.5 horsepower motor.
Blade types:
1) Straight blade edgers are recommended for small yards. Small yards profit from blades with no frills. Even though it is costly, a lawn edger with various blade locations and angle adjustments is worth investing in. They're ideal for vast yards with flowerbeds, paths, and unique features;
2) Flat rectangular and plain edge blades. In lawn edgers, this is the most popular blade form. They may be used for a variety of garden activities, such as simple edging (where the lawn is level) and leveling hard surfaces such as sidewalks and driveways;
3) Flat rectangular scoop-cut edge blades. They can handle the edges of delicate landscaping elements such as flowerbeds. If you use every other cutter, the flowerbeds would be disrupted by the debris produced by the rough cutting. These blades are ideal for uneven-surfaced gardens or yards;
4) Star-shaped blades will cut grass that has reached a solid surface or a building. You will use whatever blade you choose for your lawn edger, depending on your needs. You may also change out the blades if required. The transition, however, can take some time;
The blade length
When it comes to blade size, normal blade lengths range from 7 to 9 inches. The distance is normally between 12 and 22 inches, and the thickness is between 0.098 and 0.125 inches.
You must vary the cutting blade depth based on the size of your garden. When edging flower beds, make sure the cut is wide enough to eliminate any overgrown grass or garden buildup, resulting in a neat and tidy finish. For a good sharp line and perfectly manicured appearance, just cut only enough to clear some overgrown sections when edging pathways.
A lawn edger with the head should pivot up to 90 degrees. It can be useful if the yard is bordered by garden walls and rough surfaces such as concrete pathways. Make sure it has a flower guard so the fragile foliage is protected.
Number of wheels
The system should have 2 or 3 wheels to help with balancing and control for more accurate edging. If you're buying a gas-powered edger, you'll need to consider if 3 or 4 wheels are great.
The rear wheels assist the rotation of the lawn edger, while the front wheels keep the equilibrium. Like a curb wheel, the four wheels together would have adequate control and versatility. Because of the good stability and balance, they may even be used on the street or while edging a set curb.
Other things to consider when buying the lawn edging tools: 
The tool should feel solid in your hands; 

It has to move around easily on a hard surface;

Look for the height-adjustable/telescopic handle;

The blade cover should have definite markings for better visibility when edging;

Angled blades are more flexible;

Some lawn edgers have extra attachments as a line trimmer or trencher;

Push-to-start devices are easier to start than pull mechanisms;
FAQ
What are the benefits of using a lawn edger?
A lawn edger has several benefits that make it a great choice for trimming the edges of your lawn. First, it is much faster than using a shovel or spade. You can quickly trim the edges of your lawn in just a few seconds with a lawn edger. Second, a lawn edger produces cleaner results than other tools. It can create a clean, straight edge that looks professional and tidy. Finally, using a lawn edger is often easier than using other tools. It requires less effort and is less likely to cause damage to your lawn.
Are lawn edgers worth it?
This is a difficult question to answer. It depends on how you value your time and how important having a perfectly manicured lawn is to you. If you have the time to edge your lawn by hand, then a lawn edger may not be worth the investment. However, if you want to save time or achieve professional-looking results, a lawn edger can be a valuable tool.
There are two main types of lawn edgers: manual and electric. Manual edgers are less expensive and require no electricity, but they can be more difficult to use. Electric edgers are more expensive but easier to operate. Both types of edgers have their pros and cons, so it's important to choose the one that best suits your needs.
What are the pros and cons of electric vs gas-powered lawn edgers?
There are a few key differences between electric and gas-powered lawn edgers that you should take into account before making a purchase. Electric lawn edgers are typically lighter weight and easier to maneuver than their gas-powered counterparts. They also tend to be less expensive up front. However, they require an extension cord, so if your property is large or has a lot of obstacles, an electric model may not be the best choice. Gas-powered lawn edgers have more power and can therefore handle tougher jobs, like cutting through thick grass or roots. They're also generally more versatile since they don't need to be plugged in. The downside is that they're heavier and louder than electric models.
What's the best time of year to edge your lawn?
The best time to edge your lawn is in the spring or fall. This is because the grass is not growing as quickly, so it's easier to get a clean cut. However, you can edge your lawn at any time of year if you need to.
If you live in an area with warm winters, you can edge your lawn in the winter too. Just be sure to use a sharp blade so that you don't damage the grass.
In general, it's best to avoid edging your lawn when it's hot and dry outside. This can stress the grass and make it more susceptible to disease.
Is it worth it to hire a professional to edge your lawn?
The answer to this question depends on a few factors. First, how big is your lawn? If you have a small lawn, it may be less expensive to edge it yourself. However, if you have a large lawn, it will probably be more cost effective to hire a professional.
Another factor to consider is the condition of your lawn. If your lawn is in good condition, it will be easier to edge it yourself. However, if your lawn is in poor condition, it will be more difficult to edge it yourself and you may want to hire a professional.
What are some tips for using a lawn edger?
If you're new to using a lawn edger, there are a few things you should keep in mind. First, be sure to read the manual that comes with your lawn edger. This will help you understand how to operate the machine and avoid any potential accidents.
Second, when you're using the lawn edger, be sure to wear appropriate clothing and safety gear. This includes closed-toe shoes, long pants, and eye protection. You don't want any stones or other debris flying up and hitting you while you're working.
Third, take your time when operating the lawn edger. It's important to go slowly and steady so that you get a clean cut on your grass. If you go too fast, you risk damaging the blades on your lawn edger or making a mess of your lawn.
Finally, when you're finished using the lawn edger, be sure to clean it off and put it away properly. This will help prolong its lifespan and keep it in good condition for next time.
Are edgers better than trimmers?
Edgers are better at cutting through thicker grass and weeds, while trimmers are better suited for lighter work like cutting down grass along sidewalks. If you have a lot of thick vegetation in your yard, then an edger is the better choice. However, if you just need to tidy up the edges of your lawn, then a trimmer will do the job just fine.
There are two main types of edgers: manual and electric. Manual edgers are best for small yards or gardens since they require less power and maintenance than electric edgers. Electric edgers are more powerful and can cover larger areas more quickly, but they require an electrical outlet and can be more expensive to maintain.
How often should you edge your lawn?
This is a difficult question to answer because it really depends on the condition of your lawn and how well you maintain it. Generally speaking, most people edge their lawns once a week, but if you have a very high traffic area, you may need to do it more often. You should also edge your lawn more frequently if you live in an area with a lot of trees or other obstacles that can make edging difficult.
If you have a low traffic area, you may be able to get away with edging your lawn every two weeks or even once a month. The key is to just keep an eye on your lawn and Edge it when necessary. One thing you don't want to do is let the grass grow too long before you edge it, as this will make the job much more difficult.
Another factor to consider is the time of year. If you live in an area with a lot of snowfall, you may need to edge your lawn more frequently in the winter months to keep the snow from covering up the edging. In general, though, once a week should be sufficient for most people.
How can I edge my lawn without an edger?
If you're looking for a quick and easy way to edge your lawn without an edger, there are a few methods you can try. One is to use a string trimmer. Simply run the trimmer along the edge of your lawn, being careful not to go too deep and damage the roots of your grass.
Another method is to use a spade or shovel. Dig a shallow trench around the perimeter of your lawn, being careful not to go too deep. Then, simply fill in the trench with soil or mulch. This will create a natural barrier that will keep grass from growing into your flower beds or garden areas.
Finally, you can also use a garden hose to create a makeshift edging tool. Simply run the hose along the edge of your lawn, and the water pressure will create a clean, straight line.
Can you use an edger as a trimmer?
No, you cannot use an edger as a trimmer. While they may look similar, these two pieces of equipment serve different purposes. An edger is designed to create clean, sharp lines along the edge of your lawn, while a trimmer is meant for trimming grass and weeds in hard-to-reach areas.
If you're looking for a tool to help give your lawn a well-manicured appearance, then an edger is what you need. Not only will it create tidy edges along sidewalks and driveways, but it can also help to define garden beds and other landscaping features. In short, an edger is a must-have tool for any homeowner who takes pride in their lawn.
Video Tutorial: Lawn Edger Repair Project
Being a professional gardener for over 5 years and a hobbyist for almost 15, I know that taking care of the lawn edges can become a serious problem. To prevent this issue or even solve it on the spot, experts created a special tool called a lawn edger. Recently I've tested a few instruments for my work, so decided to write an unbiased review based on my tests at work. The criteria and results are explained below.
Selling points for these tools:
Size of your lawn/yard – a bigger yard requires a bigger instrument;
Gas-based tools are necessary only if you opt for more power and speed;
The time-consuming factor is extremely important;
Budget-friendly tools under $30 are more preferable since an edger is not that required on a daily basis;
GrassKiller picked top 3 lawn edgers:
Electric Lawn Edger is an awesome corded-electric power. Though, it weighs over 16 pounds;
Greenworks Edger is good for 12 Amp networks, weighs even more – 17.82 lbs;
Weed Eater Poulan offers a great barrier handlebar;
In addition to these tools, I recommend such brands as Powered Edger, Powered Lawn Edger, Power Head System, Walk Behind Edger, Wheeled Edger Engine, Troy-Bilt Wheeled Edger, Corded Lawn Edger.
If you are interested in a more detailed review of the tools like lawn edgers, please leave your comment and write a feedback. I'd like to discuss the new topics for my new reviews with my dear audience. GrassKiller is going on thanks to your support, much appreciated!
Final thoughts
Choosing the right lawn edger, despite the many options available, does not have to be a challenging job. These 5 models are great if you need budget-friendly and premium quality lawn edgers for making a perfect lawn. 
---