---
Swivel Grass Shears
Long shaft
Blades swivel 360
4-1/2 inch blades
Fiskars Grass Shears
Power-Lever technology
Size: small
Blade length: 5 inch
Corona Grass Shear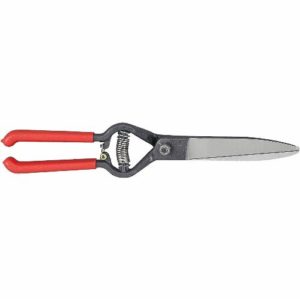 Durable blades
Re-sharpenable blades
Vinyl coating on handles
Gardena 8885-U
LED display
Blade protection and charger
Replaceable high-quality blade
Gardena 8893-U
LED display
Comfort Cut
Replaceable high-quality blade
Telescopic Swivel Handle
Quick and easy assembly
Ergonomic handle
Adjustable 33″-47″in
Cordless Compact Grass
Battery: 3.6V
Battery capacity: 1.3Ah
Charging time: 5 Hours
Garden Growers Grass
Quick cutting action
Smart design
Item Weight: 0.55 lb
Berger Grass Shear
Ant-adhesive coated blade
Metal parts
Item Weight: 9.8 ounces
Cordless Shears
Material: Plastic
Voltage: 3.6 volts
Item Weight: 1.96 pounds
---
Choose the Best Grass Shear
Customer's Choice: the Best Rated Grass Shears
63 users answered this survey. Please help us improve this review!

52.38% of users selected Swivel Grass Shears, 26.98% selected Fiskars Grass Shears, 11.11% selected Corona Grass Shear, 7.94% selected Gardena 8885-U and 1.59% selected Gardena 8893-U. Every month we analyze your answers and change our rating.
---
Grass shears are scissors for the grass or light-duty trimming at their most simple shape. Manual grass shears are divided into two categories: edging and topping shears. Swivel-blade grass shears, which can be used as edgers or toppers, are also available.
Edging shears resemble a normal set of scissors and are used to trim the edges of beds, sidewalks, and other surfaces. These grass shears snip off some overhanging grass neatly to hold the edge clean.
They come in handy when you need to get into tight spots that the regular lawn edger can't reach.
Key benefits of grass shears: 
Helps to clean the sections where a mower can't reach;

Helps to clear small areas quicker compared to pulling out weeds manually;

Precise tools that preserve attractive plants;

These are small and portable garden tools;
The following guide focuses on what you need to know to choose the right pair of grass shears. You'll need a good tool if you're edging or topping your grass or just sweeping up weeds along the boundaries.  You'll know just what you need to tidy up the strip between the stepping stones after you finish reading this guide. Do not forget to check the comparison table and product reviews of top 5 grass shears. 
Fiskars 92107935J Long-Handle Rotating Shears – the best for the handle!
The Fiskars 92107935J shears have an advanced style that allows trimming ornamental grasses simpler than ever. A long shaft prevents kneeling and bending entirely, allowing you to finish the job without swollen knees or an aching back.
The blades swivel for ease, and the smooth-cutting process allows snipping a breeze. The blades may even be locked together for convenient and safe storage.
The professionally coated, precision-ground steel blades remain strong and hold the grass up for clean slices, whilst the ergonomically built handle and lightweight aluminum shaft have long-term longevity. Superior strength and weight savings are provided by Aluminum construction. The blades are protected during transportation and storage by an easy-to-open bolt.
The Fiskars shears are 37 inches long and lightweight. They are suitable for difficult-to-reach trimming employment. The unit's head rotates 180 degrees, enabling you to quickly locate the best trimming angle, and the precision-ground 5-inch blades of carbon steel provide a sharp, direct slice.
---
Fiskars 78206935J Power-Lever Shears – the best for portability!
The Fiskars 78206935J grass shears have a short handle. They have a premium blade that can spin 360 degrees around the handle, making every cut more convenient. Fiskars coated the blades with a no-stick coating that prevents them from being stuck on each other or on the grass blades you're trimming.
The blades are often made to keep their sharpness and last for a long time.
The blades are held in place by a thumb-lock near the grip (a helpful function for protection and storage), but some customers claim it's possible to hit the thumb lock when cutting, causing the blades to stick.
The portable grass shears have a scissor motion but aren't shaped like scissors; they're designed for grass and can be used by either right or left-handed people with just one hand. For precision and consistency, the sharp blades slice to the tip.
Edging and trimming grasses around plants, flowerbeds, and sidewalks may be done with these Fiskars shears. For accurate, clean slices, the blade grips and keeps the cut grass up.
---
Corona GS 6750D ClassicCUT Shears – the best for quality!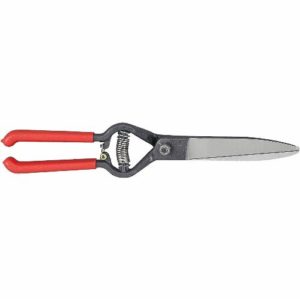 Corona's GS 6750D shears are designed to last for many years. The blades are made of heat-treated steel and can quickly cut through rugged sod and light grasses. Although the construction of this handheld trimmer isn't particularly attractive, it's a tried and tested design that's been in use for years.
A non-slip vinyl grip gives you decent control, and a solid spring keeps the blades open between squeezes. The blades can be sharpened quickly between uses to guarantee a smooth cut every time. If you need new pieces, they're affordable, and these scissors come with a minimal lifetime guarantee.
This tool comes with complete heat-treated blades that are rugged and deliver high strength benefits as a versatile tool for cutting grass. To have the highest cutting results, the blades are precise and non-stick coated.
This small pair of shears has vinyl-coated handles and stainless steel blades for grass trimming, bush tidying, and ground cover jobs. The Corona shears are reasonably priced. The blades can be re-sharpened to ensure a smooth cut in the future.
---
Gardena 8885-U Cordless Lithium-Ion Shears – the best for moving around!
Watering, tree and shrub maintenance, lawn care, smart system, and other tasks are all possible with the Gardena 8885-U shears. You will comfortably maintain the lawn edges with the Gardena Comfort Cut scissors. They have rechargeable batteries and comfort handles that imitate the natural hand position.
They have rechargeable batteries and comfort handles that imitate the natural hand position.
The blades are precision ground and non-stick coating. To convert it to a shrub shear, the blades may be modified without the use of any equipment. They come with blade safety and a battery charger for secure storage. If you choose to operate whilst standing and not bending, a telescopic handle can be attached.
The instrument comes with 1.45 AH rechargeable batteries and a handle extension that allows you to stand when cutting. Blades on this platform may be swapped out. The battery charge period is 8 hours, and the tool's overall running time is 90 minutes.
Furthermore, the LED on this device does a good job of displaying the battery charging status to make it easier.
These Gardena shears are a great addition to the garden care routine because they are both powerful and simple to use. They have an LED panel that shows the current charging state of the battery. To make it even easier, the whole kit comes with a blade safety mechanism as well as a battery for convenience.
---
Gardena 8893-U Cordless Lithium-Ion Shears – the best for the battery life!
The Gardena 8893-U 3-Inch Cordless Shears have a strong lithium battery that can last up to 90 minutes on a single charge. Gardena has you protected whether you have a huge work or a little one.
The Gardena 8893-U shears, which weigh less than 2 pounds, have made it easy to hold and apply their shears no matter how hard you have to work.
Unlike other mechanical yard working tools, which are bulky and clumsy, lightweight shears are light and easy to use, putting less pressure on the muscles.
These shears consider their greatest triumph in the importance of swift yard work, thanks to their long-lasting charge and lightweight form. They are surely worth any penny and more, regardless of how you look at them.
The grass shears fit well in the hand thanks to the pivoting handle, which adapts to a normal hand position in all working circumstances. The shears are suitable for cutting lawn edges, shaping and trimming boxwood, bushes and shrubs since they come with two blades.
The battery and charging state is shown on the LED display. Lithium-ion batteries are very strong and can be recharged at any time without losing their memory. The duration of the show is up to 90 minutes. With the inclusion of Model 2340 or Model 2343, this method may be converted to 3-inch shears or 7-inch shrub shears.
Here's anything for those looking for an electric shear to make trimming a little smoother. This electric tool is lightweight and long-lasting, and it's ready to get the job done.
---
The Buyer's Guide
Electric or manual grass shears?
The most common thing with a pair of manual shears is that you'll be opening/closing the handle repeatedly. Some producers have simplified this process by using a spring that unlocks the blades, but you'll always need to pinch the handle closed.
But what if you're dealing with dense or thick grass? This may be caught in mechanical grass clippers, or cutting them though requires a lot of hand muscle.
The cordless shears are also accessible. These battery-powered shears operate like a tiny lawnmower, shearing the grass neatly with strong saw teeth that run over each other. The main drawback is that they are only suitable for use as toppers. At all, edging these is difficult.
The cordless shears, on the other hand, will spare you a heartache whether you have dense seed-bearing stems or weeds. It's an extremely valuable asset to keep on hand.
Design
The kind of shears you want should be based on your requirements. Handheld tools, whether electric or manual/handheld, allow you control over the break, resulting in smooth, even edges, but they'll cost your knees or back.
The shears attached to a long handle relieve tension on the body, but it doesn't bring you near enough to the grass to see if the cuts are straight.
Efficiency
To put it simply, the effectiveness of every gardening technique is determined by a few factors. What kind of jobs you want to do for it, how sharp the blades are, and whether it's driven by energy or by you are all factors to consider. Oh, even whether you use the tools under the appropriate circumstances. This implies they're just as effective as they were designed to be when applied for the right reason and in the right manner. For example, if you attempt to cut wet grass with some kind of blade, it will bend and not cut no matter how much trying.
Blade length
The arrangement of your garden is the most critical factor to remember. Lithium-ion shears are a smart choice in a very narrow grassed field if you find it difficult to handle a standard-sized lawn mower. Also if your yard is medium to wide, shears, whether manual or electronic, will help to get clean edges and into corners that the mower can't reach. So, there's the razor.
In simple terms, the longer the blade, the more ground you will sweep through each time you sweep it. Long blades, on the other hand, can be difficult to navigate in narrow spaces in the garden.
The blade on most manual and cordless electric shears would be between 4 and 6 inches long. Some blades are driven by power, while others are manually operated, allowing you to trim and cut precisely. The majority of them may even be used on tiny trees.
Handle length
Short handles are useful for chopping up close, pruning trees, and cutting grassy edges, among other things. A long handle of shears allows trimming the edges when standing, which is ideal if you have trouble bending. Such blades are mounted at right angles to the handles, while others are built parallel to them. Some people compare two-handled varieties to loppers, but they're really simpler to use if you hold one component still with one hand and snip with the other handle (the one regulating the uppermost blade).
Weight
It's less critical how much the shears weigh if they're long-handled and made to be used when standing up so you won't have to carry their weight. If they are multi-functional, for instance, if they are electric and equipped with blades for both grass and bushes, they should be lightweight so you'll also need some control.
Ergonomics
When using portable instruments, comfort is a critical factor. Regardless of how much cutting you have to do, the perfect instrument can feel good in your hands. Before using the clippers, make sure you hold them in your hand and see how they feel in hands. Precision cutting necessitates meticulous attention to detail, which may be difficult to do when the instrument is unbalanced.
The shears must also be comfortable to hold. Rubberized handles are best, but any product that suits the hand is excellent. While most shears have two switches, only one is ideal for use while operating the machines. Since the current position of the switches can shift, choose a device with well-placed switches.
Cutting capacity
When choosing shears, keep in mind the kind of work you'll be doing with them as well as the amount of work you'll be doing with them.  When using electric shears, be sure to check the amount of time you'll be allowed to use them if you're working continuously.
The blade quality
The blade level can determine how long your tool lasts and how easy it is to use. Steel blades are the strongest since they are durable and do not rust. Teflon-coated blades are easy to clean and improve tool efficiency. Otherwise, the sap on the blade would obstruct the blade's criss-cross movement, preventing it from cutting efficiently.
FAQ
Can I cut through small branches and roots with grass shears?
Almost all contemporary grass shears are designed to cut into very thin slices since they have fine and sharp blades with a short break period. Grass shears will slash through short tendrils and stems, trees, and very thin green branches that would be impossible to cut with thicker blades. However, don't hope to be able to cut through trees.
How long do cordless battery-powered shears work?
It's fair to assume that this is dependent on the battery you're using, so in most situations, a fully charged cordless shear model can last anywhere from 40 minutes to an hour of unstoppable work. Since various models apply various batteries and motors, you can consult the manufacturer's manual for more details. For instance, that depends on the difficulty of the job you're doing. The battery can drain quickly if you use the shears often.
Do shears work on grass?
Yes, shears are specifically designed to cut grass. They are a great tool for getting rid of unwanted growth in your yard and can help keep your lawn looking neat and tidy.
There are many various sorts of shears available on the market, therefore it's critical to select the appropriate pair for your needs. For instance, if you have a lot of thick grass, you'll want to choose a pair of shears that are designed for heavy-duty cutting. On the other hand, if you have a smaller lawn or delicate plants, you'll want to opt for a lighter pair of shears.
What are the best grass shears for large areas?
The best grass shears for large areas are the ones that can cover a lot of ground quickly and efficiently. There are a few different types of these shears available on the market, so it is important to do your research before making a purchase.
The electric grass shear is one of the most popular for big lawns. These shears are powerful and can make quick work of even the most overgrown lawns. If you have a lot of land to cover, an electric model may be the best option for you.
Another type of grass shear that is popular for large areas is the gas-powered model. These shears are even more powerful than electric models and can tackle even the most stubborn weeds. If you have a lot of land to cover and are looking for a powerful solution, a gas-powered model may be the best option for you.
Which features should someone look for when purchasing a set of grass shears?
There are a few key features that you should look for when purchasing grass shears. Firstly, you need to consider the blade size. Grass shears typically have either a long or short blade. If you plan on using your shears for large areas of lawn, then you will need to opt for a longer blade. However, if you only plan on using them for smaller areas or trimming around obstacles, then a shorter blade will suffice.
Next, you need to think about the handle type. There are two main types of handles available on grass shears – straight and ergonomic. Straight handles are the more traditional style and they offer good maneuverability. Ergonomic handles, on the other hand, are designed to reduce fatigue and they offer a more comfortable grip.
Finally, you need to consider the blade material. Grass shears typically have either carbon steel or stainless steel blades. Carbon steel blades are sharper and they stay sharp for longer, but they are also more susceptible to rusting. Stainless steel blades, on the other hand, are not as sharp but they are less likely to rust.
What are the pros and cons of different types of grass shears?
Each type of grass shear has its own set of pros and cons. Some are better suited for small jobs while others can tackle larger areas with ease. Here is a breakdown of the most popular types of grass shears to help you make the best decision for your needs:
Manual Grass Shears: Manual grass shears are the most basic type of shear. They are typically smaller in size, making them ideal for small jobs or tight spaces. Most manual shears have serrated blades that can cut through thick grass with ease. However, they require more effort than electric or gas-powered models and can be tiring to use over extended periods of time.
Electric Grass Shears: Electric grass shears are a step up from manual models. They are powered by electricity, making them much easier to use. Electric shears come in both corded and cordless varieties. Cordless models offer more mobility, but they require batteries that need to be regularly charged. Corded models have unlimited power as long as they are plugged into an outlet, but they can be cumbersome to use over large areas.
Gas-Powered Grass Shears: Gas-powered grass shears are the most powerful type of shear available. They can easily tackle thick grass and large areas with ease. However, gas-powered shears are also the heaviest and most difficult to maneuver. They also produce emissions that can be harmful to the environment.
What is the difference between lawn shears and edging shears?
Lawn shears are used to trim grass around the edges of your lawn, while edging shears are used to create a clean, straight edge along hard surfaces such as sidewalks and driveways. Both types of shears come in manual and powered versions. Manual grass shears are usually less expensive than their powered counterparts, but they can be more difficult to use if you have a large area to trim. Powered shears are typically more expensive, but they will save you time and effort if you have a lot of ground to cover.
When choosing the best grass shears for your needs, consider the following factors:
The type of blades: Some grass shears have serrated blades that grip the grass for a more precise cut, while others have straight blades that can handle thicker grasses.
The length of the blades: Longer blades will give you more cutting power, but they can be more difficult to maneuver in tight spaces. Shorter blades are easier to control, but they won't be as effective on thick grasses.
The weight and balance: Heavier shears can be more difficult to use for extended periods of time, so look for a pair that feels comfortable in your hands. The best way to find a comfortable pair is to try them out before you buy them.
Can grass shears be sharpened?
Yes, most types of grass shears can be sharpened. However, it is important to know what type of blades you have before attempting to sharpen them. For instance, carbon steel blades can be sharpened using a honing stone or file, but stainless steel blades will require a diamond-coated sharpening rod. Additionally, always make sure to oil the blades after sharpening them to prevent rust.
If you are unsure about how to sharpen your particular type of grass shears, it is always best to take them to a professional blade sharpener. This will ensure that they are properly sharpened and won't become damaged in the process.
Sharpening your grass shears on a regular basis is an important part of keeping them in good condition. It is also important to clean the blades after each use, as dirt and debris can dull the blades over time.
Can you use hedge shears for cutting the grass?
The answer is no. Hedge shears are designed for cutting hedges and bushes, while grass shears are designed specifically for lawn care. Grass shears have a shorter blade than hedge shears, which makes them more maneuverable and better suited for cutting grass.
There are two types of grass shears: manual and electric. Manual grass shears are operated with a handle that you push back-and-forth to cut the grass. Electric grass shears look like mini hedge trimmers and run on batteries or cords.
Video Tutorial: How to Sharpen Grass Shears
Trust my experience, a perfect yard is an illusion and dream unless you do a hard, daily job to make it flawless. I'm one of those dreamers that is why my collection of gardening tools is countless. Recently I've been searching for the best new grass shears and tested over a dozen of these tools within 2 weeks. To make something of these tests I've made a decision to compile the review that may be interesting and useful to all novice gardeners and landscape designers who don't use grass shears as often as I do.
There are many criteria for picking the gardening tools like shears for grass, but personally I define only 4 major factors to consider before buying:
Size and weight do matter. For simple works pick lighter tools made of aluminum or fiberglass. For more complicated tasks – choose bigger tools made of wooden or stainless steel materials;
The same approach is good for blades – pick the tools with shorter blades for up-close tasks, and the shears with longer blades for extensive jobs;
Cutting mechanism must be very powerful;
Simplicity of use is extremely important, look for the vinyl-coated handles;
According to the above-mentioned criteria, I picked the best grass shears in the U.S. market (in my humble opinion and numerous tests):
Swivel Grass Shears – have very sharp blades that swivel 360;
Fiskars tool is small but very powerful, costs less than $25;
Corona has extremely sharp and durable blades that I managed easily to re-sharpen. The vinyl-coated handles are also very convenient;
Among other U.S. brands I recommend for this particular instrument: Gardena, Telescopic, Cordless Compact Grass, Garden Growers Grass, Berger.
All the grass shears I've picked for this review are actually awesome, due to their overall quality and convenience of use. They will become a perfect addition to any gardener's collection of shears. What do you think about my criteria and the final choice? I'm very interested in your feedback. Don't forget to subscribe if you like my content!
Final thoughts
Thanks for taking the time to read this review on the right grass shears. When it comes down to it, the right tool is the one that best meets your requirements. Try to look at the available products and keep in mind that you always get what you pay for. The more expensive grass shears can be stiff a little more at first, but they're usually constructed of higher-quality materials that remain sharper for longer, last longer, and have a few extra features.
---