---
Dual Chamber Tumbling Composter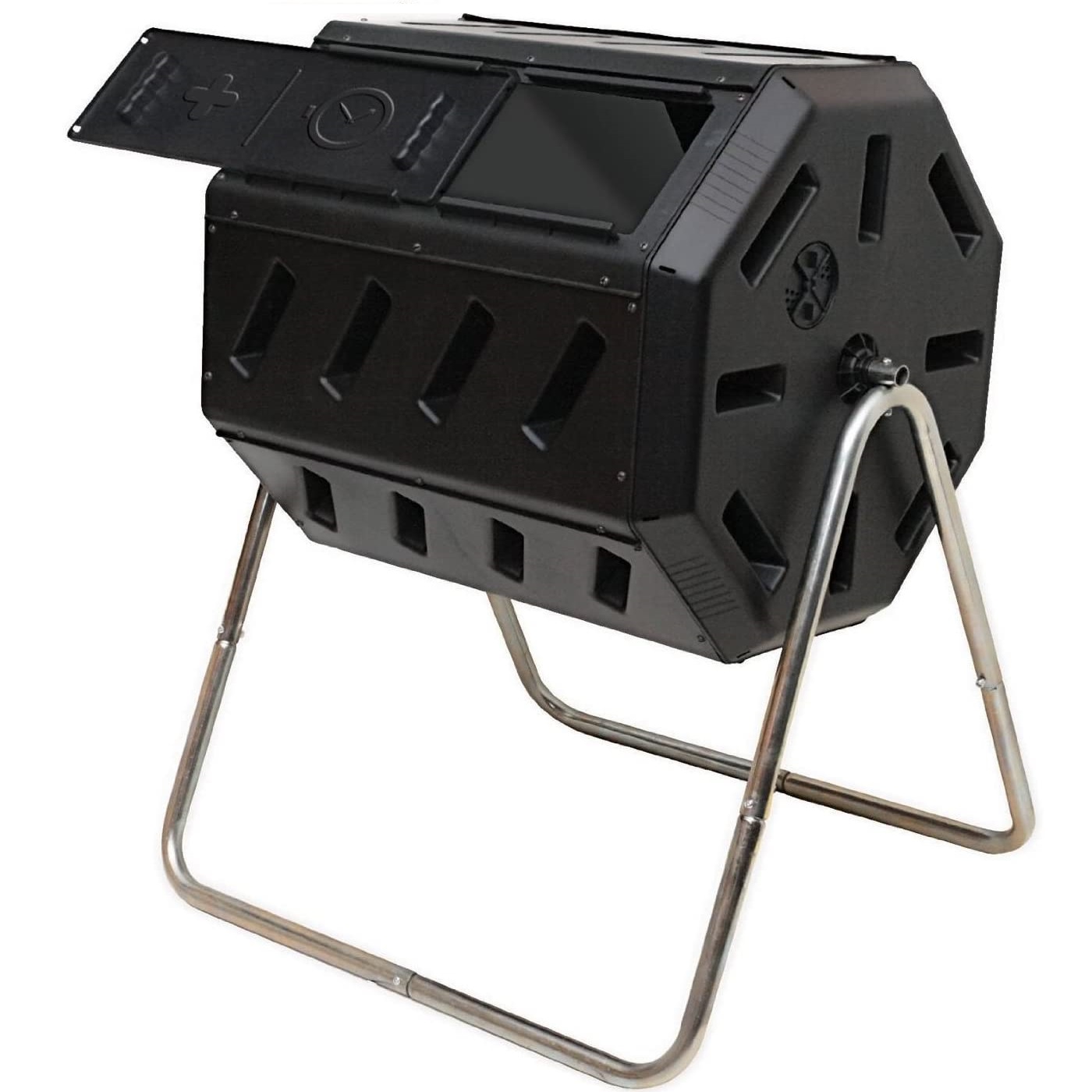 Material Plastic
Color Black
Item Weight 28 Pounds
Compost Tumbler, Black, 80-Gallon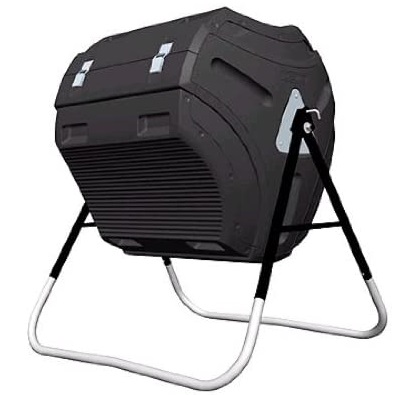 Color Black
Brand Lifetime
35.5 x 40 x 43 inches
Garden Compost Bin Tumbler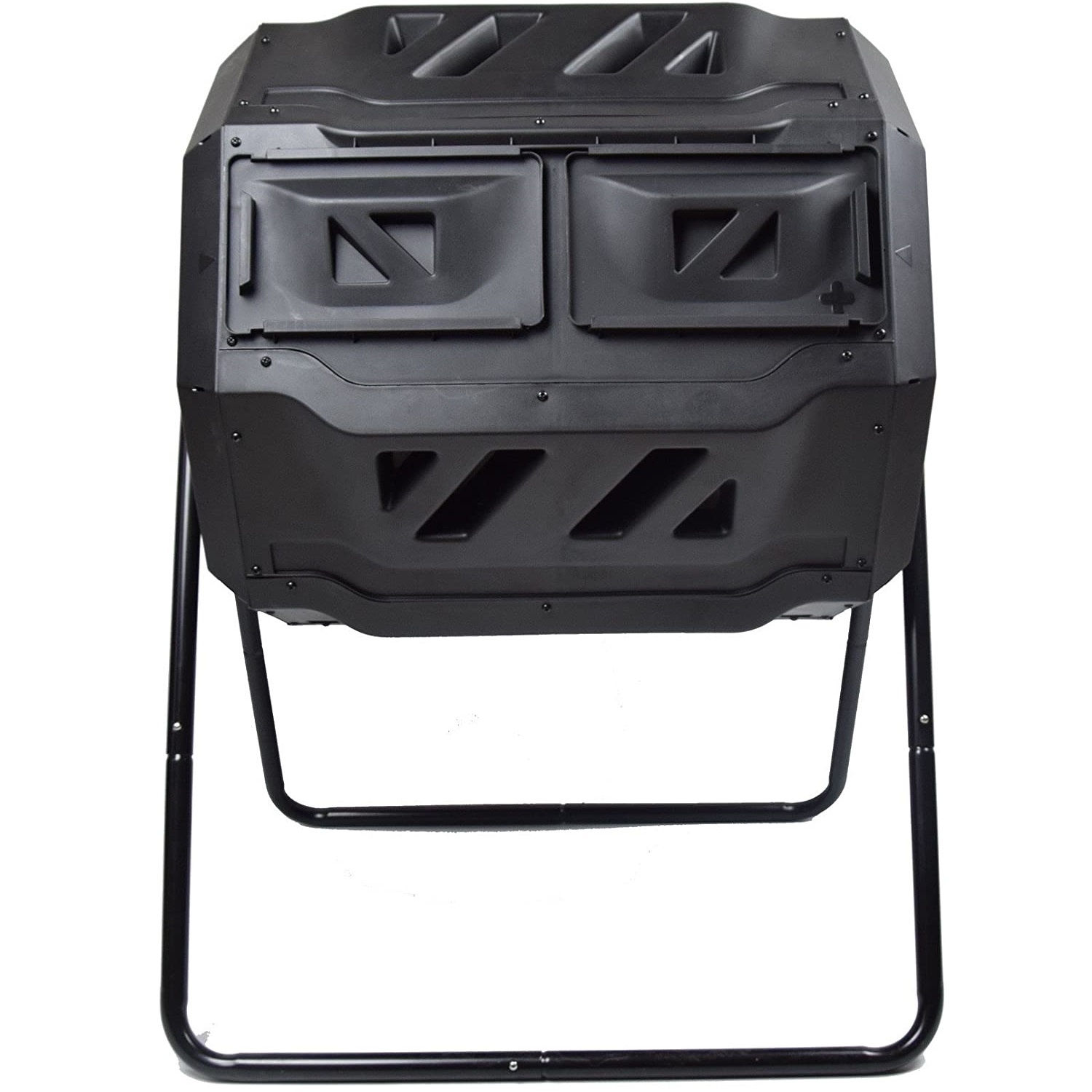 Material Alloy Steel
Color Black
Brand MaxWorks
Trading Company Exaco Mr.Spin Compost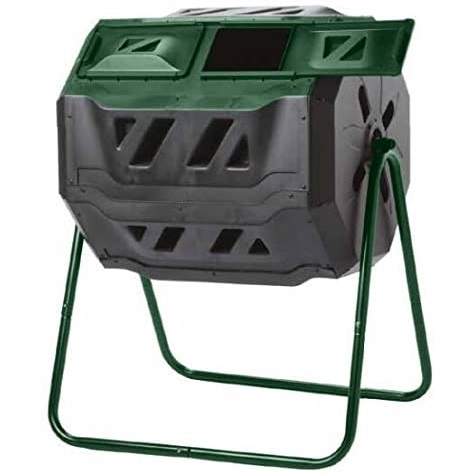 Brand Exaco
Color Black/green
160 Liters / 43 Gallon
Dual Body Tumbling Composter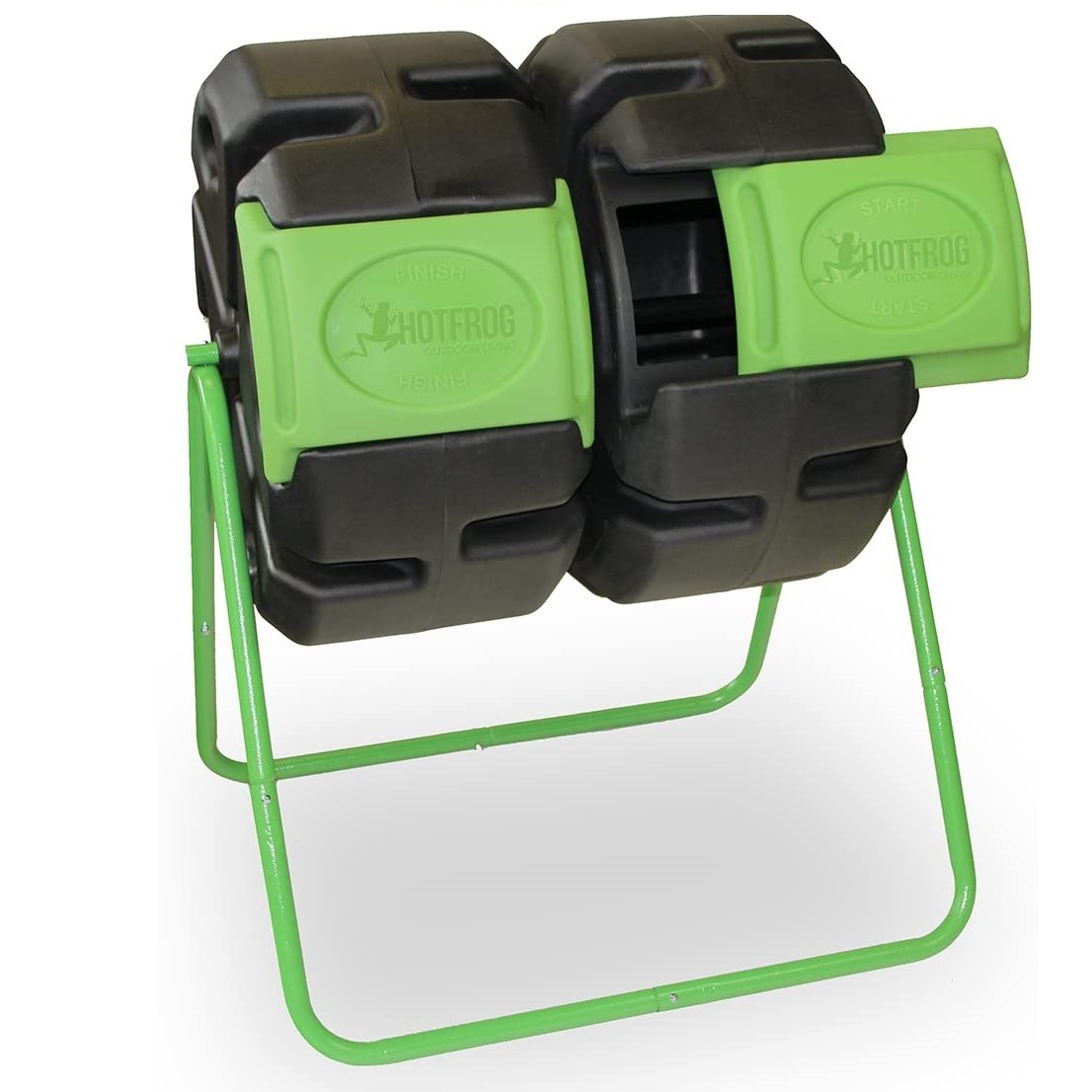 Material Plastic
Color Black, Green
Brand FCMP Outdoor
---
Choose the Best Compost Tumbler
Customer's Choice: the Best Rated Compost Tumblers
6 users answered this survey. Please help us improve this review!

66.67% of users selected Dual Chamber Tumbling Composter, 0% selected Compost Tumbler, Black, 80-Gallon, 0% selected Garden Compost Bin Tumbler, 33.33% selected Trading Company Exaco Mr.Spin Compost and 0% selected Dual Body Tumbling Composter. Every month we analyze your answers and change our rating.
---
Compost tumblers are more practical than other composters. It works almost just like a normal composter, but instead of dumping the compost out, you simply "tumble" the tumbler and the compost spills out.
A compost tumbler is, for want of a better term, a container that can be readily rotated and is mostly composed of plastic. It's a sealed container, like a barrel, that may be rotated or tumbled. When opposed to a compost heap or pile, the science behind a compost tumbler is that it combines the materials put within it more regularly.
Advantages of compost tumblers: 
Easy to turn;

Quicker composting;

Won't allow critters to go inside;

Nice design and style;

Minimal odors;

Easy to apply;

Cost-effective;

Sustainable;
You definitely would like to get your hands on one of the finest compost tumblers now that you realize how useful they are. Luckily, there are 5 highly recommended compost tumblers for you to check out in this guide. And do not forget to read the buying guide and comparison table.
FCMP IM4000 Dual Chamber Tumbling Composter – the best for design!
The IM4000 is the result of FCMP Outdoor's expertise as one of the first producers of tumble composters. Two independent composting chambers, each containing 18.5 gallons, contribute to the large 37-gallon capacity. That means you may fill one side and allow it to decompose while filling the second chamber with fresh trash.
The chamber openings are a good size, enabling you to conveniently add garden and household trash. You may even remove the door entirely if you need additional space. If you're dumping the grass clippings from your lawn mower basket, this is a useful function.
The barrels have deep flippers on the sides to help to rotate them easier. They may also be used as handholds when moving the composter to a new position.
The composter's body is constructed of strong polypropylene, and the legs are galvanized steel. Because of the mix, it should be able to stand both direct sunlight and torrential rain.
The tumbler is lightweight, portable, and long-lasting. However, the two chambers are the most important feature of this composter. You may create two distinct batches of compost at the same time with its dual-chamber design.
---
Lifetime 60058 Compost Tumbler – the best for capacity!
Featuring an 80-gallon capacity, the Lifetime tumbler may be the ideal addition to your garden. The clever tumbler design easily rotates on its axis for proper rotation, while the interior aeration bar combines compost and offers ventilation.
The unit is made of high-density polyethylene (HDPE) and features dark, double-wall panels to preserve heat. It is also UV-protected. For additional convenience, it features an extra-large detachable top and a spring-loaded pin that secures rotation while filling.
If you want to create large heaps of compost at once, then the Lifetime 60058 device is a perfect option.
The capacity of this Lifetime tumbler is its most impressive feature. This great composter is quite durable. This composter is ideal for you if you don't mind the foul odor and tough installation.
---
MaxWorks 80699 Garden Compost Bin Tumbler – the best for aeration!
This tumbler is made of a tough and robust polypropylene bin with a powder-coated steel frame that will last for years while optimizing decomposition capacity. The gadget has two sliding doors with air vents/holes that enable the user to give the desired quantity of oxygen to the compost for better and faster results.
It also has two chambers to simplify the composting and more efficient while still producing high-quality results. It decomposes soil debris in a "green" manner. Its compact and space-saving design makes it an ideal compost/tumbler for any location. 42 gallons is the maximum capacity.
Within 2-4 weeks, you can easily compost using the MaxWorks tumbler. The device has two chambers, one for mature compost and the other for fresh garbage. Sturdy powder-coated steel frame with a tough recyclable plastic bin. Adjustable air vents and a big 42-gallon capacity are included.
---
Exaco Mr.Spin Compost Tumbler – the best for durability!
The Exaco Mr. Spin tumbler is manufactured entirely of recycled plastic in China. This material is low in weight yet robust and long-lasting. The composter is supported by a steel stand that has been painted green. Steel is a robust material that does not fracture easily.
This outdoor tumbler is shaped like a cylinder. When it refers to turning the trash in it, this form is perfect. The middle of the Exaco Mr. Spin compost tumbler is divided, making it a dual compartment unit. This enables the user to begin a fresh batch without having to mix it with the previous one.
The bottom of the composter is weighted, which aids in rotating the mixture. It also guarantees that the door side of your compost remains up when you rotate it. The sturdy steel stand offers enough ground clearance to keep rats and vermin away. There's even a sliding door on the composter. This detachable door keeps rain, bugs, and insects out while keeping the smell and other components within the tumbler.
The Mr. Spin tumbler is a rotating compost container with two compartments and a tubular steel frame that holds 43 gallons. In the United States, these composters are quite popular units.
---
HOTFROG FCMP Outdoor Dual Body Tumbling Composter – the best for beginners!
The Hotfrog FCMP Dual Body composter keeps your compost pile from being dug up and mixed by hand. Mixing is simple and efficient because of the tumble design. Because the chambers are entirely independent, you may run two distinct batches at the same time while keeping them on individual spinning cycles.
Using this device is twice as simple as composters of comparable size since both models revolve independently of one other. The plastic is touch-safe and will not deteriorate in direct sunlight since it is built with BPA-free, UV-inhibited, recycled polyethylene. The corrosion-resistant coated galvanized steel frame will last for years. Both chambers have a combined capacity of around 37 gallons.
The composter itself is built with BPA-free recycled plastic. Because you don't have to bother about aeration with this composter, it's ideal for beginners. Simply add materials, spin it, and the composter will take care of the rest.
---
The Buyer's Guide
Types of compost tumblers:
All tumblers for compost are sealed containers that are usually barrel-shaped, and their contents must be turned on a regular basis. The way compost tumblers spin is the most significant distinction between them:
1) Ground-rolling tumbler
The barrel, or bin, and the base are two distinct components of this apparatus. A curved top surface on the base cradles the bin and holds it in place without the need for fasteners. When pushed or dragged, the loaded bin spins freely thanks to rollers embedded into the curved surface of the base. Tumblers like this can be ideal for people who live in chilly regions since they sit at ground level. The container can retain heat due to its decreased exposure to wind and cold. Instead of becoming dormant in the cold, the additional warmth keeps composting microorganisms alive.
2) Central axis tumbler
Compost tumblers with a central axis are made of metal and have an axle running through the middle of the container. The framework has two functions. To begin with, it raises the bin to a height that eliminates bending and stooping when filling, rotating, and emptying it. Second, the axle enables the bin to rotate freely, allowing the contents to be aerated. Because the user can load/unload the compost from a standing position rather than crouching, central axis bins are a suitable option for people with back issues. Wheels are available on certain models.
3) Handle-operated tumbler
Gears are used in such devices to make rotating the barrel considerably simpler. The geared handle is designed to work with a gear incorporated into the bin's end. The bin is turned in a smooth, regulated way as the user cranks the handle. Tumblers do not need as much physical strength as other tumblers. For kids, the elderly people, or gardeners with limited physical strength, this kind of tumbler may be a suitable option.
Materials
Compost tumblers usually feature a UV-protected plastic container with tubular steel or plastic frame, but other variants utilize steel. Plastic is an excellent bin material since it withstands both weather and corrosion and transmits heat slowly. In cold weather, metal bins let interior heat escape more rapidly, delaying the composting process. They may also corrode over time.
For handle-operated and central axis tumblers, tubular steel frames are the industry standard. Most ground-rolling tumblers have a plastic base, and some include a reservoir for collecting fluid runoff from the bin, known as "compost tea".
Capacity
The capacity of a bin is measured in gallons or cubic feet. Remember that one cubic foot is equal to 7.48 gallons. The smallest tumblers hold around 15 gallons (about 2 cu. ft.), while the biggest devices contain more than 80 gallons (approximately 10.7 cu. ft.).
Consider how much stuff you'll compost and how frequently you'll do it. Also, keep in mind that a batch of compost takes no less than 10 weeks to completely process. As a result, many gardeners use two tumblers at the same time or a dual-chamber tumbler.
Aeration
Tumbling compost helps supply air and decrease moisture, which is both important in the decomposition process. A compost bin with built-in aeration features, such as air holes/vents in the walls, internal fins, flat sides, and mixing bars, is a good choice.
The substance within may get compressed as it degrades. The material loosens and the clumps are broken down by turning the bin. Air holes enable gas to flow between microorganisms in decomposing materials while also allowing excess moisture to escape. The material is forced to tumble rather than glide against flat walls, such as those seen in a hexagonal form. Fins and bars, for example, give texture to the material by stirring it and adding oxygen.
Insulation
Heat, like air, is required to speed up the composting. Please ensure your composter can be securely shut and has other features that help to retain and absorb heat.
Drainage
When making high-grade compost, it's crucial to drain excess moisture. Drainage holes/spigots are common in high-end compost tumblers to help with drainage.
What you should never put in a compost tumbler?
Worms, unless the waste inside is already rotting;

Foods like fish, eggs, meat, poultry scraps, fats, grease, dairy products, lards and oils;

Coal or charcoal ash (produced by leaves or twigs of black walnut trees);

Pet wastes, insect-ridden plants and yard trimming covered with pesticides;
Useful Video: Best Compost Tumblers Top 6 Compost Tumbler Picks | 2021 Review
Final thoughts 
It's sturdy, efficient, and works like magic when it comes to composting. Only those things are needed for a compost tumbler to operate properly. Hopefully, the easiest compost tumbler may be found on this list. Beginners should use these tumblers since they are simple to use and come completely constructed.
---