---
Many homeowners feel that lawn weeds badly impact the perfect image of their garden or lawn grass they're attempting to grow. Using the correct pesticide is critical to destroying weeds without harming the lawn. One of these products is Bayer Advanced All-in-One weed killer concentrate. Though, the BioAdvanced (previously Bayer Advanced) All-In-One Lawn Weed & Crabgrass Killer replaced the Bayer All in One weed control product in 2018.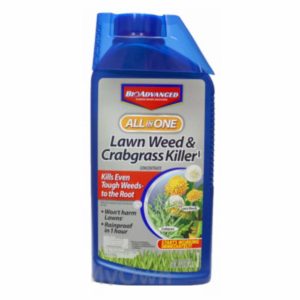 Features of Bayer Advanced Weed Killer:
Rainproof in 1 hour
Allows for hose-end sprayer application
Use in tank sprayers and hose-end sprayers
Even the hardest weeds are killed down to the root with this product. About 200 broadleaf plants, such as dandelion, clover, and crabgrass, are killed by the proprietary formula without damaging the lawn. This product starts running right away and is rainproof in less than an hour. It works on a wide range of lawn varieties, including crabgrass, Fescue, Kentucky Bluegrass, Bermuda grass, etc. It's easy to use thanks to the ready-to-spray applicator.
---
Bayer Advanced Weed Killer User Manual
Having problem? Download Bayer Advanced Lawn Weed And Crabgrass Killer instructions.
---
Active components
This weed killer has a few active components for better effects: 
0.104% Quinclorac; 

0.313% 2,4-D dimethylamine salt; 

0.029% Dicamba, dimenthylamine salt;
Broadleaf weeds are killed by 2,4-D, but most grasses are not. Auxin-type herbicides are herbicides that include this chemical. 
2,4-Dichlorophenoxyacetic acid (2, 4-D) belongs to systemic herbicides that target broadleaf weeds and destroys them selectively. It kills weeds by changing the way the cells of these plants develop, causing them to die. In other terms, it stimulates unchecked cell development in broadleaf weeds, causing them to die.
Quinclorac is a quinolone carboxylic acid that acts as an auxin mimic. The vegetation absorbs it and transports it across the vine. Broadleaf weeds display symptoms such as leaf and stem curling or bending, as well as necrosis.
Dicamba is a herbicide equivalent to 2,4-D. Both function as auxins, which are normal plant hormones. These hormones aid in the regulation of plant development. When plants are handled with Dicamba, they grow in uncontrollable and unnatural ways, and they sometimes die.
Specifications: 
Effective against 200+ weeds;

Advanced 3-component formula;

Has a SmartTrack red market to show treated weeds with sunlight;

Becomes fully rainproof in 1 hour;

Suitable for hose-end sprayers;

Not for sale in PR and HI;

May treat up to 6,250 sq. ft. (40 ounces);
The product's bottle measures 1 gallon. 
What weeds can it kill? 
It has the potential to kill over 200 plants, including broadleaf weeds including dandelions and grassy weeds including annual crabgrass. As for other herbicides, the quality and effectiveness of this substance are contingent on following the package instructions and safeguards.
It's important to remember that this substance isn't meant for flower beds and may kill shrubs. It's also not suitable for people and pets throughout the application and after the substance has completely dried, since it may affect Bermuda grass to yellow. It's also not useful on hot days above 90 degrees Fahrenheit.
Tips for users: never apply on Southern grass, St, Augustine grass, Bahia grass, Carpet grass, Centipede grass.
How to use it?
You'll need to estimate the region of your yard that you'll be treating with BioAdvanced so that you can add the correct number. Measure the length and width of the yard, so multiply the two figures to get the treatment region in square feet.
Since BioAdvanced is fully concentrated, 3.2 fluid ounces (6 1/2 tablespoons) can dissolve in 1 gallon of water. This volume is enough to cover 500 square feet. If your lawn is very dusty, water it completely 1 or 2 days before applying BioAdvanced.
You should use a hose-end sprayer or a pump-style tank sprayer, all of which should be loaded no higher than the fill line indicator. A hose-end sprayer is best for treating vast fields or the whole lawn, whereas a tank-style sprayer is good for spot treatments of weeds in your garden.
Simply apply the BioAdvanced product to the area of your yard the furthest from the water faucet with a hose-end sprayer, walking backward to prevent touch with the treated area.
When to use it? 
The regular maximum temperature should not reach 90 degrees Fahrenheit (85F for Bermuda grass). Apply on warm and calm days;

Use it when the weeds are small and actively growing;

The effectiveness of the product would not be harmed by rain at least during 1 hour after application;
Delay until the fourth mowing to sprinkle BioAdvanced on a newly seeded lawn, and 1 to 2 days after spraying an existing lawn before mowing. Wait 4 weeks after spraying BioAdvanced before seeding some bare spots. BioAdvanced can be applied on a non-windy day to avoid the spray drifting through the lawn or vegetable plants.
Where to use it?
It is recommended for such areas of use as lawn, flowerbeds, around trees and along fences. It is better not to spray it on useful grasses and edible plants. 
How long does it take to work? 
According to the manufacturer, this product shows the first visible results within 12 hours after application. The claimed duration of its effect lasts about 30 days. 
---
Pros & Cons of Bayer Advanced Weed Killer
Think of BioAdvanced All-in-One Lawn Weed Killer if you're looking for the best broadleaf weed herbicide  for the money. You can get a herbicide that can kill up to 200 different types of broadleaf weeds, such as clovers or dandelions, for a reasonable price. It's also effective against crabgrass and foxtail.
---
The Buyer's Guide
Mode of action
This herbicide destroys weeds until they germinate. Pre-emergent herbicides stop sprouted weed seedlings from establishing themselves by inhibiting root, shoot, or both development. To be successful, the herbicide must be introduced into the soil through rainfall or irrigation, and it must be present when the weed seeds germinate.
It's also a targeted herbicide, meaning it's designed to kill weeds in your yard without harming most grass species.
Ease of use
This broadleaf herbicide can be spread to the whole lawn if used as instructed. Its advanced formula kills weeds at the root while keeping the grass safe. It has SmartTrack, which briefly tags weeds with a red stain and stays successful in the rain for up to an hour.
FAQ
Is it safe to use around wood shrubs in the boxes? 
Yes, but you should spray it directly on the weeds that you wish to kill. The red ink makes it easy to tell where it lands. 
Will it kill tulips on flower beds? 
It should not kill grass or flowers but you should never spray it on any plants you want to keep safe. 
Can it cope with Nipplewort (Lapsana)?
You may try if this weed is broadleaf.
Video Guide: How To Use Bayer Advanced Weed Killer
Final thoughts 
If you need a premium pre-emergent product, you should definitely take a closer look at this BioAdvanced All-in-One weed killer. Many users claim it is very effective against common broadleaf weeds to include crabgrass and dandelions. 
---