---
SUPERthrive Plant Vitamin Solution
1 Gallon, clear
9.48 pounds
Not sold in WI
Miracle-Gro Water Soluble Lawn Food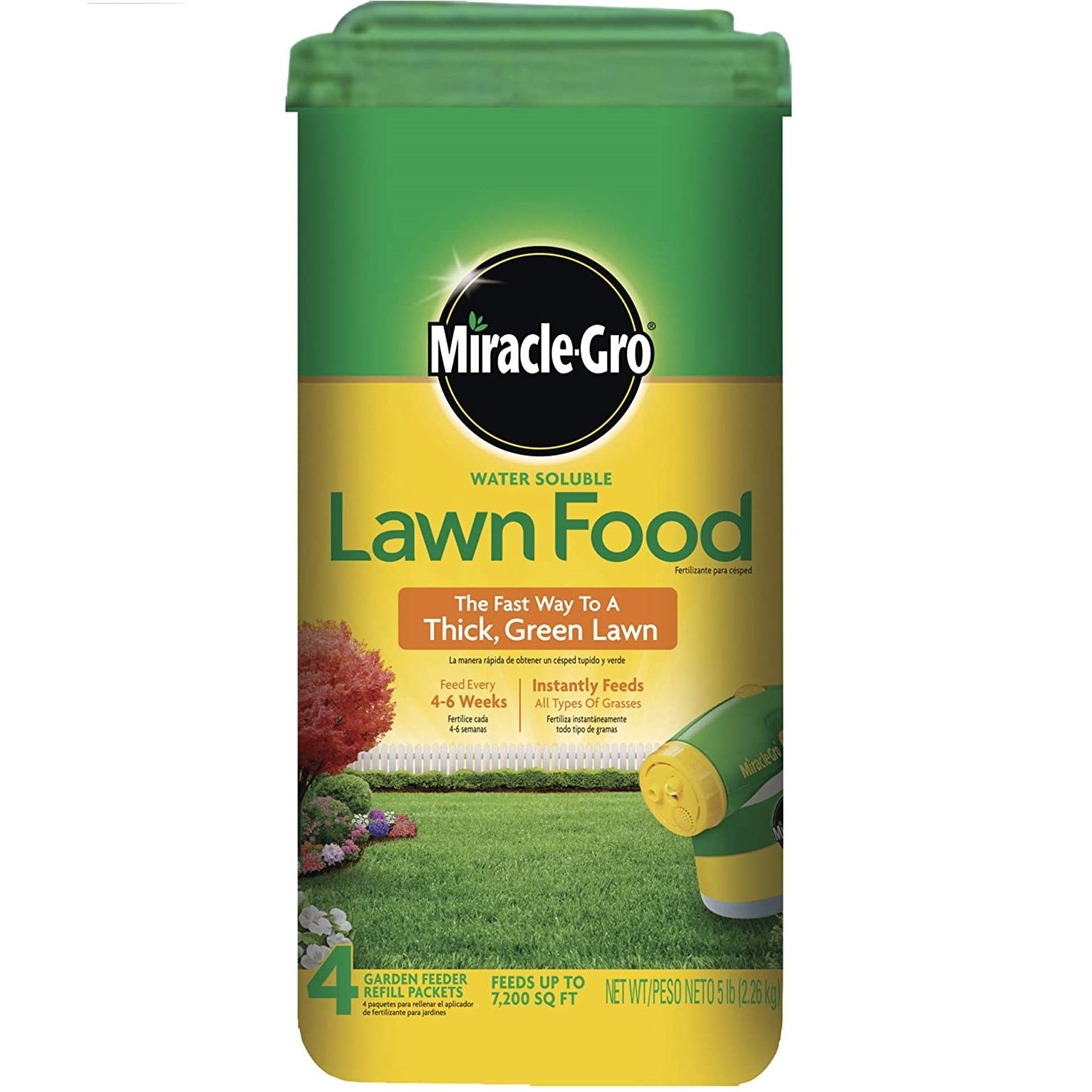 Size: 5 lb
Instantly feeds
Miracle-Gro
Scotts Liquid Turf Builder Fertilizer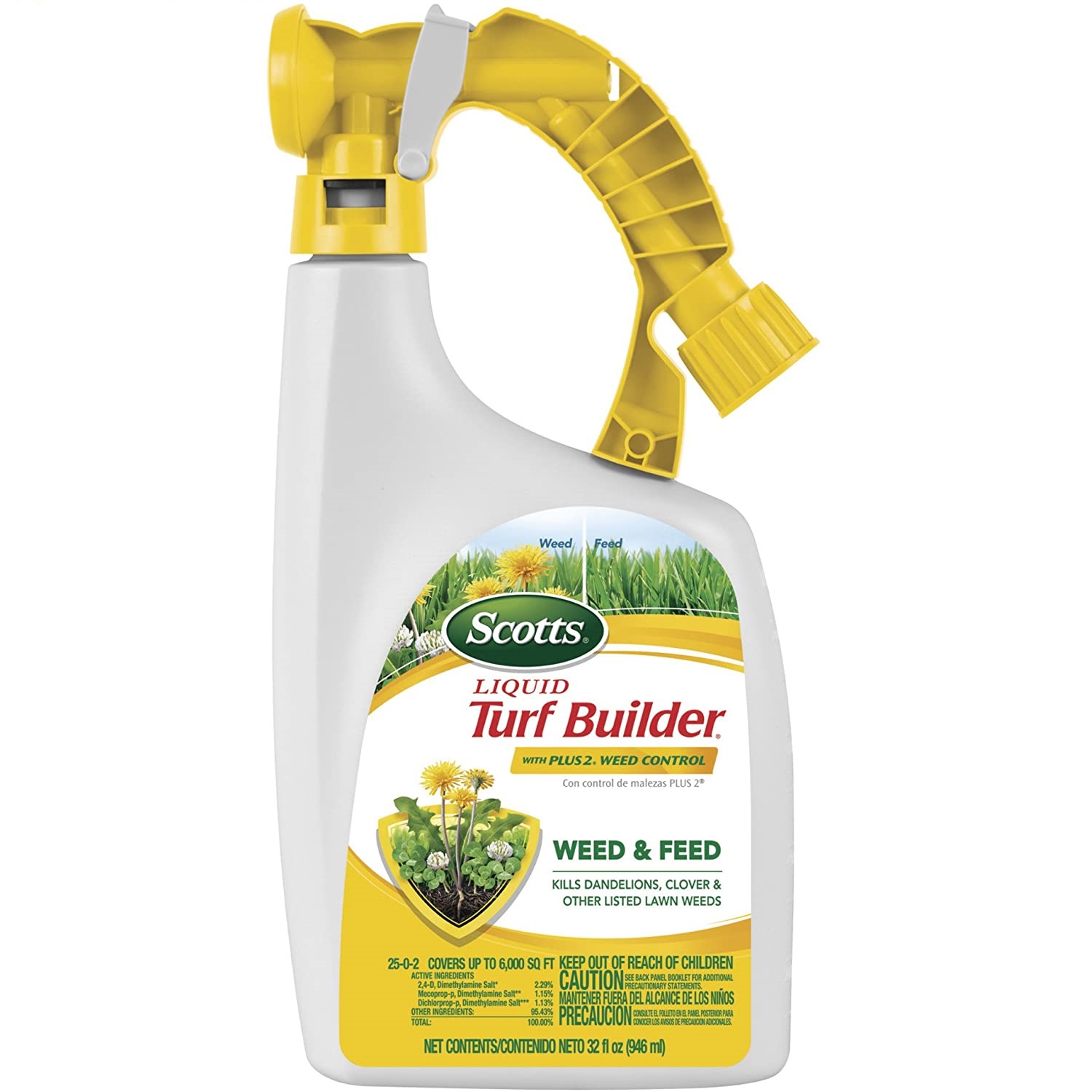 Weed and Feed
Clover and Other
Easy to use
Turf Builder Lawn Food Fertilizer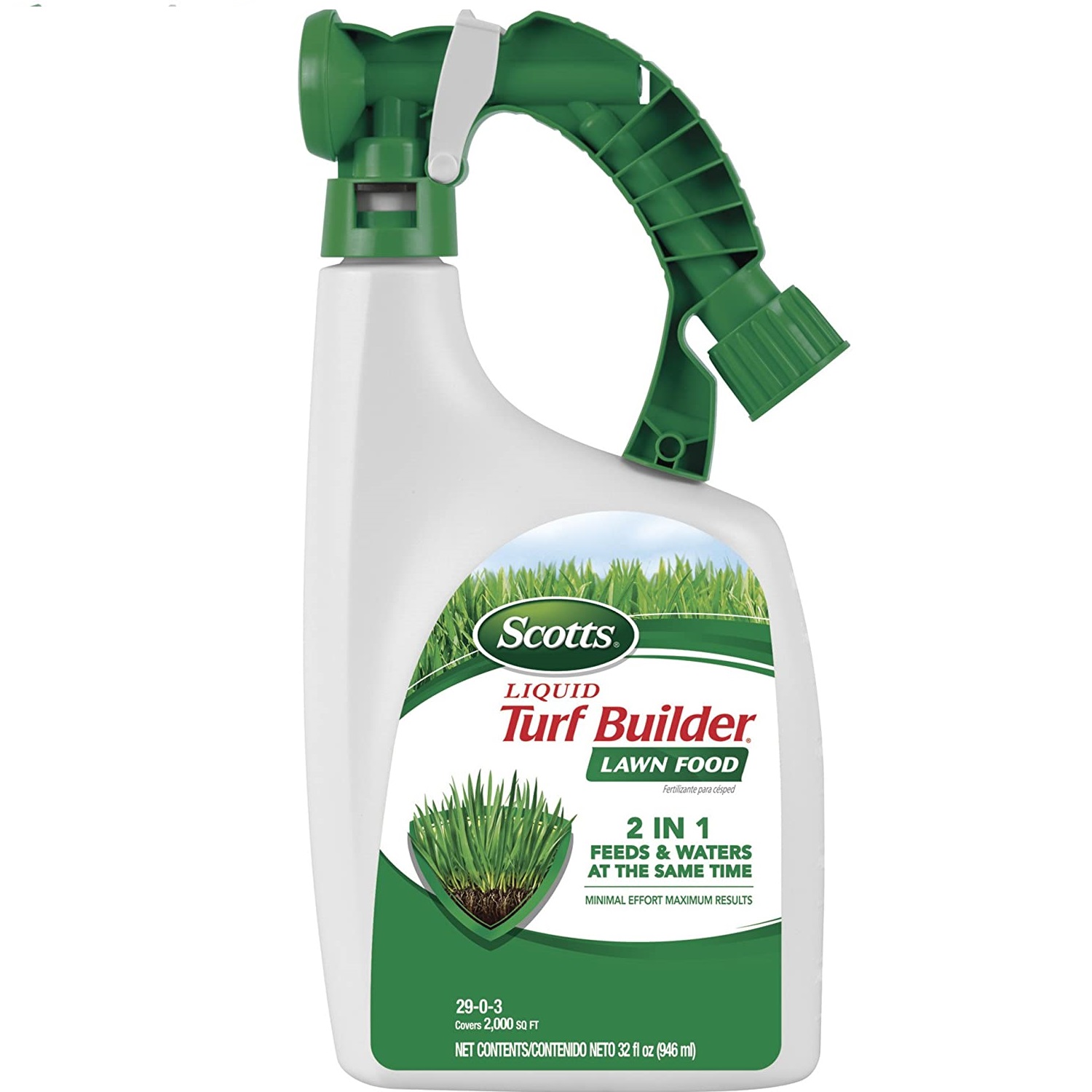 Feeds and greens
Lawn Fertilizer
Feeds and strengthens
Ready-to-Spray Soil Builder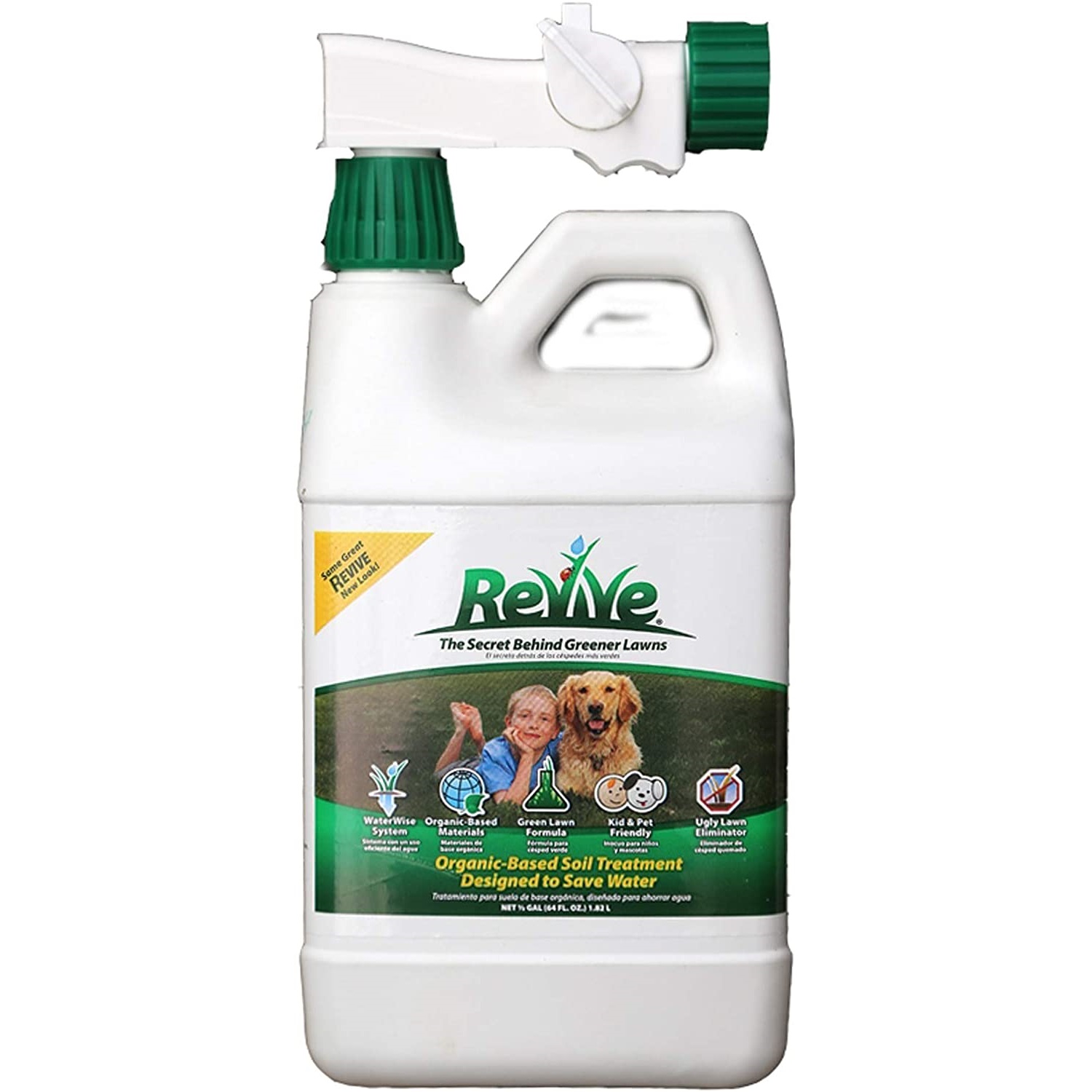 Brand: REVIVE
Style: Lawns
United States
---
Choose the Best Liquid Lawn Fertilizer
Customer's Choice: the Best Rated Liquid Lawn Fertilizers
24 users answered this survey. Please help us improve this review!

20.83% of users selected SUPERthrive Plant Vitamin Solution, 33.33% selected Miracle-Gro Water Soluble Lawn Food, 12.5% selected Scotts Liquid Turf Builder Fertilizer, 16.67% selected Turf Builder Lawn Food Fertilizer and 16.67% selected Ready-to-Spray Soil Builder. Every month we analyze your answers and change our rating.
---
Liquid lawn fertilizers are a simple method to keep your lawn looking lush, healthy, and full of life. Using high-quality liquid fertilizers to spray on lawns delivers all of the nutrients that healthy turfgrass needs. The finest liquid lawn fertilizers have high nitrogen concentrations, which is an essential component for healthy lawns.
Liquid lawn fertilizer is a rich nutrient solution that feeds your plants instantly via both the soil and the leaves. This aids in the immediate treatment of any flaws, with benefits generally obvious within several days. This method also creates a more uniform pattern, making nutrients more accessible to the roots while generating very little waste.
The nutrients are not accessible for lengthy periods of time due to the liquid basis, therefore you'll need repeat applications for long-term treatment. Each feeding might last anywhere from 4 weeks to 3 months, depending on the kind of feed and your lawn care objectives.
Choosing the right liquid lawn fertilizer might be difficult. Some fertilizers are ready to use; all you have to do is connect a hose to the bottle of lawn fertilizer. Other liquid fertilizers are concentrates that must be mixed to the proper amounts before being sprayed.
Key benefits of liquid lawn fertilizers: 
Easy to use;

Natural lawn care;

Even distribution;

Better bioavailability;

Versatile use;

Work quickly;
This guide will walk you through the finest liquid fertilizers on the market right now. You'll learn how to apply lawn fertilizers to improve the look of your yard as well as learn about each liquid fertilizer. Do not forget to choose using the product reviews, comparison table and buying guide. 
SUPERthrive VI30179 Plant Vitamin Solution – the best for transplanting trees!
Transplanting plants and trees may cause stress, which may harm your health by causing you to lose leaves, damage your roots, and lose your plant. Before planting, use Superthrive to prevent and cure shock and ensure survival.
Superthrive is cost-effective and mild enough to use every time you water.
Superthrive may be combined with water and applied to the soil directly. Other means of application include watering with a hose-end sprayer or as a foliar spray. Superthrive is water-soluble, making it ideal for use in hydroponics, hydro-seeding, and irrigation and drip systems.
---
Miracle-Gro Water Soluble Lawn Food – the best for growing thick lawn!
This all-in-one solution includes nitrogen, phosphate, and potassium, as well as other necessary nutrients for your lawn. Because the fertilizers are water-soluble, they will be pre-dissolved before being applied to your lawn, lowering the chance of scorch, even in hot weather.
You may use either the Miracle-Gro Feeder (should be bought separately) or an ordinary watering can to use the fertilizer.
This simple and easy-to-use lawn feed has to be put on your lawn once a month. If your lawn is in bad shape, though, it should be treated every two weeks to help it heal as rapidly as possible. This fertilizer is a good option for anybody on a budget who wants to green up their lawn, but keep in mind that it won't kill moss or weeds.
---
Scotts Liquid Turf Builder with Weed Control Fertilizer – the best for killing weeds!
This Scotts Liquid Turf Builder product provides a rapid nitrogen boost while also killing weeds in your lawn. It may control such weeds as chickweed, clover, dandelions, poison ivy, spurge, ragweed, oxalis and other broadleaf weeds.
Scotts Liquid Turf Builder Weed and Feed is supplied in a 32-fluid-ounce spray container that is simple to use. The fertilizer sets in quickly and begins destroying weeds at the same time. Within 24 hours, you should notice the effects.
This liquid fertilizer is great for strengthening freshly planted grass, so it's a great option for new lawns even if they are already seeded.
You may use this Scotts Liquid Turf Builder with Weed Control Fertilizer if you have a small yard that requires to be fertilized in general, or just want to treat a specific part of your lawn that is brown or overrun with weeds.
---
Scotts Liquid Turf Builder Lawn Food Fertilizer – the best for feeding and watering!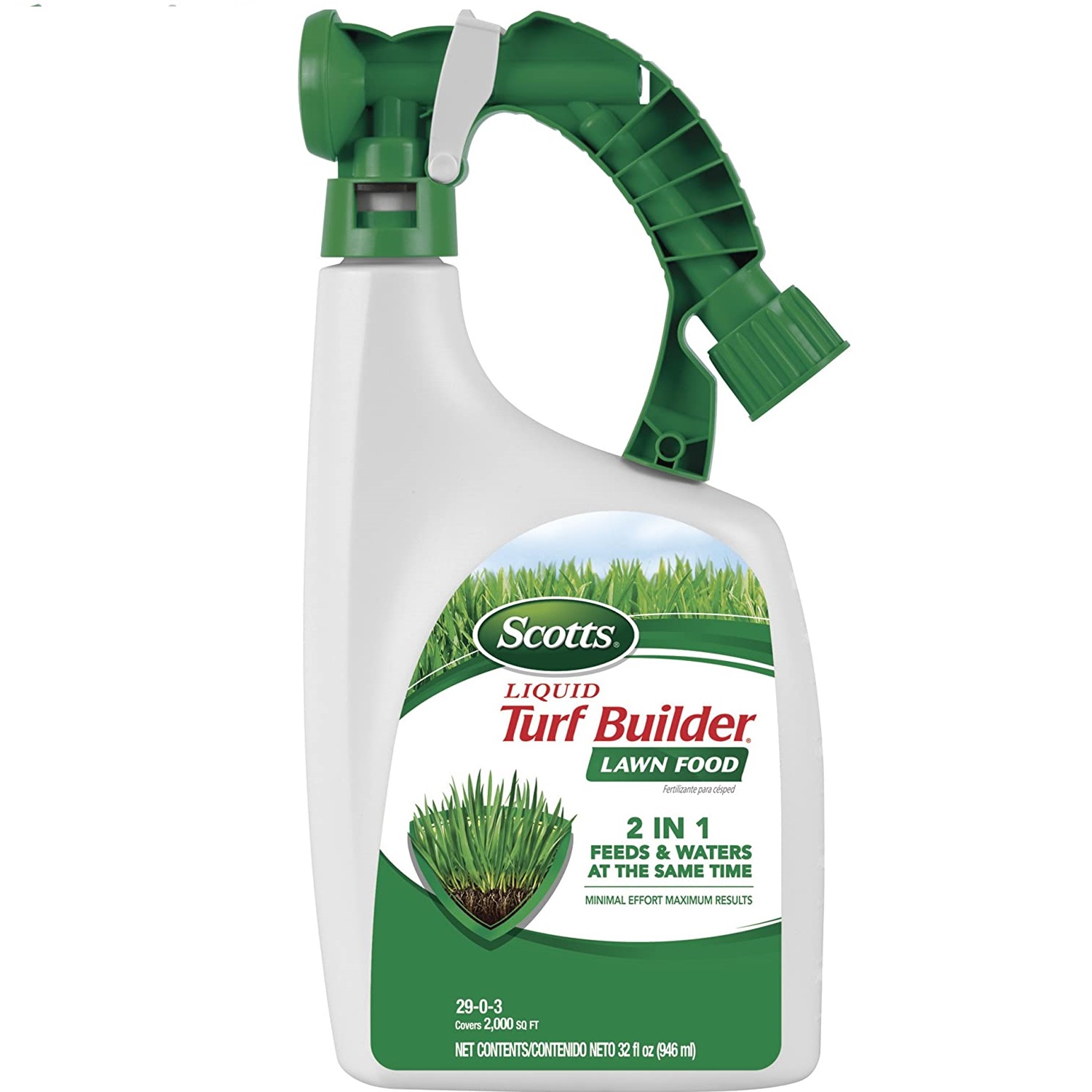 Scotts Liquid Turf Builder Lawn Food makes it simple and fast to have a lush green lawn.
To get immediate results, use it in any season and on any grass variety. Regular feedings provide your lawn the nutrition it needs to look its best and endure weeds, drought, heat, and family activity.
This product can be a great supplement to any lawn care process. It results in a greener lawn within 10 days after use.
---
Revive Ready-to-Spray Soil Builder – the best for the spray nozzle!
Another high-quality lawn care brand is Revive. This solution is a fantastic alternative for greening your grass overnight. You'll receive a non-toxic mixture that boosts your grass's nutritional absorption.
The Revive liquid lawn fertilizer also includes a spray bottle applicator that makes it simple to apply to your lawn. This product is created in the United States and can cover an area of up to 4,000 sq. ft.
This product is safe for both dogs and humans since it is non-toxic and has no dangerous components. This Revive mix provides an aerating effect to the grassroots, allowing for more ventilation and improved grass growth. Surfactants and chelated iron are also included in Revive.
This lawn fertilizer, produced in the United States, makes it quick and simple to stimulate outstanding lawn growth while also removing hard and compacted soil.
---
The Buyer's Guide
Liquid Fertilizer vs Granular/Powder Fertilizer:
1) Absorption rates
The pace at which grass roots receive nutrients is one of the primary differences between liquid and granular grass fertilizers. When opposed to granules, liquid fertilizers have a faster nutrient absorption. After a few days, the effects of applying liquid lawn feed are frequently visible. Slow-release fertilizers, such as granular fertilizers, are ideal for long-term lawn maintenance.
2) Starter lawn fertilizers
When deciding between 2 forms of fertilizer products, liquid fertilizer is the better choice for young grass. The fertilizer solution increases grass seed development rapidly, allowing them to sprout and grow robust roots.
3) Method of application
Because they are simpler to administer, most homeowners choose liquid fertilizers over granular feed. Spreading the proper quantity of fertilizer evenly might be difficult unless you own a large garden sprayer. Liquid lawn fertilizers, on the other hand, offer the benefit of being easy to apply for effective results.
4) The salt content
Granular lawn feeds have a higher mineral salt concentration than liquid lawn fertilizers due to their slower release of nutrients. Excessive salts in the soil and root burn might result from this mineral concentration. Liquid fertilizer is a preferable option if you're worried about excess nitrogen/potassium accumulation. Choosing an organic fertilizer is one option for preventing extra salts from developing in turfgrass soil.
Weed and insect control
If you're having trouble with any of these issues, several liquid fertilizers include bug and weed control. However, it's worth noting that strong grasses with deep root systems will ultimately choke out the vast majority of weeds. Many weed control issues may be solved naturally by feeding plants and soil, rather than using chemical treatments, by improving the health of your lawn.
Bug-infested lawns, particularly those that enter your home with kids and pets, may frequently be handled with basic insect control. Other insects that devour your grass and roots and cause considerable damage may need to be treated numerous times to guarantee that all phases of their life cycle are disrupted.
Size of your lawn
For enormous lawns, liquid treatments can be a terrific option. The spreading process may be completed considerably faster than other methods, particularly if you use a motorized vehicle to assist with the spraying or a commercial care system that puts you on a cycle of care.
The N-P-K ratio
To make it easier for customers to compare fertilizer products, all fertilizer products should contain some standardized information about the key nutrients.  The fertilizer's N-P-K ratio — the percentage of 3 major plant nutrients in such an order: nitrogen (N), phosphorus (P), and potassium (K). The N-P-K values on the bottle represent the proportion of each nutrient by its weight in the whole formula.
When to apply a liquid lawn fertilizer? 
Depending on the sort of liquid fertilizer you're using, you should apply it at different times. Detailed instructions are usually found on the back of the bottle. However, there are a few basic criteria to remember.
If you're using a once-a-year fertilizer, try to coincide its usage with Labor Day. That is when your yard will most benefit from it, and it will absorb all of the nutrients. This also helps the soil build up a reserve to assist it to get through the next chilly fall and winter.
Add a second treatment in October to give your yard a little more food for the winter if you wish to fertilize twice a year.
If required, you may apply a third time in springtime and a fourth time in mid-summer. If you use fertilizer all year round, a smaller quantity in the spring is preferable unless you see delayed growth or discoloration.
Some of these products are designed especially for the spring and summer seasons. The initial application is often made in the spring, followed by lower dosages every few weeks during the summer season.
When using liquid chemical fertilizer in the middle of summer, when it's very hot and humid, use care. It has the potential to destroy your lawn. Organic products, fortunately, are safe to use in such weather conditions.
The most essential thing to remember while applying fertilizer is to skip the warmest portion of the day. When the weather is excessively hot and humid, fertilizer might harm the grass. Early morning apps are excellent in the summer.
Finally, fertilize your lawn while the ground is still damp. This will speed up the absorption process. It also has a lower risk of burning or harming your grass than if you use it on dry ground.
How much liquid lawn fertilizer do you need? 
It differs. The lawn's size and how much nitrogen it requires throughout the year are the most essential criteria in determining how much fertilizer to use. If you use too little, you won't obtain the desired effect; if you use too much, you risk seriously injuring your lawn.
A soil test is the best approach to figure out how much product you require to use on your lawn. The quantity of nitrogen, phosphorus, or potassium in fertilizers determines their classification. This is denoted by the letters NPK. A soil test may determine how much of each you need, allowing you to choose the appropriate fertilizer.
It's not as tough as you would imagine to test the fertilizer. Easy-to-use kits that test all three primary nutrients in liquid fertilizers are available at most large home and garden stores. You may pick a fertilizer that meets your lawn's demands after you discover what your soil requires.
How to apply a liquid lawn fertilizer?
Commercial liquid solutions are often combined in huge tanks and sprayed from the backpack systems to cover larger areas. More "backyard enthusiast" choices have recently been available, letting mix on your own in gallon spray tanks or even have specialized hose connectors for more coverage.
If you want to treat huge areas of land, you may need to invest in big-scale equipment. The products with an in-built sprayer that combine the fertilizer with water through your hose connections, as well as those that you can mix by hand, are more economical. You only have to be cautious not to over-fertilize your lawn by mixing too much fertilizer without much water.
Useful Video: BEST LIQUID LAWN FERTILIZER – TIME LAPSE | Do they work?
Final thoughts 
Liquid fertilizers, though there are many various kinds of fertilizers to select from, provide a compact, concentrated product and, in many cases, easy use for smaller yards. These quick-acting options provide immediate effects, but they may need frequent follow-up feedings for optimal lawn establishment. There's something for everyone, whether you're searching for feed for a new lawn or to help revive an old, worn-out yard.
---