---
Tow Broadcast Spreader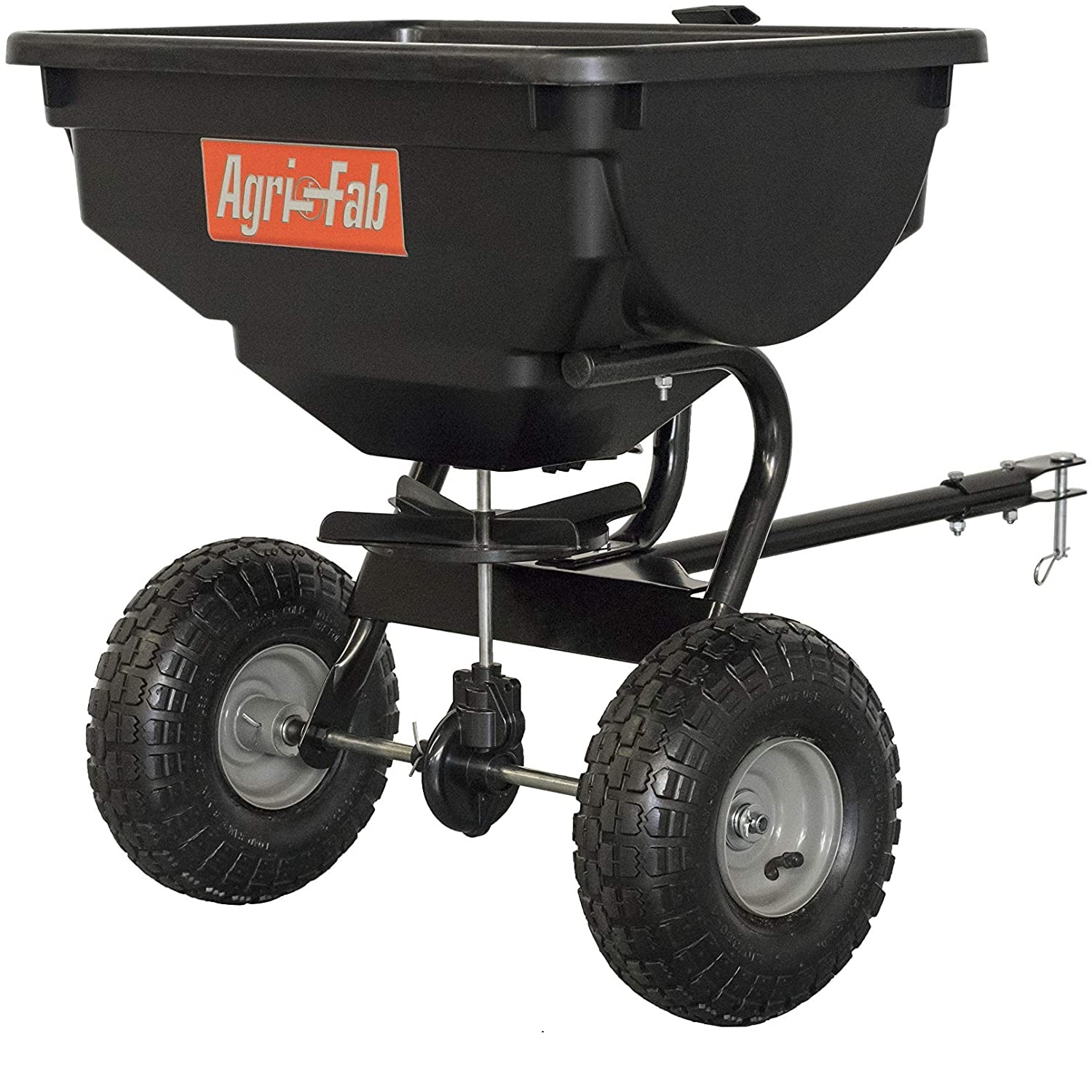 26″ Sweeper Width
4 tough
Plastic Wheels
Push Broadcast Spreader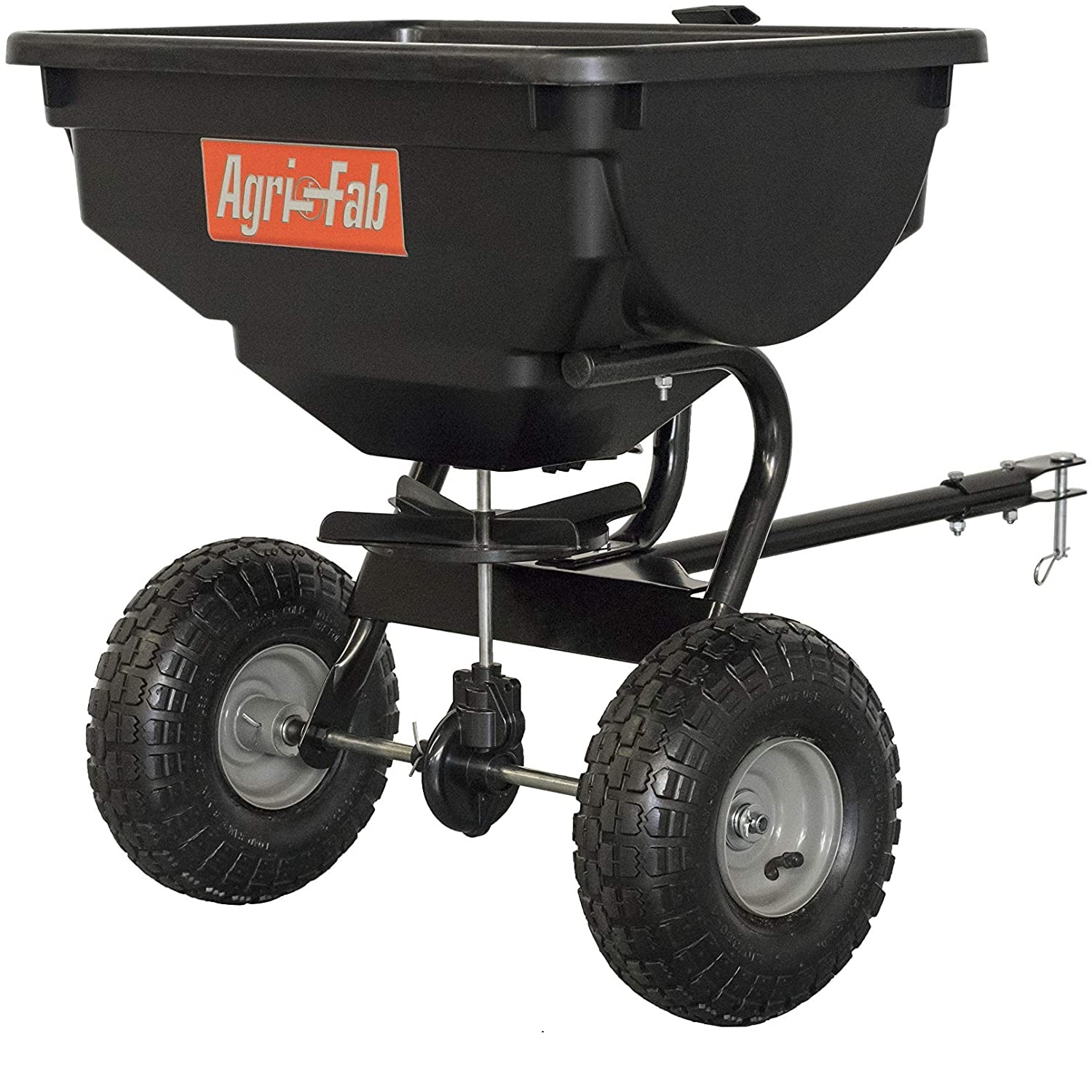 One Size
Black
Sweeper Width
Broadcast Fertilizer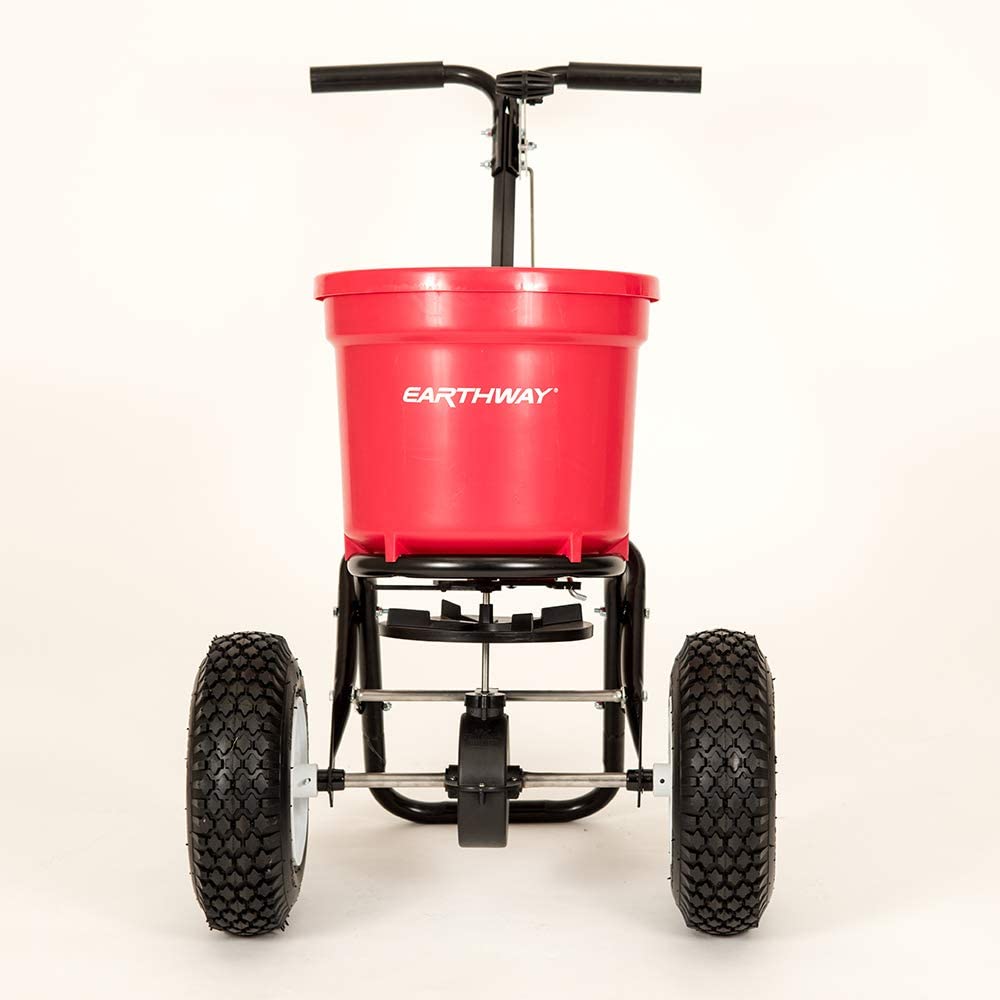 Earthway Even Spread
Driving Handle
Walk-Behind
Brinly Push Spreader
50-Pound Capacity
Black
Fast Calibration
Builder Edgeguard Mini
Item Weight 9.18 pounds
Scotts
Spreader
---
Choose the Best Commercial Fertilizer Spreader
Customer's Choice: the Best Rated Commercial Fertilizer Spreaders
27 users answered this survey. Please help us improve this review!

29.63% of users selected Tow Broadcast Spreader, 55.56% selected Push Broadcast Spreader, 3.7% selected Broadcast Fertilizer, 7.41% selected Brinly Push Spreader and 3.7% selected Builder Edgeguard Mini. Every month we analyze your answers and change our rating.
---
Seasonal weather variations either hinder or bleach the grass's growth. At such times, you must tend to the grass and encourage its development. Most home improvement professionals would urge you to use fertilizers to speed up the growing process. These materials may be applied manually, but an instrument like a commercial fertilizer spreader provides many advantages. With a few adjustments, you can uniformly distribute a fertilizer product and get the work done with less effort.
Spreading fertilizer by hand is possible, but if you want to prevent over- and under-application, the best option is to invest in a decent commercial spreader, particularly if your lawn is large. A spreader will distribute your granules over the lawn in a timely and effective way.
Benefits of commercial fertilizer spreaders:
Designed specifically for large areas;

Durable;

Quick operation;

Ease of use;

Compatible with most lawnmowers, ATVs, tractors. SUVs;

Wide application – can spread ice, salt, seeds, chemicals;
Commercial fertilizer spreaders can hold a large amount of fertilizer and apply it in many ways, making short work of this seasonal job. The following reviews of the top 5 commercial fertilizer spreaders highlight the pros and cons. Also, check the comparison table and buying guide before shopping. 
Agri-Fab 45-0530 Tow Broadcast Spreader – the best for wide application!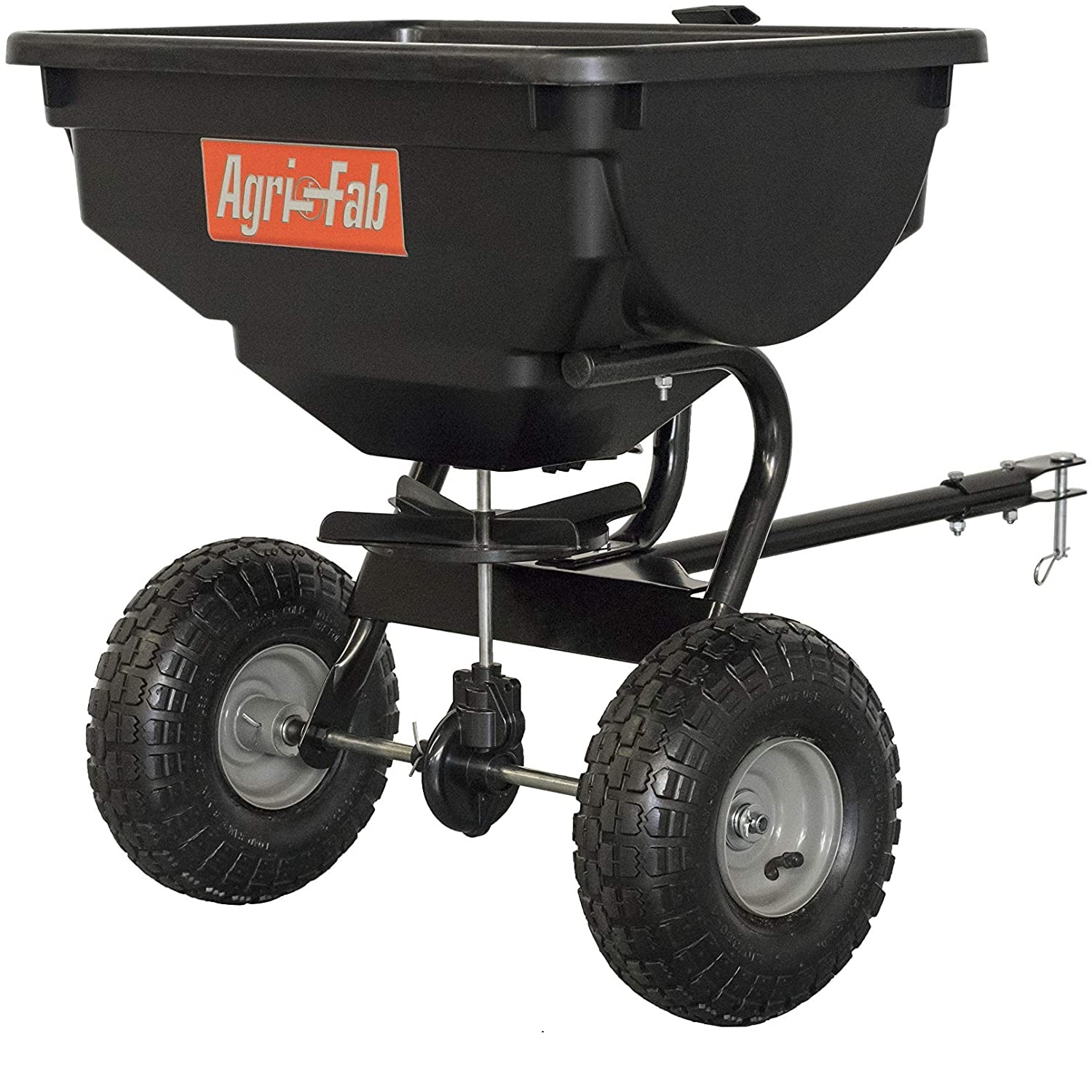 If you have a tractor and want to apply huge quantities of salt/seed/fertilizer across a large area, this Agri-Fab towed-type broadcast-spreader is the machine for you.
The Agri-Fab 45-0530 spreader, with a 10-foot spread width and an 85-pound hopper, can make quick work of areas up to 14,000 sq. ft.
It rides on a set of broad pneumatic tires that guarantee the device rolls smoothly over uneven terrain while also providing stability on hills. And it has a completely enclosed gearbox, so you won't need to think about dirt contamination causing premature wear.
This Agri-Fab spreader is made of tough polypropylene, so it won't decay when used with harsh treatments like ice melts and weed killers.
---
Agri-Fab 45-0462 Push Broadcast Spreader – the best for large coverage!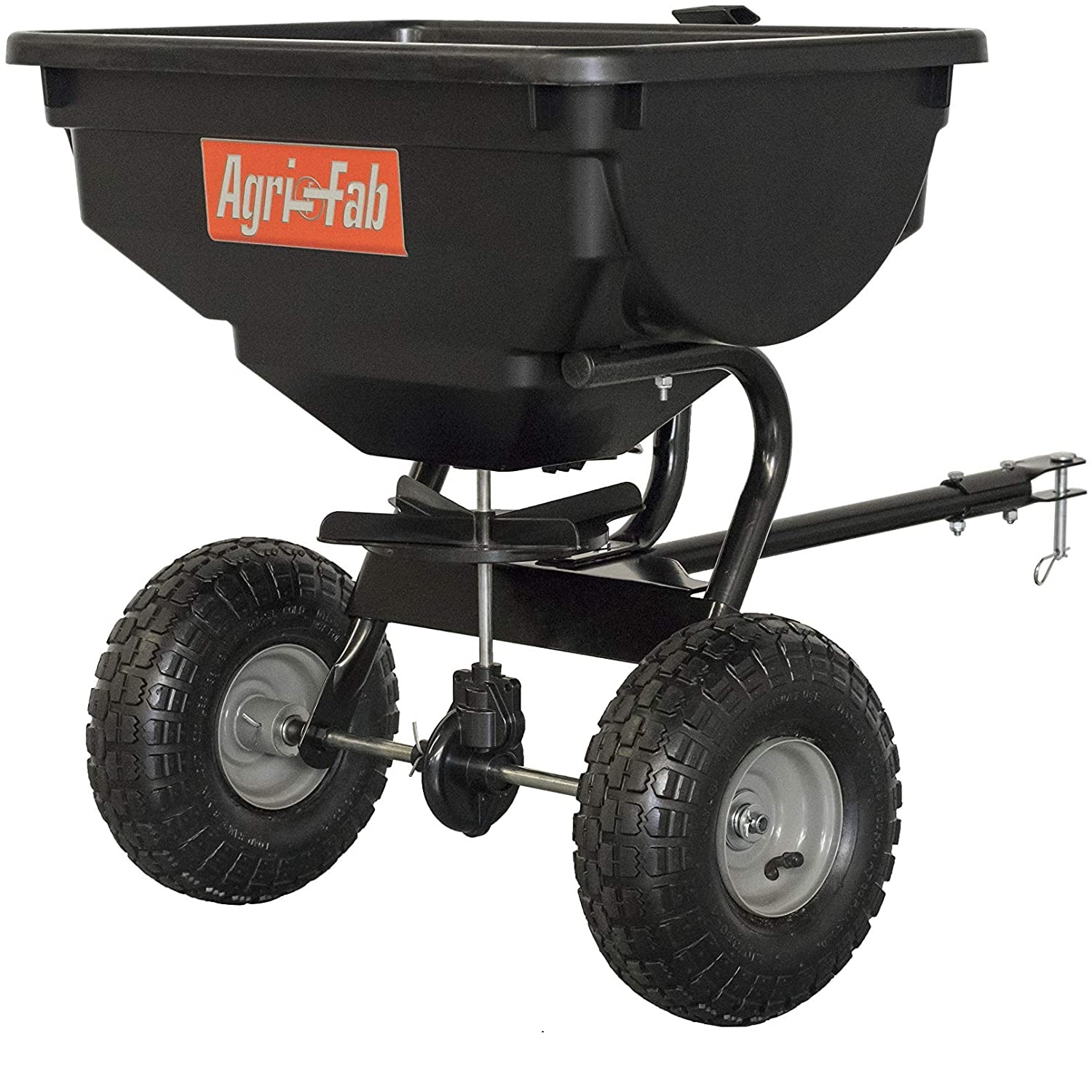 This Agri-Fab spreader was designed to distribute fertilizer/seed in the summer and ice melt in the winter. This device makes lawn care simple with its ergonomic handle design, big tires, and simple control. In addition, the spreader features an enclosed bevel gearbox and taper. This device is also simpler to operate than others due to its pneumatic tires.
The hopper and plate are constructed of poly, while the encased gearbox and gears are constructed of heat-treated bevel. It also has a precision flow control rod. Furthermore, the device comes with a 3-year guarantee, so you can seek help if you run into any problems.
Because the poly hopper is rustproof, you may utilize it in an outdoor setting. This device has a carrying capacity of 130 pounds, allowing you to utilize it for business purposes.
This push-style broadcast unit is ideal for distributing commercial fertilizer in medium-sized areas such as your yard. It is also heavy-duty and weather-resistant.
---
Earthway Even Spread 2150 Commercial Spreader – the best for spread control!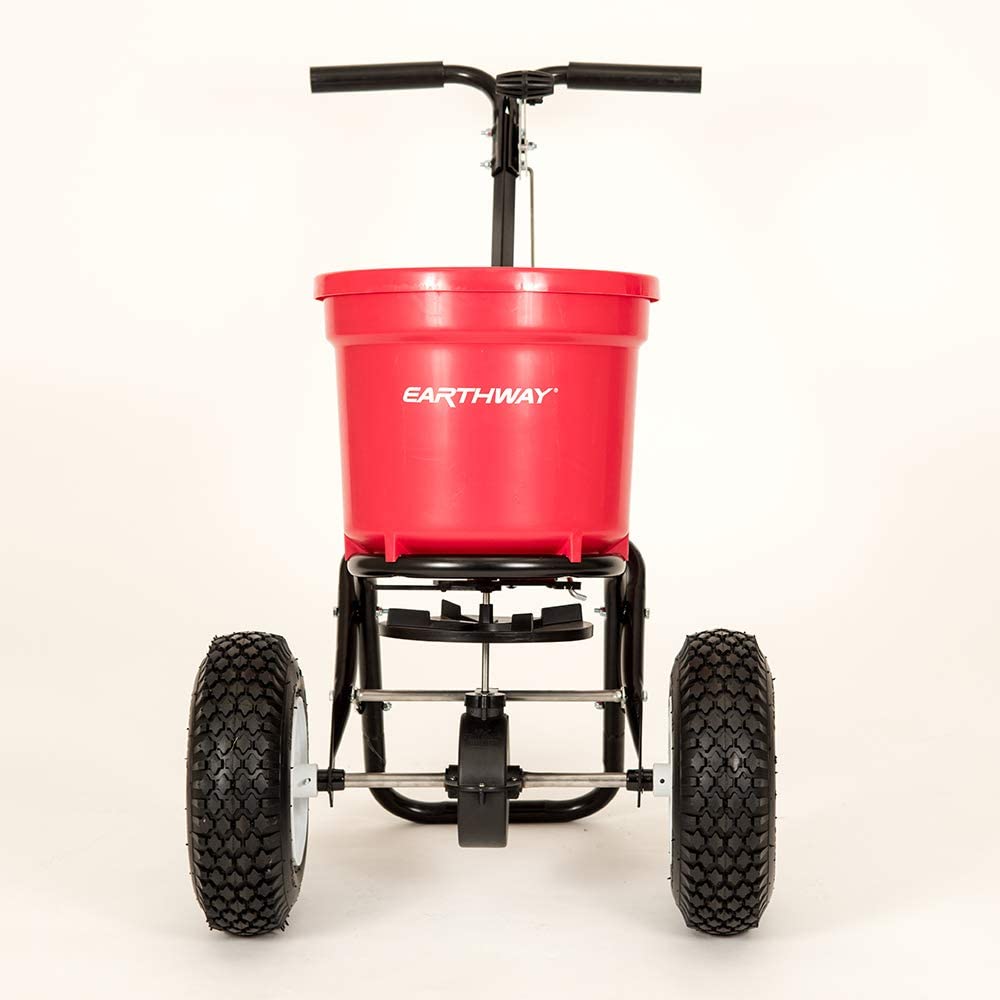 This professional-level fertilizer spreader has "Ev-N-Spred" settings for precise delivery of seeds, tiny grains, and fertilizer. You may also apply ice melt to your patio and pathways.
The "T"-Speed lever and height-adjustable handle give the operator complete control and comfort for users of various heights. You don't want to fertilize your garden too much or too little. You can carefully fertilize the lawn and make it appear greener by regulating the quantity of spread.
This professional spreader has a load capacity of 175 pounds (the hopper has a capacity of 50 pounds). It may be used to fertilize a wide area of your lawn.
It may be used as a salt spreader, garden seeder, and many other things. As a result, depending on your requirements, it may be a feasible choice for you throughout the winter and other seasons. This specific product is intended to be used in wet situations.
Because it has an adjustable handle, this is one of the finest walk-behind spreaders. You have complete control over the spreading pace. It enables you to keep track of your lawn's fertilizer.
---
Brinly P20-500BHDF Push Spreader – the best for small areas!
When compared to other spreader lines on the market, the Brinly P20-500BHDF with Deflector provides unrivaled value. The robust powder-coated frame, encased stainless steel gears, and pneumatic tires provide unrivaled long-term durability.
The simple calibration settings allow you to get to work quickly, and the heavy-duty poly hopper will not damage, corrode, or fracture. With a deflector, you may evenly distribute granular materials while eliminating waste in undesirable locations.
But it does have a lower capacity and can only hold 50 pounds of fertilizer. For most residential uses, this capacity will get you across your yard without needing to replenish.
Another reason to choose it is the unit's flexibility. It is ready to use for grass seed, fertilizer, snow, or ice-melting chemicals all year long. The supplied deflector kit regulates material flow to ensure equal distribution and keeps your costly fertilizer from falling on sidewalks or roads.
The Brinly push spreader has a black bucket-style hopper. It's designed to endure and can rapidly cover a large amount of ground.
---
Scotts Turf Builder Edgeguard Mini Spreader – the best for easy assembly!
In the spring, summer, and fall, apply the Scotts mini broadcast spreader to distribute grass seed and fertilizer. The smaller device can keep up to 5,000 sq. ft. of Scotts fertilizer products. It is supplied ready to use and pre-calibrated – no assembly is needed.
The Scotts EdgeGuard spreader is one of the most common and least expensive options on the market. You'll enjoy it if you have a regular or medium-sized yard. This machine is operated by a simple dial, and a handle enables you to control the pace and volume of material distributed.
This well-known commercial spreader has a 23-pound capacity. With edge guard control and a 5-foot spread pattern, it can cover up to 5,000 sq. ft. of lawn.
---
The Buyer's Guide
Types of commercial fertilizer spreaders
1) Tow-behind spreaders
These spreaders have a high capacity and are wheeled. They're attached to your ATV or ride-on lawnmower. It makes fertilizer distribution over a big acreage a lot simpler. The spreading mechanism is activated when the wheels revolve. A tow-behind device can be the ideal option if you need to distribute grass seed over a very wide region.
2) Walk-behind (push) spreaders
The next option is simpler, but it requires you to push rather than pull the spreader along. Because a push spreader is simple and less expensive. It works similarly to a tow-behind, except it requires a human operation. This is the ideal option if you have a medium-sized area to fertilize. But you have to be physically capable of walking around your garden and comfortable using this device.
3) Handheld/manual spreaders
These spreaders are small and lightweight. You're ideal for fertilizing a tiny lawn. They don't have a lot of storage space for fertilizing materials. With this kind of spreader, covering a wide area is difficult. A portable spreader is an excellent option for people who require to fertilize a limited area.
Broadcast vs. drop spreaders: what to choose for a commercial use
Broadcast spreaders make spreading fertilizer over greater regions much simpler. The fertilizer is dispersed over your lawn by a rotating disc. A broadcast spreader, on the other hand, may distribute fertilizer or seeds in all ways, even where you don't want them. To avoid this, several businesses install a guard. Some broadcast devices can disperse seed up to 8 feet. You must, however, walk/drive at a regular speed to ensure that you have covered the whole region. You should also spread on a windless day since wind affects the spread.
Drop spreaders are more precise when it comes to distributing fertilizer. It simply falls onto the ground. However, additional passes are required to cover all of the regions, and the passes must line so that you do not strip your lawn. Drop spreaders perform better in regions with trees and bushes. You can go about the yard or flowerbeds much more easily. The best part is that the wind has no effect on the spread.
Coverage
It's particularly essential to think about how much lawn you'll need to cover. You'll want to get a spreader that can contain the quantity of fertilizer you'll need so that you can get as much work done as possible without replenishing it. Commercial spreaders are big and may not be the ideal option if you have narrow lawns or lawns that are smaller than what they were intended for.
Seasonal application
The majority of fertilizer spreaders are versatile and can distribute much more than fertilizers. For all-season usage, they uniformly spread grass seed, some kinds of composts or even ice melt. Commercial-sized hoppers can hold a broad range of goods for simple transportation from one location to another.
Terrain
You want to make sure the spreader can manage the changes in terrain on larger lawns. For locations where you may need to travel across uneven, rocky terrain, look for robust tires and treads. In slick winter conditions, heavy-duty tires are more beneficial.
Capacity
The amount of weight that a hopper can carry has an impact on how long it takes to distribute the material. The bigger your yard is, the more capacity you'll need to prevent having to replenish it. A 40-pound capacity will suffice for smaller yards, while a 130-pound capacity will be required for bigger tasks. Also, if you have the capacity, check for a funnel drop-down hopper to save time. This keeps the feed flowing and eliminates the need to move components at the top, as well as ensuring an equal distribution.
Wheels
For better and simpler spreading, you'll want tires that can go off-road. The wider the tire, the simpler it will be to move the gadget, resulting in less effort for you. In addition, thicker tires make it simpler to navigate difficult terrain. Pneumatic tires are filled with air and may be adjusted to suit your requirements.
Spread distribution
You won't be able to get the perfect lawn until you buy a fertilizer spreader that distributes the fertilizer evenly. The uneven distribution of the spread may cause your grass to be over- or under-nourished. The correct fertilizer distribution provides you the evenness you need to fertilize your grass properly.
Durability
Seek a fertilizer spreader that is durable and can withstand the most severe bumps. Ensure sure that the spreader you select can withstand the severe outside circumstances. It is better to choose a commercial spreader made with stainless steel, aluminum and hard plastic. 
Useful Video: 5 Best Commercial Fertilizer Spreader 2020
Final thoughts 
The commercial fertilizer spreaders reviewed here are ideal for landscape care. They are designed for vast expanses of lawn and have a wide broadcast range. They can serve a wide range of all-season applications, making them ideal picks. This selection shows what characteristics are accessible for your usage if you've a vehicle to pull them with, mount them on, or just choose to push them.
---