---
Field King Backpack Sprayer
4 Gallon
Item Weight 12.8 pounds
Brand: D.B. Smith
Backpack Sprayer for Fertilizer
Item Weight 10.6 pounds
Chapin International
Material – Nitrile
Chapin 4-Gallon Tree and Turf Pro
Chapin International
Manual
Item Weight 10 Pounds
Field King Max Backpack Sprayer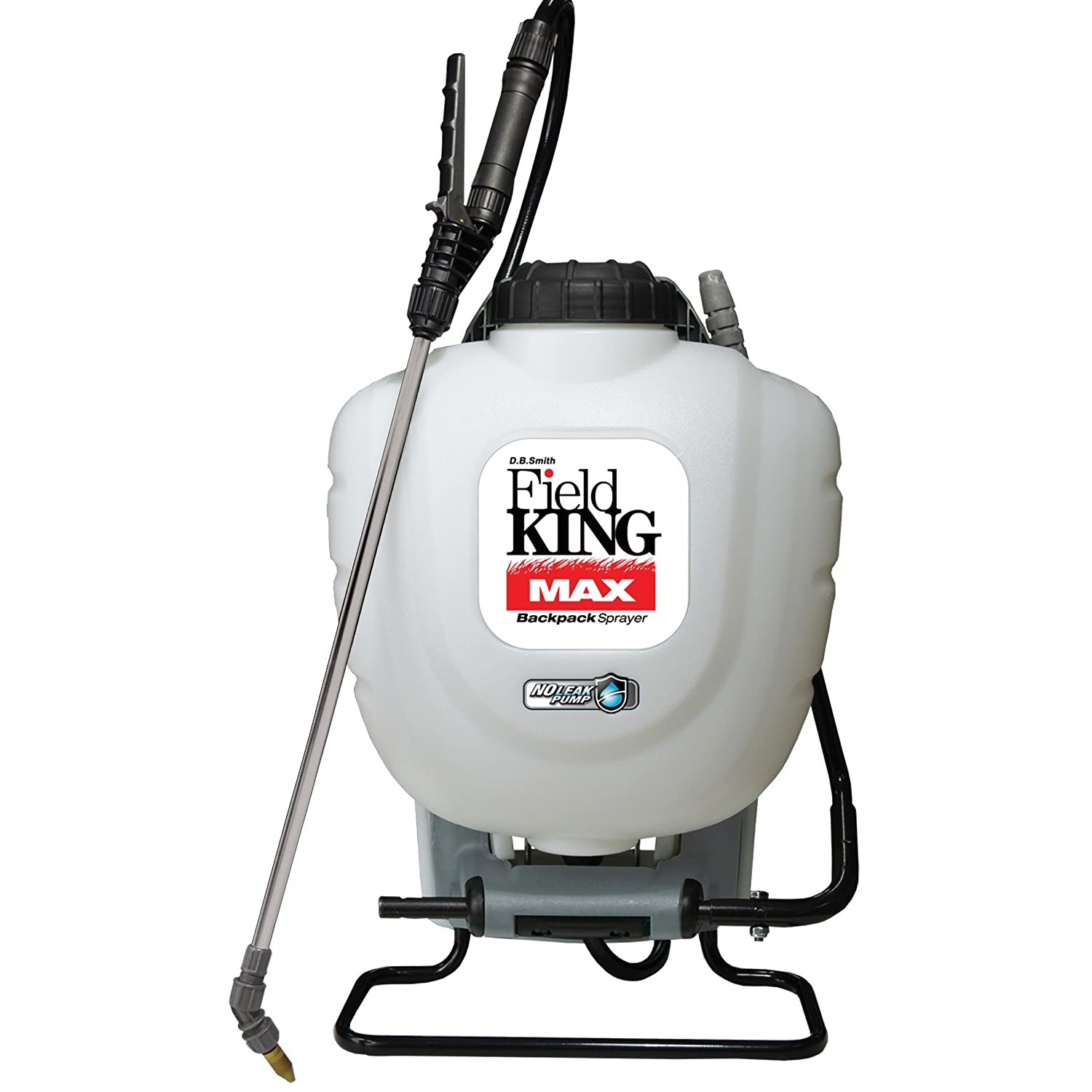 4 gallon
Brand: Field King
Item Weight 12.8 pounds
4-Gallon Professional Piston Backpack Sprayer
Color White
Brand SOLO
Material Plastic
---
Choose the Best Backpack Sprayer
Customer's Choice: the Best Rated Backpack Sprayers
23 users answered this survey. Please help us improve this review!

52.17% of users selected Field King Backpack Sprayer, 4.35% selected Backpack Sprayer for Fertilizer, 13.04% selected Chapin 4-Gallon Tree and Turf Pro, 4.35% selected Field King Max Backpack Sprayer and 26.09% selected 4-Gallon Professional Piston Backpack Sprayer. Every month we analyze your answers and change our rating.
---
The backpack sprayer is quickly becoming a favorite among landscapers, gardeners, and pest control experts, as well as renters and homeowners who just wish to have a weed- and insect-free outdoor environment.
What is the aim of this? The ergonomic design of a backpack sprayer allows you to carry fertilizer, herbicide, insecticide, or any other liquid on your back instead of lugging about a hefty metal cart or a portable sprayer. The tool also enables you to spray a consistent stream from a range of nozzles to cover not just the regions directly underneath your feet but also places that are difficult to reach, such as under the deck.
Reasons to buy a backpack sprayer: 
Good for spraying anything liquid – from herbicides to water;

Good for the spot weed control;

Affordable;

Easy to clean and fill in;

The weight is between 15 -20 pounds;
Continue reading to learn more about backpack sprayers, including how they function and what features to look for when purchasing one. Also, don't miss our top picks among the finest backpack sprayer alternatives on the market in the United States. The buying guide and comparison table can be quite helpful. 
Field King 190328 Backpack Sprayer – the best for the pressure!
The Field King Professional Backpack Sprayer by D.B. Smith can let you take control of your gardening duties in a flash, whether you need to fertilize a garden or lawn or control pests on fruit trees in the orchard.
This sprayer is perfect for medium-sized properties since it has a 4-gallon capacity, a proprietary pump that can spray at 150 psi, and a pressure regulator that enables it to spray at a constant 25 psi.
Whether you're spraying fruit trees or eradicating weeds, the Field King can compete with comparable piston or diaphragm sprayers. The internal pressure chamber can produce spray up to 20 feet in the air, and the integrated agitator can manage all sorts of powders, liquids, and water-soluble products, while the internal paddles ensure that the liquid is fully mixed and ready to spray.
This backpack sprayer is well-made, with brass internal components, a tough plastic tank, and a 21-inch poly wand with Viton seals that are meant to withstand chemical damage. Depending on the spraying application, you may pick from four different nozzles. A couple of flat fan nozzles, a foaming nozzle, and a brass adjustable nozzle are included in the kit.
The in-line filter prevents clogging, and the shut-off system is lockable.
This Field King sprayer is simple to use, and you can spray while walking and pumping simultaneously. It doesn't take many pumps to get the desired pressure. For left and right-handed usage, the handle can be fixed on both sides.
---
CHAPIN 61500 Backpack Sprayer – the best for precise spraying!
When spraying insecticides, soluble fertilizers, herbicides, weed killers, and watering, the Chapin International 61500 is an excellent option. This sprayer is a wonderful alternative if you're looking for size and convenience, thanks to its compact design and huge 4-gallon tank.
Even better, despite its high capacity, it has a tiny footprint and is designed in the Euro-style, with the hose attached at the top of the tank.
Because the tank has a 4-inch hole, filling it is simple and without spillage. It includes a pressure gauge with a cushioned grip that turns off when not in use, as well as two different nozzles for various tasks.
The wand on this Chapin 61500 is rather lengthy (24 inches), which is beneficial for taller persons since it eliminates the need to bend when spraying. Furthermore, it has a two-stage filtration system that prevents dirt from entering the inside. Pumping is still simple since the handle travels quickly, providing 40-60 PSI.
To filter out any chemical derbies, this 4-gallon sprayer incorporates a double-layer filtering system. Another advantage is that the filter works even when it is switched off. It's well-made and meant to last. It requires less than 5 minutes to assemble and 10 minutes to disassemble.
---
Chapin 61900 Commercial Backpack Sprayer – the best for filtration system!
The Chapin 61900 has a great 3-stage filter that causes it almost difficult for debris and debt to get into the pipes, ensuring continuous water pressure and reducing the need to clean the pump system on a regular basis.
The shut-off system on this backpack sprayer employs an easy-to-read gauge to show you the precise pressure of water flow, with the CF valve cutting it off immediately if anything goes wrong.
A 28-inch hose with an adjustable nozzle provides lots of adaptability and flexibility, allowing you to spray down various surfaces without stopping to mess with any external adjustments or settings. This, along with the broad default pressure of 60 PSI and extra 20-inch extended spray wand, makes applying weed killers in gardens of any form and size.
The broad reach and simple design of this backpack sprayer make it ideal for practically any garden, particularly the one with a vast area.
You may cover a large area with its enormous 4-gallon tank. Its piston pump can provide up to 60 PSI and the adjustable nozzle's spray may extend up to 20 feet.
If you prefer a manual pump, the Chapin brand could be the best option. It's intended for commercial gardeners, although it may also be used by households. The transparent tank has a four-inch aperture and contains four gallons. Furthermore, a 3-stage filtration system guarantees that nothing useless enters the mix. You may clean the filter as required by removing it.
---
Field King Max 190348 Backpack Sprayer – the best for durability!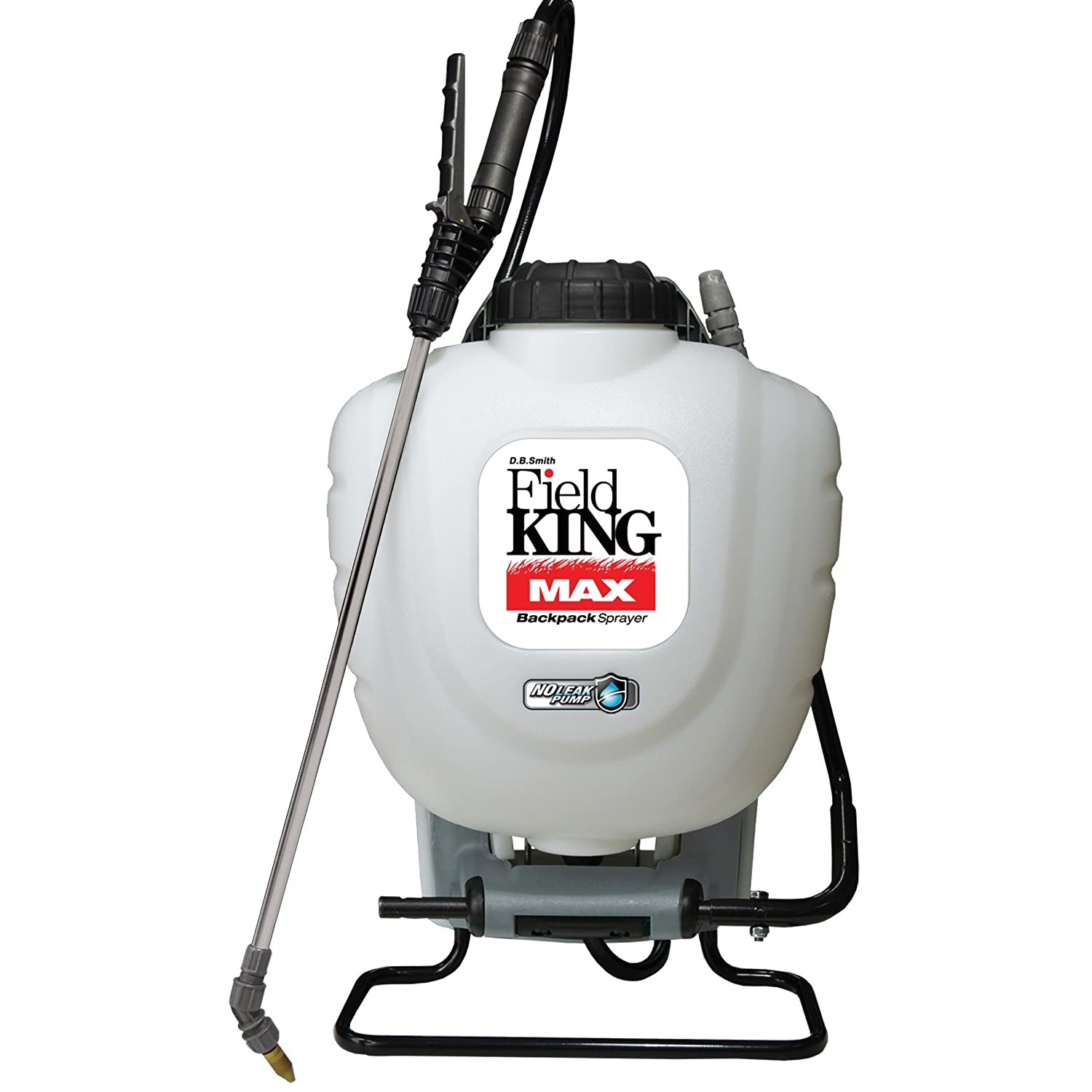 The Field King is a comfortable backpack sprayer to operate while being one of the heaviest sprayers. It contains cushioned adjustable shoulder straps, as well as a cushioned chest strap and waist belt for increased comfort.
You won't have to worry about leaks while working since the Field King backpack has a no-leak pump that prevents chemicals from getting on your clothes. The in-line filter prevents clogging, and the shut-off system is lockable.
The internal agitator of the sprayer is attached to the pump, which can handle a variety of liquids, water-soluble products, and powders. Internal paddles mix the liquid thoroughly. As a result, you'll get a consistent spray solution. Even better, the interior pressure chamber can produce sprays that reach a height of 20 feet.
The Field King Professional's capacity to produce pressure up to 150 PSI is another outstanding feature. Controlling the droplet size, flow velocity, and spray pattern offer a great deal of freedom.
The Field King Max 190348 sprayer is an excellent pick, particularly since it has a no-leak internal pump. This premium device protects you from hazardous substances spilling on you.
---
Solo 425 4-Gallon Professional Piston Backpack Sprayer – the best for efficiency!
The Solo sprayer is a strong manually driven, piston-powered spray that can create pressures up to 90 PSI. It's also incredibly user-friendly, since the switchable handle may be used by either left- or right-handed folks.
The Solo 425 Piston Sprayer achieves high pressures quickly and provides enhanced durability with a lockable and unlockable pump. The sprayer has four nozzles: one that makes a hollow cone, one that provides a larger spray, a third nozzle that creates forceful water jets, and a manually adjustable nozzle. Perhaps more importantly, the handle may be used in either way. The internal tank may hold any kind of weed killer or pesticide, and it may also be used to spray all over the garden.
The Solo 425, like all of the other sprayers on the list, has interchangeable pump levers that may be used on either your right or left side during operation. It also incorporates a lock-on/off mechanism on the cutoff valve, which makes the sprayer easier to handle and reduces the wearer's fatigue.
The Solo brand enables you to spray liquids quickly. It comes with a piston pump that can handle liquids. The backpack sprayer comes with a 28-inch long, unbreakable wand. The hose is also nylon-reinforced and 48 inches long, making it simple to complete your task. Without bending or stretching, you can reach practically anywhere on the property.
---
The Buyer's Guide
Types
1) Piston backpack sprayers
The up-and-down action of piston pumps distinguishes them, and they are housed in a chamber inside the tank. These sprayers usually allow for a reasonable amount of pressure, approximately 90 psi. When you "pump" the lever, it produces pressure that drives the liquid down into the wand, allowing you to spray precisely the quantity of liquid you want.
Piston sprayers are a less expensive choice. You can't use them with very abrasive chemicals, however, since the chemicals would ruin the piston.
2) Diaphragm backpack sprayers
Diaphragm sprayers are more costly than piston sprayers and function in a similar way to piston pumps but without the internal cylinder. The diaphragm is moved by pumping the handle, which results in pressure. Chemical resistance is significantly better with diaphragm sprayers, and you may use powders as well as liquids. Diaphragm pumps provide faster pressure when you require it, but they may be more difficult to maintain.
3) Manual backpack sprayers
The most frequent form of sprayer is the manual backpack sprayer, which requires you to run the hand pump. The pressurized liquid is driven up into the wand and ready to spray once you pump the handle.
Manual sprayers are inexpensive, but if you use them for an extended amount of time, they might cause hand fatigue. However, most manufacturers now include high-powered pumps in their sprayers, making them quite simple to use.
A good-quality manual sprayer can do the job successfully if you are treating lesser infestations or have a smaller property. Some sprayers include an adjustable handle that allows you to switch between left and right-handed operation, making it even simpler to use.
4) Motorized backpack sprayers
If you're going to treat a bigger area, a motorized model with a strong battery will get the job done fast and reduce the pressure on your hands from having to keep pressure on the handle all the while. While motorized sprayers make the work simpler and faster, they are also more expensive, heavier, and need more maintenance.
Basic components: 
Tank.

Nowadays, most backpack sprayers are relatively lightweight, thanks to small tanks made of polyethylene plastic, which is both robust and chemically resistant, as well as UV protected. A spray tank may hold anywhere from 2 to 4 gallons of liquid, making it excellent for home use. Tanks may be heavier if they hold a bigger capacity, even if they are designed to be as light as feasible. A 4-gallon tank can handle normal activities like feeding a lawn or treating an insect infestation in a yard ranging from 5,000 to 10,000 square feet;

Straps/harness.

Because backpack sprayers are meant to be mobile, they will include straps or a harness that slips over your shoulders and over your chest to disperse the weight, allowing you to operate the wand and complete other chores with your free hands. Shoulder straps and a high-quality harness may make gardening and other home maintenance tasks much simpler. Even while most backpack sprayers are small, when they are full of liquid, they may be rather heavy. So search for a sprayer with cushioned chest, shoulder, and waist straps that can be adjusted. If you're dealing with a larger and heavier backpack sprayer, a harness is also a smart idea;

Pump.

The pump draws liquid from the tank and transfers it to the pressurizing chamber, where seals and valves hold it under pressure until you pull the pumping lever/valve on the unit's wand, which then shoots the liquid out through the nozzle in a powerful spray;

Wand.

The wand is the extended shaft that lets you direct the liquid and sprinkle it onto the target of your choice. It also makes it easier to administer the liquid in difficult-to-reach spots, enabling you to spray far over your head or securely apply the liquid to plants with thorns or spiky leaves;

Nozzle.

Because it regulates the spray flow and pattern, the nozzle is the most critical portion of the sprayer. The nozzles on most backpack sprayers may be changed from a continuous jet stream to a fan spray. Alternatively, they may provide you with different spray pattern alternatives, such as a high foaming nozzle. Some nozzles have a flow rate of 0.3 to 0.5 gallons per minute. Plastic nozzles may save money on the sprayer, but they will break down over time. Nozzles made of bronze or brass are more costly. These nozzles, on the other hand, may serve longer and save money in the long run;
Safety
Backpack sprayers come with a variety of features that might assist decrease operator fatigue when spraying. Some include cushioned, adjustable straps and contoured tanks that give a better fit for a wearer. They may be equipped with a cushioned harness or chemical-resistant rubber seals and gaskets to prevent leakage.
Durability
The tanks on most high-quality sprayers are composed of high-density polyethylene with UV protection. You'll need a sprayer that doesn't spill all over you if you're going to be fertilizing or performing a lot of pest control. So search for chemical, leak-resistant, industrial-strength hoses and seals.
Shut-off mechanism
A lockable shut-off device may generally be installed on the handle. You may use this function to control the discharge of any liquids or chemicals and prevent them from leaking when you don't want them to.
PSI
The level of pressure a backpack sprayer can deliver via its nozzle is measured in pounds per square inch (PSI). A backpack sprayer's typical PSI is roughly 70 PSI, while smaller versions may use as low as 40 PSI and bigger units up to 150 PSI. Knowing PSI is critical for your backpack sprayer to function properly.
In a smaller yard, too little pressure will result in an uneven spray, reducing the efficiency of the contents, while too much would be excessive. A sprayer with a PSI 70 or above can be your best choice if you have a big yard with numerous hard-to-reach locations or if you're a professional who works in a variety of different-sized places. A modest PSI rating of 40 to 70 is more than adequate to spray your area for individuals with average/small yards.
Weight
When going out to mow the lawn, you must have a backpack sprayer with you. As a result, it is suggested that you use a compact backpack sprayer. Typically, sprayers in these categories weigh between 7 and 15 pounds.
How to Use a Backpack Sprayer:
Gently stir the prepared chemical into the tank after mixing/diluting it. When pouring, be careful not to get any chemicals on your skin or the ground.
Screw the tank lid on firmly, strap the sprayer to your back, and adjust all straps until they are sturdy and snug.
From 10 to 15 times, pump the handle Maintain steady pressure within the backpack tank by pumping every 5 secs or so. You'll have to thoroughly prime your sprayer each time the pressure goes off if you skip this step. Or make sure the battery is fully charged if you use a motorized model.
Simply position your wand in the direction you want to spray and pull the trigger. There are a lot more processes to spraying, but I'm not going to go through them in this post.
When you're through spraying, be sure to clean both the interior and exterior completely, disassembling and cleaning each item.
Finally, put the backpack sprayer back together and store it or charge the battery. Plastic sprayers should never be left outdoors in the sun because UV radiation might harm them.
Useful Video: Top 5 Best Backpack Sprayer Review in 2021
Final thoughts 
In the garden shed, a backpack sprayer is useful equipment. A backpack sprayer is an essential piece of equipment for gardeners with bigger properties or professional landscapers. Choose a backpack sprayer that matches your requirements while staying within your budget.
---