---
All-Purpose Broadcast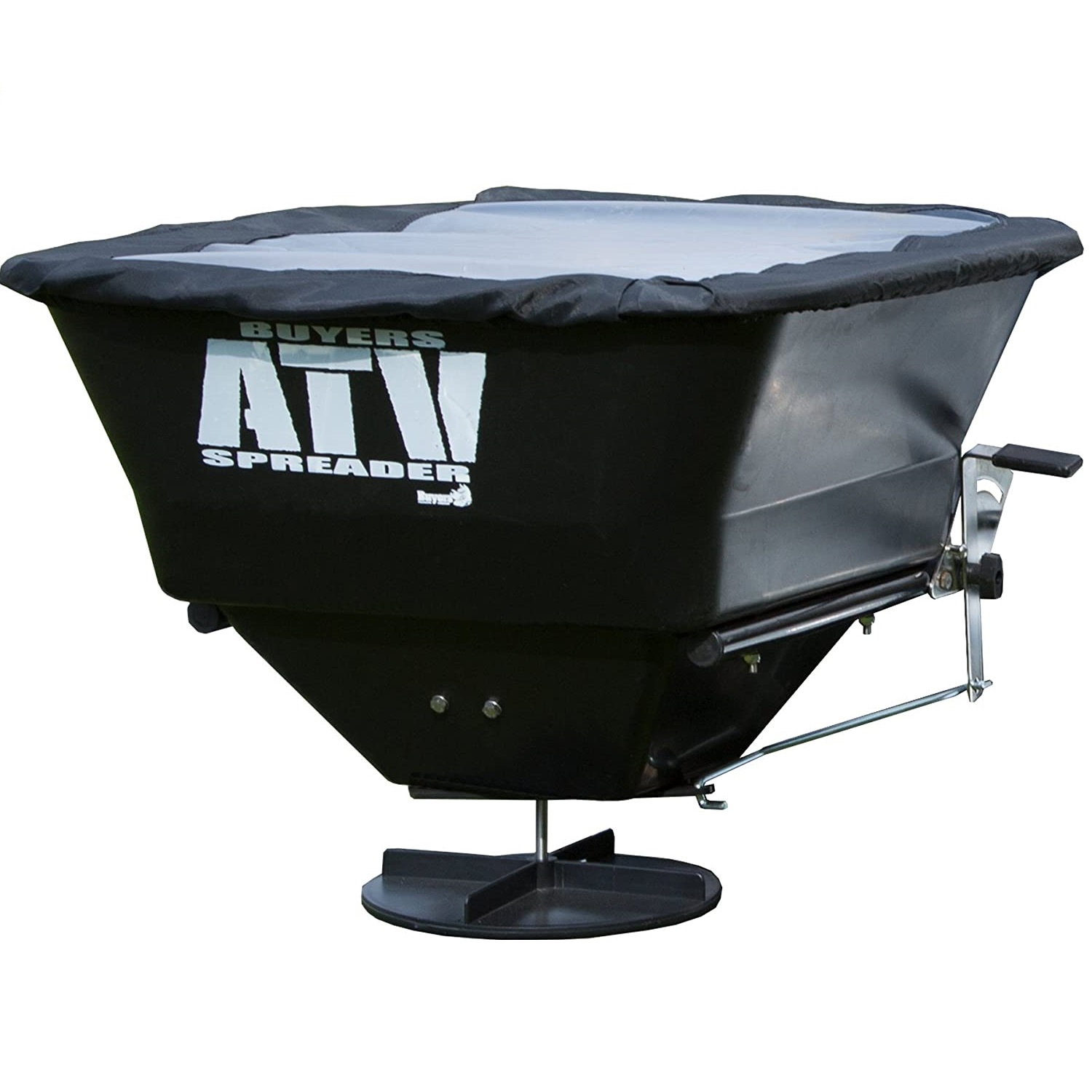 Rain Cover
25 x 22 x 18 inches
Item Weight 17.59 pounds
ForEverlast Galvanized
Brand Foreverlast
Color Steel
Material Blend
Moultrie ATV Spreader
Brand Moultrie
Color Black
Material Plastic
Fimco Spreader
Brand: Fimco
Item Weight 8.6 pounds
Item Weight 8.6 pounds
Mountable Broadcast
Garden Seeder
Item Weight 13 pounds
Earthway
---
Choose the Best ATV Spreader
Customer's Choice: the Best Rated ATV Spreaders
37 users answered this survey. Please help us improve this review!

51.35% of users selected All-Purpose Broadcast, 13.51% selected ForEverlast Galvanized, 13.51% selected Moultrie ATV Spreader, 18.92% selected Fimco Spreader and 2.7% selected Mountable Broadcast. Every month we analyze your answers and change our rating.
---
When you mention an ATV spreader, you might be meaning a tow spreader, a fertilizer spreader, or even a broadcast spreader. An ATV drop spreader is a different kind of spreader than a broadcast spreader in terms of material delivery.
An ATV spreader is any piece of equipment connected to an ATV or other strong four-wheeler that is used to spread or disperse material and seeds on the field. They are connected to an ATV's rear or front rack.
ATV spreaders are used for a variety of agricultural tasks, including landscaping, grounds management, farming, and hunting, despite their primary purpose of dispersing various types of materials. They are used to disperse granular or liquid substances.
Also, ATV spreaders are picked to distribute products like weed killers, lawn care supplies, fertilizers, and seeds, among others, in a quick and effective manner.
Benefits of ATV spreaders: 
Durable frame and hopper;

Ease of use;

Simple hook-up;

Easy to transport and move around;

Wide tires with suitable treads;

Can cover a large area;

Operates quickly;

Great weight capacity;

Easy to refill;
The following guide helps to find the greatest ATV spreader. Check the reviews of top 5 products. Make sure to read the buyer's guide and comparison table before making a final decision. 
Buyers Products ATVS100 ATV Spreader – the best for heavy-duty application!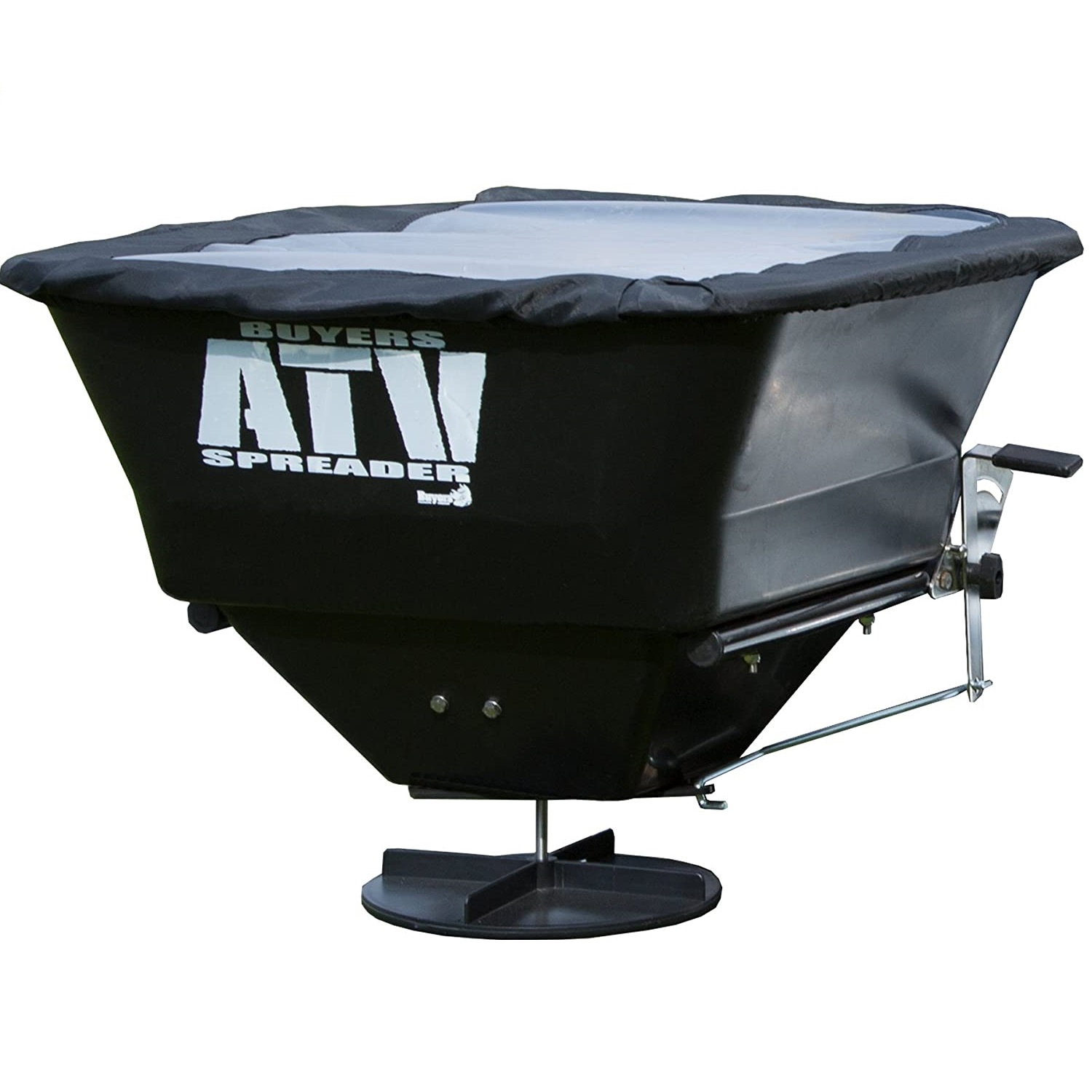 Buyers' Products The ATV All Purpose Spreader will transform your ATV into a capable landscaping tool. It simply fits onto any ATV's rear utility mount and is ready to go. The poly hopper can hold 100 lbs of material. If you own a medium-sized plot of land, chances are you won't have to fill the hopper twice in a single session.
With this ATV spreader, the company also offers a rain cover, which adds an extra level of protection from the weather.
This is an excellent product, particularly for business usage. The ATV is powered by a 12V battery and can easily traverse even the most difficult terrain. It is able to do so due to its strong motors. The rain cover included with the package protects your seeds from the scorching sun and heavy rain. It is a dense ATV spreader that is ideal for farmers.
This multi-purpose spreader is great for food planning, distributing rock salt, ice melt, sand, seed, and fertilizer, etc. It may also be used for landscaping and ground maintenance. The spreader has a 12V motor that allows you to adjust the spreader's speed and flow rate according to your requirements.
---
ForEverlast Galvanized Steel ATV Spreader – the best for durability!
The ForEverlast ATV spreader is one of the most long-lasting spreaders on the market. It has a lot of characteristics that make it a popular model. This spreader is recognized for its sturdiness due to its galvanized steel construction. The design is meant to be attached to the tailgate of an ATV or vehicle.
When your ATV is utilized for off-roading activities, a feed dropper helps to distribute and drop fees on the road. When adopting this approach, the spinner is usually designed to release feeds from a single narrowband to avoid the unwanted dispersion of materials to areas where they are not desired.
It is driven by a 12-volt motor, which makes the usage simple and straightforward since there is no special tool or expertise needed to hook it. However, you should do some putting together. The hopper tank can easily hold 50 pounds of free-flowing products such as corn, seeds, fertilizer, etc.
The whole spreader is constructed of solid galvanized steel, making it corrosion-resistant and long-lasting. Even under severe circumstances, it will endure for decades. With the help of hanging brackets, you can easily connect this tailgate feeder to ATV, trucks, or UTV in a variety of combinations.
---
Moultrie ATV Spreader – the best for easy detachment!
With the assistance of Moultrie's bigger manual-gate ATV Spreader, you can easily seed and fertilize food plots. For optimum efficiency, a tapered plastic hopper provides rustproof operation and thorough emptying of loads weighing up to 100 pounds.
When you're finished, a quick-release system allows for quick and simple separation. A portable controller is included with the heavy-duty spreader to assist adjust dispensing rates.
On the interior of the ATV spreader there is a powerful 12V motor and a shut-off gate – very effective at distributing any material. Because of the heavy-duty motor, it can also operate in a variety of situations. By adjusting the manual controller on the side, owners may simply choose one of the settings.
There's no need to be concerned about compatibility problems since the Moultrie ATV spreader's universal mounting keeps it compatible with the majority of ATVs.
Moultrie's dense 12V motor can distribute a variety of materials at a very efficient pace. It comes with a portable controller that enables you to change the dispensing rates and choose from six preset settings. The quick-release system makes it easy to remove the ATV spreader and attach it to another vehicle.
---
FIMCO 5301845 ATV Dry Material Spreader – the best for capacity!
The FIMCO ATV spreader spreads seed, dry granular fertilizer, agricultural chemicals, ice melt, and other dry products with ease. The 12-volt engine with adjustable speed control enables you to adjust the spread breadth from 5 to 45 ft.
This device has a 2.2 cubic foot polymer hopper that can hold up to 145 lbs of material and a stainless steel 6-blade fan for accurate material dispersion. Spreader attaches to most regular ATV cargo racks or a 2-inch hitch-mounting adapter for bigger UTVs and trucks.
The flow may be adjusted by turning a tiny lever on the spreader's side. This FIMCO spreader is ideal for distributing many types of granular materials. However, it is effective for distributing seeds, fertilizer, salt, or sand.
The Fimco Industries Spreader is a great option for individuals who need to effectively and quickly distribute seeds, ice-melting chemicals, or feed. This device has a big 2.2 cubic foot hopper composed of robust plastics for long-term performance.
---
Earthway M20 ATV-Mountable Spreader – the best for the coverage!
The Earthway M20 spreader is a fantastic model that is intended to suit most ATVs. It makes no distinction between ATVs. Surprisingly, it may be placed on your ATV's front/rear utility rack. It includes a wiring harness, as well as a mounting valve and knob.
It is capable of these tasks due to its 80-pound capacity and ability to be mounted. It also has a heavy-duty 12-Volt sealed motor. You don't have to be concerned since your belongings are protected from the elements, especially moisture.
The spreader tires are covered with epoxy resin, making them corrosion- and rust-resistant. It will also ensure your lifespan and durability. The spreader has a capacity of 1900 cubic inches as well.
The EarthWay M20 will serve you well for many years. It will aid in the distribution of seed, salt, sand, and fertilizer.
---
The Buyer's Guide
Types of ATV spreaders:
1) Tow-behind spreaders
These gadgets are attached to your ATV racks and allow you to drive them around by rotating their wheels. These ATV spreaders are frequently connected to your ATV's rear or front racks for casting out goods. Although they may be difficult to operate, tow-behind spreaders can transport a huge quantity of material because of the vast area in the hopper. Furthermore, tow-behind spreaders provide for broader and more effective material dispersion, allowing you to cover a larger amount of ground than other types of ATV spreaders.
2) Drop spreaders
Drop ATV spreaders are the ideal pick if you require more accuracy and want to prevent inadvertent material distribution. They do not distribute things to places where you do not want them. However, it takes longer before you can reach a wide amount of territory in a single pass. This is due to the fact that the drop spreader only enables you to throw out material behind the ATV, often between the ATV wheels.
3) Broadcast spreaders
Broadcast spreaders are the most popular kind of ATV spreaders and are powered by a 12-volt motor. Broadcast spreaders, like tow-behinds, throw out materials across a large arc of land in a single pass. However, it is more suited for broader coverage and larger areas than the other 2 types. Broadcast spreaders, on the other hand, are not as efficient and accurate as tow-behind spreaders in terms of spread accuracy.
Size
Before purchasing a model, consider what you would mostly use it for. If you have a little vegetable garden, you should purchase the finest ATV spreader you may find to assist you to fertilize the soil naturally so you can produce big and luscious vegetables. Because you won't be sprinkling fertilizer all over the area, this gadget doesn't need to have a large broadcasting range.
However, if you want to plant seeds on a bigger field, you should definitely pick the finest ATV spreader you may buy since you will have to sow rows upon rows of corn. This may take a long time, therefore a higher capacity, such as 150 pounds or more, should help you do the job quickly and effectively.
When sowing lawn or clover seeds, select a spreader with a larger broadcasting distance since you don't want to travel through the same area many times to ensure that the seeds are adequately distributed.
Weight capacity
You should be aware that weight and volume are not quite the same things, so when checking capacities, make sure you are buying the type you need. If you intend to apply fertilizer, an 80-pound capacity is enough, unless you have a big region to cover.
However, if you often plant lightweight and small seeds, such as lawn mixtures, a higher volume spreader is required since seed density is considerably lower than the density of other materials, such as corn, various feed kinds, or granular fertilizers.
You won't be able to put 100 pounds of light seeds into a 100-pound hopper, so get a spreader with a container that can hold at least 15 gallons.
The spreader type and capacity should also be reviewed in light of the tasks you will be operating on. The spreader capacity may vary between 50 and 350 pounds. If you need to distribute the liquid, you may use a container with a capacity of up to 15 gallons. 
Mounting options
When looking for the finest ATV fertilizer spreader, be sure it can be mounted on your vehicle. Some versions may be connected to the rear mount, while others can be attached to the vehicle's front rack using bolts and mounting plates.
Most spreaders have standard mounting and should fit on most ATV types. However, if your vehicle lacks a mounting rack or if it is an unusual model, you should look into the spreader to avoid spending money on something you won't be able to use.
Durability
Make certain that the ATV cart you are contemplating has a strong frame. It won't be able to hold the spreader otherwise. Moreover, the hopper must have sufficient capacity to keep the contents. When purchasing a heavy-duty spreader, seek stainless steel parts since they will endure longer. However, if you are on a tight budget, heavy-duty plastic would do.
Although stainless steel is more resistant to mechanical harm, it is susceptible to rust unless it's powder-coated. Plastic is preferable if you live in an area that receives a lot of rain throughout the year since it is impervious to water.
FAQ
How to install an ATV spreader?
The type of ATV spreader you choose dictates whether it must be attached to the front or back of your multipurpose rack. After you've completed these preliminary steps, you'll require some bolts and plates to mount the spreader to your ATV. Generally, the user guide will assist you in carrying out your spreader's particular installation.
How to use an ATV spreader?
You may use a standard top ATV spreader either manually or electrically, depending on your preference. The equipment often includes a spray dispenser that aids in the distribution and casting out of the materials – corn, seed, or fertilizers. These components may be liquid, such as fertilizer/weed killer, or grains, such as salt, corn, seeds, sand, and so on. Granules may be distributed over great distances by using a spreader with a large weight capacity.
Who makes the best ATV seed spreaders?
There are a number of reputable companies that make ATV seed spreaders. Some of the most popular brands include Agri-Fab, Earthway, and Scotts. All of these companies make high-quality products that will get the job done right.
The best ATV spreader for your needs depends on a number of factors. First, consider what type of product you'll be spreading. If you're only spreading seed, a broadcast spreader will probably suffice.
What features are important when considering an ATV spreader purchase?
When it comes to choosing an ATV spreader, there are a few key features that you'll want to keep in mind. The first is the capacity of the spreader. How much material do you need to be able to spread at one time? This will help you determine both the size and the capacity of the spreader.
The next feature to consider is the spreading width. Most ATV spreaders have a range of spreading widths, so you'll want to choose one that can accommodate the materials you'll be using it for. If you plan on spreading a lot of material, then a wider spreading width may be necessary.
Finally, you'll want to think about how easy the spreader is to use. Some models are easier to operate than others, so you'll want to make sure that the model you choose is easy enough for you to use. If you have any doubts about your ability to operate the spreader, then it's probably best to choose a different model.
What are the pros and cons of using an ATV seed spreader?
An ATV seed spreader has a number of advantages over other types of spreaders. First, they are small and compact, making them easy to store and transport. Second, they are designed to be used with ATVs, which makes them easier to maneuver around your property. Finally, ATV seed spreaders often come with a variety of features that make them more versatile than other types of spreaders.
However, there are some disadvantages to using an ATV seed spreader as well. First, they can be more expensive than other types of spreaders. Second, they may not be able to evenly distribute seed across your entire property. Finally, you will need to take extra care when using an ATV seed spreader to avoid damaging your ATV.
Are Scotts spreaders any good?
Yes, Scotts spreaders are very good. They are one of the most popular brands on the market and have a wide variety of models to choose from. They are also very affordable, making them a great option for those on a budget.
Scotts spreaders are great for a variety of different applications, including seeding, fertilizing, and weed control. Their wide array of models means that there is sure to be one that is perfect for your needs.
How big of a seed spreader do I need?
The size of the seed spreader is an important consideration because you need one that can accommodate the amount of seed you want to spread. You also need to consider how wide of an area you need to cover. For smaller areas, a handheld or tow-behind spreader will suffice. For larger areas, you will need a larger capacity spreader.
Do you really need an ATV seed spreader?
The simple answer is yes, if you are planning on seeding a large area. An ATV spreader will make your life much easier when it comes to evenly distributing seed over a large area.
There are many different types and models of ATV spreaders on the market, so it is important to do your research before making a purchase. This guide will provide everything you need to know about choosing the best ATV spreader for your needs.
How to calibrate my ATV spreader?
The process of calibrating an ATV spreader is important to ensure that it is spreading the right amount of product. Over or under-application can lead to problems such as wasted product, poor results, and even damage to your lawn or garden.
There are a few different ways that you can calibrate your ATV spreader:
Use the drop method: This method involves releasing a known quantity of product onto a hard surface, such as a driveway, and then measuring the size of the resulting pile. You can alter the settings on your spreader after unplugging it from the power source.
Use the bucket method: This method is similar to the drop method, but instead of releasing the product onto a hard surface, you will do so into a bucket. Once again, measure the size of the resulting pile and adjust the settings on your spreader as needed.
Use a test strip: This method is best for those who are applying fertilizer or other products that need to be applied in precise amounts. To use this method, simply apply the product to a known area, such as a section of your lawn, and then measure the results. From there, you can adjust the settings on your spreader until you achieve the desired coverage.
Are all ATV spreaders compatible with any ATV?
No, not all ATV spreaders are compatible with every ATV model. There are a few factors you'll need to consider when choosing an ATV spreader, such as the size and weight of the unit, as well as the type of hitch system your ATV has.
You'll also need to make sure the spreader you choose is compatible with the type of ATV Spreader you have.
How do you spread a seed without a spreader?
Without a spreader, you would need to use your hands to evenly distribute the seeds. This would be a very tedious and time-consuming task, especially if you are trying to cover a large area.
A seed spreader is a tool that will help make this job much easier and less time-consuming. With all of the different kinds and sizes of seed spreaders on the market, it is crucial to select the one that will work best for you.
Here are some tips on how to choose the best ATV spreader for your needs:
Determine the size of the area that you need to cover. This will help you narrow down your choices of seed spreaders.
Consider the type of seeds that you will be spreading. Some spreaders are designed for specific types of seed, such as grass seed or flower seed.
Choose a spreader that is easy to use and easy to maintain. You don't want to spend a lot of time trying to figure out how to use your new spreader.
Make sure the spreader you choose is durable and built to last. You don't want to have to replace your spreader after just a few uses.
Read reviews of different ATV spreaders before making your final purchase. This will help you see what others think of the different models available.
Useful Video: The Better Spreader – Lime Spreader
Final thoughts
Now you are aware of some of the best ATV spreaders out there. However, pay attention to durable materials and smart design before buying. Whether you need to spread fertilizer in a vegetable garden, replant the lawn, or drop ice melting material, investing in a decent ATV spreader may be a wonderful way to get the job done quickly and efficiently. Nevertheless, not all spreaders are made equal, and this guide will assist you in selecting the best one for your specific requirements.
---